Industry News
Hollywood Out of Step with Public, Reality on Defund the Police Movement
Celebrities have no comment on the shocking uptick in gun violence, death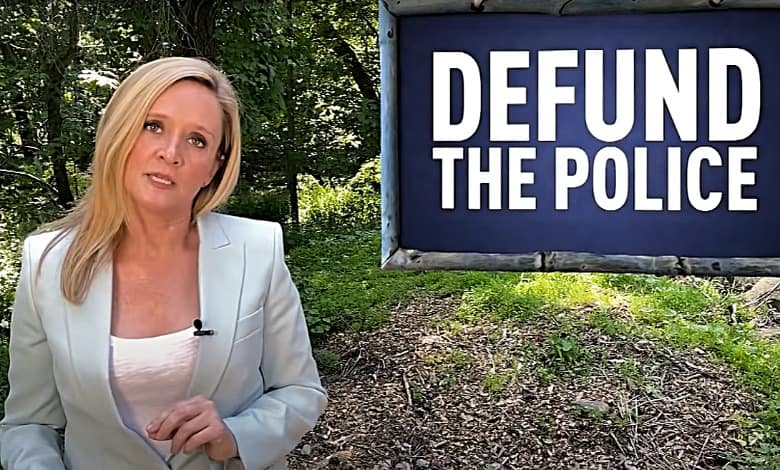 The residents of a Southeast D.C. neighborhood would like a word with Amy Schumer.
District residents calling Anacostia home gathered over the weekend to demand more, not less, police officers in their community.
What energized the residents? The death of an 11-year-old boy at the hands of a local, notorious gang. The lad was one of 11 people shot and killed in D.C. during July – so far.
Powerline notes this east coast community isn't on board with a core tenet of Black Lives Matter.
The protesters dismissed out of hand the lunatic idea of defunding the police. Said one, "of course not, that's totally, totally wrong."
Tell that to Schumer, John Legend, Lizzo, Natalie Portman Jane Fonda, Taraji P. Henson, America Ferrara, The Weeknd, Common, Brie Larson, Yara Shahidi and Talib Kweli. They've all either signed an open letter demanding the nation defund the police or otherwise spoken out about reducing, if not eliminating, existing police departments.
Late night hosts like Trevor Noah and Samantha Bee also joined the "defund the police" effort.
More recently, Connie Britton, Anna Paquin, Lena Waithe, Piper Perabo, "Selma" director Ava DuVernay and "House of Cards" creator Beau Willimon backed a measure dubbed the "Breathe Act" which also reduces funding for law enforcement.
Among its provisions is the stripping of public funding from police departments and other law enforcement institutions, like Immigration and Customs Enforcement (ICE). Those dollars would instead go toward social welfare, health care, education, and environmental initiatives.
The celebrity stance doesn't just go against a community like Anacostia, where gang-related crime takes the lives of too many citizens. National polling shows Hollywood is deeply out of touch with the public at large.
Forty-two percent say that spending on their local police should stay about the same as it is now, and 31% say that spending should be increased, according to a Pew poll out Thursday….
Even wave after wave of anti-police media messaging hasn't significantly damaged the public's outlook on law enforcement.
Nearly 60% of Americans say police around the country do an excellent or good job of protecting people from crime, down just slightly from 62% in 2016.
Perhaps Americans are connecting the dots the corporate press prefers they didn't, or mocks the trend in the case of CNN.
RELATED: Tone Deaf 'Borat' Targets Gun Rights Group
Crime is spiking in several major American cities where local Democratic leadership has either stood down in the face of violence or made aggressive moves to reduce police funding and manpower.
That's certainly true in Minneapolis, ground zero for nationwide anti-police protests in the wake of George Floyd's murder.
Year-to-date, there have been 27 homicides reported in Minneapolis, compared to the 15 total people killed this time last year.
Gun Violence Soars In Minneapolis
Even local citizens who support defunding the police are getting a cruel lesson in what that might entail.
A Minneapolis community … pledged to "check its privilege," allowing hundreds of transients and homeless individuals to take up residents on their front lawns and pledging not to call the police to handle incidents of drug abuse and mental illness.
Now that same town's residents are concerned things have gotten out of hand. Crime is rampant and the homeless encampment now has more than 300 people.
Meanwhile, local government officials unanimously voted to "defund the police" and move to a more "holistic" approach to crime.
In New York, where Mayor Bill de Blasio vowed to slash police spending by $1 billion and eliminated the plainclothes anti-crime unit, violence is soaring.
…the city that never sleeps surged in gun violence by a stunning 358% since this time last year.
"It has been nearly a quarter century since New York City experienced as much gun violence in the month of June as it has seen this year," The New York Times reported Tuesday.
Yet another gun violence death in NYC as surge persists
The same, sadly, is happening in Chicago. The Windy City is notorious for its gun violence, but the far-Left's anti-cop sentiment seemingly influenced that already tragic state.
Over Memorial Day weekend, Chicago experienced its most violent day in 60 years, with 18 people killed and more than 45 others shot in 24 hours.
Seattle's brush with a police-free city ended up with deadly results courtesy of the CHOP failed experiment.
Not every celebrity wants to defund the police. Actor Dean Cain of "Gosnell" fame not only supports law enforcement but joined a small Idaho town's police department two years ago as a reserve officer.
More recently, Cain criticized the current wave of anti-cop sentiment.
"This is insane to me, though, because these people will scream anti-police rhetoric all day long but when their life is threatened and they need a hero, they will dial 9-1-1 and a police officer will show up," he pointed out. "Because police officers are heroes."