Industry News
Opinion
Tone Deaf Sacha Baron Cohen Targets Gun Rights Group
The far-left attacks culture, history and the rule of law, so 'Borat' mocks the far right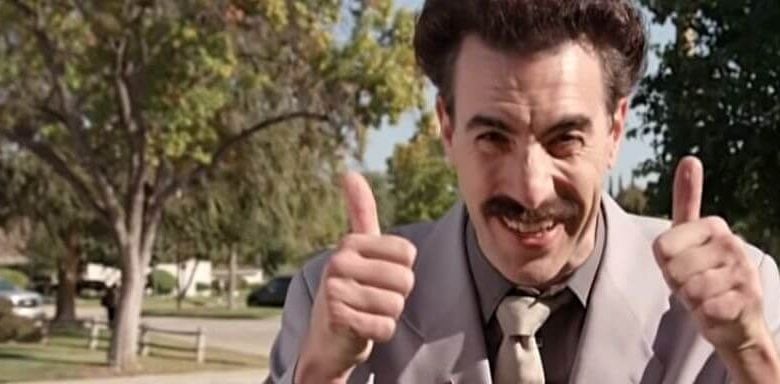 The star of "Borat" is at it again.
Sacha Baron Cohen made a surprise appearance at a gun rights rally over the weekend, but he wasn't there to support the Second Amendment.
It was Shtick Time, part of Cohen's increasingly liberal tool kit.
It's unclear whether Sacha Baron Cohen's latest prank is for a new season of "Who Is America?" or a different project https://t.co/HOk4kC1kOJ

— Variety (@Variety) June 29, 2020
The British prankster pretended to be a gun rights supporter hoping to sponsor Saturday's event thrown by Washington Three Percent.
"March for Our Rights 3" featured what liberal NPR dubbed a "gathering of 'constitutionalist' factions that extremism trackers put in the anti-government category." The media is framing the disturbance from a variety of angles reflecting their biases.
That wacky "Borat" is exposing the hate on the right, for example.
Other outlets called the song Cohen made the gun rights group sing along to "racist" in order to paint the conservative crowd with the same brush. The racist part? The erstwhile "Borat" called COVID-19 the "Wuhan Flu," a name that was perfectly acceptable … until the Left and the Media decided it was racist to tar members of the Right.
Media Says 'Chinese Coronavirus' Term Is Xenophobic- Is That Why They've Used It?
One thing is clear, though.
Cohen looked at the current landscape where statues are being toppled, art is being suppressed, people are being punished for thinking the wrong thoughts and citizens are dying as communities defund law enforcement …
…and decided he wouldn't mock any of that.
Instead, he trained his satirical sites on gun rights as violence surges in cities like Chicago, Minneapolis and New York. Here's what the Big Apple is experiencing at the moment:
There have been 112 victims in 83 shootings over a nine-day period ending Saturday, according to police. Most of those shot were expected to survive, but at least six people have died in the past week and others suffered serious or critical injuries.
The scene in the Twin Cities is just as scary:
The increased number of violent crime in Minneapolis is stark. Year-to-date, there have been 27 homicides reported in Minneapolis, compared to the 15 total people killed this time last year.
Law abiding citizens are buying guns in greater numbers to protect themselves from the melee.
Of course Cohen can pull whatever shtick he wishes. No one on the Right will stop him. If he tried his prankster pop art on the Left, though, that may not be the case.
The optics look worse for Cohen.
He employed private security during the fracas to ensure his safety. It's precisely the kind of elitism that citizens recoil at when it comes to celebrities. The stars can rage against gun rights and demand we defund the police.
That's all well and good for them. They overwhelmingly live in safe communities and have the financial means to hire private security details. In short, the rules they crave don't necessarily impact their lives.
Just ours.
Cohen is a prime example of just that.
He brought his own security team who prevented organizers from kicking him off stage once he began singing and turning off the power to his microphone.
How many in the crowd could afford their own security team?