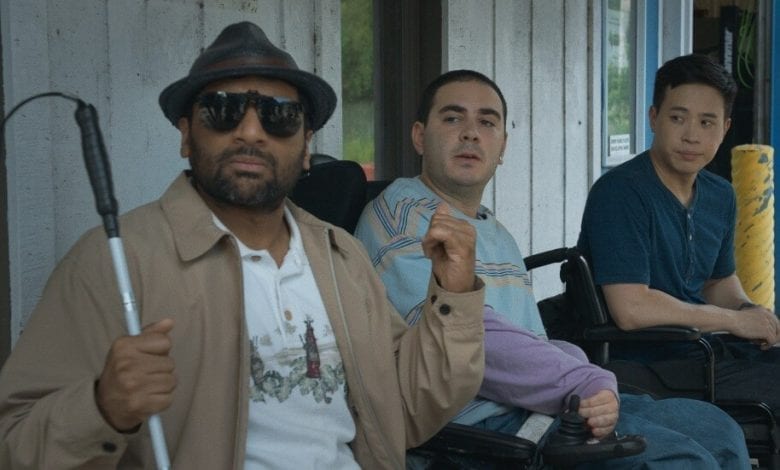 Three horny guys hit the road for a "sure thing" but learn something about themselves along the way.
Sound familiar?
That's the blueprint behind "Come As You Are," but appearances are more than deceiving. The film's main characters have various disabilities, and getting to their destination will take more than a pit stops.
The core tenets of the road trip comedy still apply, very good news indeed. Plus, director Richard Wong laps similar road trip romps the old fashioned way. These flawed souls are real people, not a collection of tics for our bemusement.
Come As You Are - Official Trailer
Scotty (Grant Rosenmeyer), Mo (Ravi Patel) and Matt (Hayden Szeto) hatch a scheme to leave their protective parents behind for the trip of a lifetime. Each has a physical disability, but they learn of a Montreal-based brothel that specializes in "treating" clients like themselves.
Getting there won't be easy, of course.
FAST FACT: Some cultural critics complained that the main characters in "Come As You Are" lack physical disabilities in real life, and the production should have used disabled actors instead.
Their resources are tight, their families prefer them safe at home and the men can't stop bickering long enough to agree on anything. The lure of the open road, and what awaits at the end of the journey, prove impossible to resist.
The film acknowledges their desires with humor and kindness. Other movies might portray physically challenged characters as Mary Sues or, worse, sexless.
Not "Come As You Are."
The film earns its NR stamp by speaking openly about their needs without resorting to cheap yuks. Sound difficult? The film mostly passes that challenge, depicting how even their loved ones don't see them as sexual beings. Imagine that frustration on top of everything else in their lives.
"Come As You Are" invites us into their pain.
The cast is darn near perfect, including Gabourey Sidibe as the young men's driver and nurse. She's looking for her own second chance in life, and her patience plays well against this unlikely trio.
Janeane Garofalo captures the duality of a parent tending to a special needs son, even one well past adolescence. It's a quietly powerful turn, with Garofalo showing how hard it is to quiet those motherly instincts.
The film, a remake of the 2011 Belgian film "Hasta La Vista," avoids the sticky sentimentality the narrative might suggest. Our heroes gather some great stories along the way, of course, but the narrative isn't obsessed with unearned smiles.
That's not true in the third act, which takes an unnecessary detour en route to an absurdly twee coda. The ending of "Little Miss Sunshine" feels gritty by comparison.
Still, Erik Linthorst's screenplay stares down potential plot holes rather than glibly ignore them.. The road trip nearly derails in realistic fashion, and the characters suffer from short fuses along with their physical limitations.
Sidibe's nurse doesn't abide by lazy plot necessities, either, granting the story some welcome rough edges.
Road trip comedies were overdue for a wake up call. "Come As You Are," despite its flawed finale, arrives right on schedule.
HiT or Miss: "Come As You Are" offers a wise, and warm, look at how physical limitations can't suppress the human spirit.