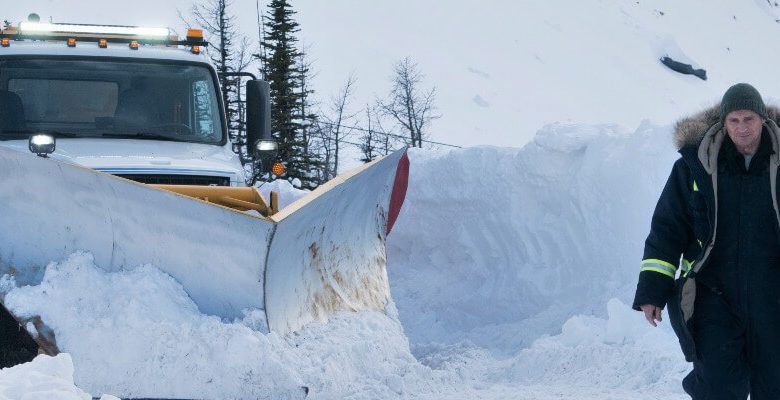 Liam Neeson's reaction to the rape of a loved one drew a heated response from those who thought his comments racist and sent him on a "battle to save his career."
After his latest film "Cold Pursuit," Neeson should be concerned, not with those outraged by his comments, but with those defamed, disparaged and disrespected in his disastrous movie. We who were merely disappointed have no recourse but to spread the word: avoid it at all costs.
"Cold Pursuit's" trailer marketed itself as a deserving descendent of Neeson's string of revenge hits, the "Taken" trilogy and "A Walk Among the Tombstones," albeit somewhere in the frozen, snow-covered, and unforgiving Rocky Mountain West.
Cool, thought I. My backyard.
Cold Pursuit (2019 Movie) Official Trailer – Liam Neeson, Laura Dern, Emmy Rossum
It opens handsomely with Neeson plowing the unrelenting snow off magnificent high-altitude roads. His work done, he returns nightly to his devoted wife (Laura Dern), his dutiful son who loads cargo at the local airport and their picturesque log cabin.
Quickly, all goes south. His son is murdered by a drug gang, which stages his death as an overdose, Neeson prepares to commit suicide but learns the truth, recovers, and, in quick succession, murders and disposes of three killers into nearby icy waters.
There were quibbles, for example, how did the abetting wedding dress shop owner know Neeson was after him and go for his gun? Nevertheless, justice was swift and deadly, revenge served cold and any disbelief willingly suspended. But then…
Perhaps I should have seen it coming as grieving Neeson and Dern wait to identify their son's body at the Denver morgue. As they hold onto each other surrounded by law enforcement officers and morgue employees, a lacky stomps a foot pedal to raise the body to eye level.
With each stomp comes a noisy, irritating and off-putting squeak. Not just once or twice but perhaps for 30 seconds—it seemed longer—finally allowing the parents to view the remains. Was it a misplaced joke, an attempt to relieve tension, a comment that life—even in moments of solemnity—is ridiculous?
Sadly, it was the first step on the descent into comedic insanity with continuing insult given to every character—human and nonhuman—in the film.
Cold Pursuit Movie Clip - Things We Do (2019) | Movieclips Coming Soon
American Indians come in for the harshest treatment, although the Colorado tribe is identified correctly, by one intellectual thug, as "Ute, not Apache." Co-conspirators for two generations with the drug running devils from the big city, they ply their trade from an antique store in downtown Denver.
Alternatively, they are murderous brutes, social justice warriors or wide-eyed visitors to the posh ski resort who marvel childlike at falling powder as if the red man had never seen white stuff that wasn't cocaine. All but one are killed by the time credits roll.
If the National Organization of Women were not just a shill for progressive politics, it would have bones to pick with "Cold Pursuit's" portrayal of women.
Neeson's wife harangues him for not keeping up with his son's Facebook page ("What did you talk about on your hunting trip?" she scolds. "Hunting," the devastated father whispers.).
The ski-town's female cop is a conniving tease.
The drug lord's screaming co-conspirator wife loves the money but hates the lout who is her husband and father of their precocious son.
The tribe's secretary, when told to dispose of yet another corpse, snarls, "Let the Indian (with a dot) do it."
Neeson's brother's Vietnamese wife is a caricature of the gold-digger from hell.
None die but not one is redeemed.
Psychotic and murderous drug lords and their gangs of degenerates deserve any portrayal given them; after all, they are the bad guys. Thus, "Cold Pursuit" lays it on but to ridiculous effect. "Viking" (actor Tom Bateman), a health food fanatic who would make Boulder proud, gives his sensitive son "Lord of the Flies" to help him deal with bullies, corrects the grammar of the African-American hitman from the hood ("asked, not axed") and allows his wife to get the gonad grabbing grip on him in front of his henchmen.
The gang includes a gay May/December romance, a wise-cracking intellectual—the one who knew his tribes and the Froot Loops eating tough who seeks the son's help with his fantasy football team.
FAST FACT: Tom Bateman, who plays the villainous Viking in "Cold Pursuit," said he worked hard with the film's costume designer to make his character as well dressed, and vain, as possible.
No surprise, this Colorado tale was filmed in British Columbia with Fernie, B.C. standing in for the imaginary town of Kehoe, Colo. Sadly, the Kehoe street scenes look not to have been filmed in photogenic Fernie, which boasts buildings dating back to 1898, but on a sterile backlot.
Speaking of phony, the CGI two-lane road into downtown Denver from ski country was laughable as was representation that the only hotel room during conventions was a peeling paint, sink-in-the-bedroom flea bag.
Colorado Ski Country USA might consider suing.
The base at our resorts exceed 8,000 and often 9,000 or 10,000 feet, not the puny 6,000 feet at Kehoe, their streets are not lined with pot-smoking layabouts, and their shops feature, not wedding dresses, but lavish furs and real American Indian art work, not knockoffs from China.
RELATED: Five Actors Who Should Go the Full Liam Neeson
One final note as to verisimilitude, a lucrative product placement opportunity was missed by the failure to note the lotion Neeson must have used to restore his hands to silky smoothness after beating three men to death with his fists and standing in the arid, subzero wind off a frozen mountain side.
Part of the problem may be that "Cold Pursuit" is a remake of director's Hans Petter Moland 2014 Norwegian film, "In Order of Disappearance" (AKA "Kraftidioten"). That accounts for the Woody-Allen-like black screen after each demise with the character's name and religious symbol (Cross, Star of David, Peace Sign?).
In Order of Disappearance Official Trailer 1 (2016) - Stellan Skarsgård Movie
Did his Norwegian version play it for laughs? His American version did, given some of the aforementioned hijinks and characters' names: Coxman (Neeson and his kin), Speedo, Limbo, Dante, Gip, Santa, Bone, Blizzard and The Eskimo, to name a few.
If he were going for the dark comedy of "Fargo," he was way wide of the mark, except for putting a body through the blades of the snowplow.
Son Luke and I, along with the only other couple present, were laughing out loud as the end neared, but not in a good way. Into blood-drenched sunset drove Neeson and his new, sleepy Indian companion.
---
William Perry Pendley, an attorney, is author of "Sagebrush Rebel: Reagan's Battle with Environmental Extremists and Why It Matters Today
" (Regnery, 2013) and two unpublished screenplays. Follow him @Sagebrush_Rebel.