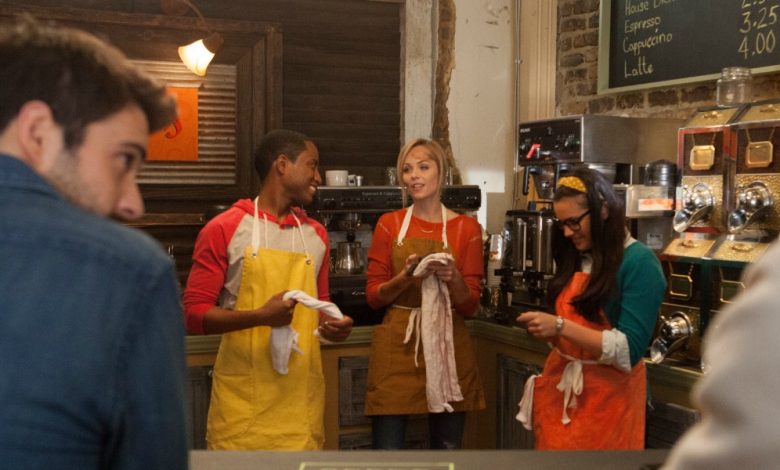 Only no one labeled Capra's films in that manner at the time.
"'It's a Wonderful Life' is a Christian movie at its core," Johnson tells Hollywood in Toto. "In today's world, every Capra movie would be a faith-based movie. That's where his values come from, the Judeo-Christian ethic."
Capra told great stories first and foremost, and his messages came embedded in the finished product. It's a technique Johnson wishes more spiritually aware artists mastered.
"The problem with faith-based movies is they think they have to lead with their faith, and they don't," says Johnson, the prolific mind behind "Doc," "Sue Thomas: F.B. Eye" and other projects.
His latest directorial effort, "Coffee Shop," hopes to capture the audience's heart first and foremost. The romantic comedy, to debut at 7 p.m. EST Sept. 14 on UP! TV, stars Laura Vandervoort as an entrepreneur facing foreclosure and an uncertain love life. The film co-stars Jon Lovitz, Kevin Sorbo, Corey M. Grant and Rachel Hendrix.
Donavan (Vandervoort) represents an archetype Johnson says is wholly absent from today's pop culture landscape.
"She's a modern, stylish, relevant, current, attractive female who happens to believe in God. You just never see that character," he says. And he's betting audiences will respond to Donavan's world view.
"There are 150-200 million people who embrace [that view], and no one is making movies for them," he says.
Few would disagree that the rom-com genre is currently on creative life support. Johnson thinks he knows why.
Today's romantic comedies too often sink to a fight for "how crass can we be," he says. That's only part of the problem. Hollywood keeps thinking rom-coms should revolve around sex, and that's hardly the case, according to Johnson.
"Romance is about romance. There's a huge difference between those two," he says.
Christian viewers will connect with Donavan's life story, but Johnson tried to make her belief system part of her character, not a chance to jump on a soap box. The main character buys coffee beans from a village in Africa, part of a charitable commitment she learned from her late mother.
Elsewhere in the film, a character in a wheelchair shows Donavan an inspirational note her mother once gave him.
"It's a Bible verse, but we don't say it's a Bible verse," he says.
Johnson's lengthy career helped set him up comfortably, but now he's looking for more creative control. "Coffee Shop" marks part of his bid for independence outside the traditional film system.
"I've done more than I ever dreamed I would do when I started this," he says of his time in show business. "What I really want to do now is make stories that move me, not what the studios want me to do. If I can do that, that's a great life."
DID YOU KNOW: 'Coffee Shop' co-star Jon Lovitz says seeing Woody Allen's directorial debut, "Take the Money and Run," convinced him to pursue a career in comedy.