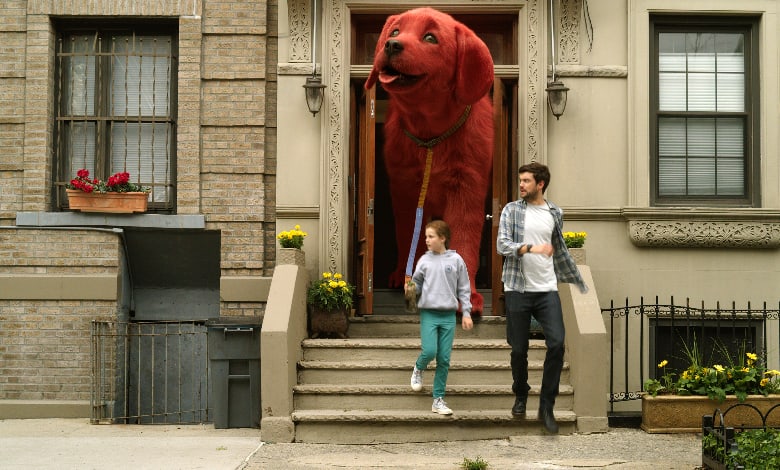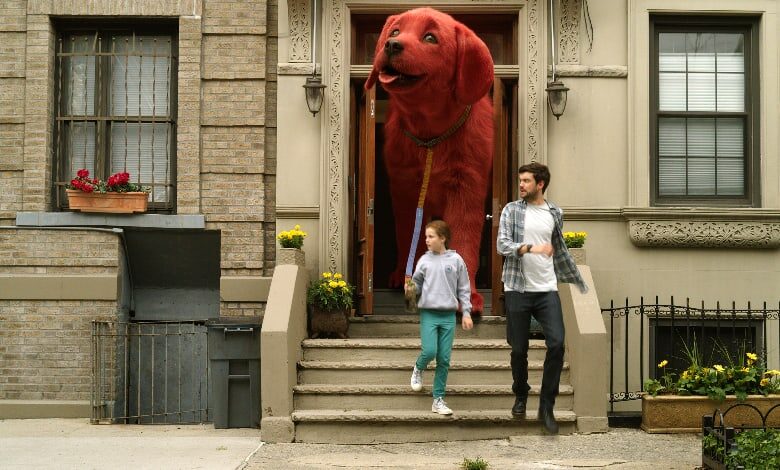 Based on the classic character and book by Norman Bridwell, "Clifford the Big Red Dog" stars Darby Camp as Emily, a girl whose daily run in with a smirking school bully have made her miserable.
Not helping is the unwanted visit from her unreliable brother (Jack Whitehall), who agrees to watch her while mom is away. The two of them find themselves in the presence of Mr. Bridwell and his pop-up tent with animals for sale (which is, in the vein of "Doctor Who," noted to be bigger on the inside than it appears on the outside).
This is where Emily discovers a red puppy, who magically pops up in her backpack the following day.
Clifford the Big Red Dog (2021) - Official Trailer - Paramount Pictures
Bridwell's instructions of the puppy growing as big as a child's love for it goes unheeded, as the dog eventually is so enormous, it barely fits inside Emily's room.
Whitehall gives a detached, sitcom-ready turn; he has his moments but there's an insincerity to his performance that keeps the character from truly engaging with Emily and us.
It helps that Bridwell is played by the always welcome John Cleese, who also gives warmth to his narration. Yet, the character never makes any sense – is he a magical provider of pets and if so, why the strange tent and random appearances around New York?
Later, Bridwell makes a remark regarding a deceased friend that makes him sound like an angel. If you're reading this and wondering why I'm questioning the logic of a children's film, fair enough, but the story should add up on some level.
Clifford Plays Catch Scene - Clifford The Big Red Dog (2021) Movie Clip
There's also the subplot of how Emily is being bullied daily by a rotten schoolmate, which the screenplay literally resolves with a splash of dog drool.
The film has far more characters than it needs and strands great character actors in stereotypical roles on the sidelines. I was delighted to see Russell Wong pop up as an especially helpful and affectionate father, but the character is more of a plot device.
Meanwhile, Paul Rodriguez, a comedian with a remarkable career, is once again stuck playing a character that doesn't deserve him.
Tony Hale of the eternal TV cult favorite "Arrested Development" plays the villain and gives essentially the same performance John Larroquette provided "Richie Rich." Hale is a real talent and needs a better film gig.
What in the world is Rosie Perez doing this? Perez, a terrific asset for any film, has a single scene in a throwaway part that could have been given to anyone but not the Oscar-nominated star of "Fearless." A cameo role should make the audience go, Oh Wow, Look Who's Here, as opposed to Why Is That Person in a Movie with a Giant CGI Dog?
View this post on Instagram
For a film aimed at small children, there are stretches of exposition and grown-ups chattering away that will make the young ones in the audience restless.
I speak from experience, as I had my five-year-old with me and, while she was delighted with the film overall, she was visibly antsy when large patches of screen time is spent with characters talking about the action instead of partaking in it.
This would be excusable if the film were smart and earned its overstuffed screenplay, but that's not the case. On the other hand, whenever Clifford makes a run for it and is the focus of a chase, my daughter was bouncing in her seat, absolutely captivated in the way the final bike chase of "E.T." (which is mimicked here) still enthralls me.
RELATED: 'Paddington 2' Is Just as Good as the Marvelous Original
In the end, my little girl liked the movie far more than I did. When Emily must address a large crowd of people and convince them of her love for Clifford, it presented a problem I had with the rest of the film – I believed in Clifford but not the "reality" of the movie he exists in.
There's a formulaic quality to this that undermines how special it is that a dog can grow as a big as the love of a small child (for that matter, shouldn't Clifford have grown even bigger? Like, Kaiju-sized?).
Perhaps the best thing about "Clifford the Big Red Dog," aside from the title character, is that it's not frantic, overly concerned with being trendy and wants to engage its audience with the idea of loving an animal in need of a good family.
While short of a big red dud, I wanted more from this. On the other hand, I know of a five-year-old who disagrees with me.
Two Stars