Interviews
Paul Rodriguez: Closet Trump Support Who Rejects the Wall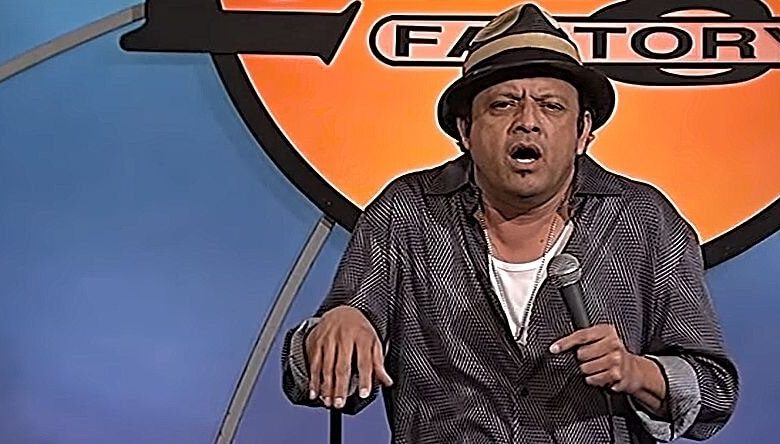 Paul Rodriguez seemed like a charmed comedian … on paper.
He enjoys a decades-long stand-up career, has made many appearances in TV shows and movies and frontlined the first TV sitcom with an all-Latino cast – "AKA Pablo."
The truth didn't always match his resume.
Paul Rodriguez The Here And Wow
Last year Rodriguez faced the loss of his lavish Studio City home amid dwindling career opportunities. He was depressed and planning to retire to his orange farm near Fresno when he was asked to perform at a fundraiser for Christ the King parish in Hollywood and the Center in Hollywood. The parish offers an innovative homeless program located on the campus of Blessed Sacrament parish.
Rodriguez thought the show would be a nice charity gig. It ended up changing his life for the better.
Father Don Woznicki, who at the time was the administrator of Christ the King and organizer of the event, asked him to lead the crowd of 400 attendees in a decade of the Rosary before the show – and the experience reignited the comedian's long-dormant Catholic faith.
""It strengthened my faith in God," says Rodriguez. "I was going through hard times, and I just put it in God's hands afterwards. I hadn't gone to Mass in a long time, and started going. I tried everything else before that and nothing worked. Then overnight things got better. I sold my house and a lot of terrible things happened, then out of nowhere this movie comes."
The movie Rodriguez is referring to is "Clifford the Big Red Dog," a live-action adaptation of the classic children's book. Paramount Pictures is releasing next year as its big Thanksgiving weekend movie. He plays Sanchez, a bodega owner who helps the young lead actress chase Clifford all over New York City to get him back.
The film's all-star cast that includes comedy veteran David Alan Grier, Monty Python legend John Cleese and "Saturday Night Live" star Kenan Thompson. The role follows another unlikely break he received almost immediately after his night at Christ the King, in which he had the audience roaring during his performance and seeking autographs for over an hour after his performance.
RELATED: Comic Says 'Raymond' Star Fired Him for Trump Support
He landed the flashy starring role in the highly regarded Odyssey Theatre's production of the satirical play "Steambath," playing the attendant of a steambath. As the show goes on, the attendant reveals that he is actually God in human form and the steambath is Purgatory. The role landed Rodriguez a prestigious Robby Award for Best Actor in a Comedy on the Los Angeles theatre scene.
"'Steambath' plays on your stereotype of what God is," explains Rodriguez. "These white guys see a Puerto Rican and say, 'There's no way that that's God. He's a Puerto Rican.' The genius of [writer Bruce Jay] Friedman's play is I change a couple things. God is a quirky, funny guy, and this play says a lot about where we are and the state of grace.
"People think God is a white guy with a beard on a cross, the ideal Caucasian," he adds. "But God could look like you or me, He made us in His image. I got the Robbie Award, and I'm doing more plays and am going to teach at Fresno State and start a theater company for Latinos there."
Rodriguez, 64, was born in Culiacan, Sinaloa, to Mexican agriculture ranchers. His family eventually moved to Compton, and after high school he enlisted in the US Air Force, landing stations in Iceland and Duluth, Minn.
He converted to Catholicism while in the Air Force, after being raised with no strong faith practice while growing up. Yet despite his formal profession of faith, he spent the next 40 years until his 2018 epiphany only occasionally attending Mass and sometimes getting caught up in the worldly pleasures afforded to show business celebrities.
Along the way, he became the father to world-renowned professional skateboarder Paul Rodriguez, Jr., but their relationship was also often distant until his moment of truth last year. With the show having taken place shortly after Father's Day, the comic felt the urge to reach out to his son and start anew.
The successful effort brought them closer together, including a shared Father's Day holiday earlier this summer.
"That night changed me, because I was long thinking I was unfunny, but it was such a big night and the love was so strong from that audience, that I regained my mojo and sense of fun," says Rodriguez. "Faith is a very personal thing, it's in your heart. I met other Catholics that night who had put their faith first. I started praying and told God 'it's in Your hands. If you want me to do this, do a better job of showing me or I'll retire in Fresno.
"Then my agent called me offering 'Clifford,' and said they want you for that movie you auditioned for a month ago," he continues. "I said 'Are you sure you didn't want my son?' They said 'No, here's your plane ticket.' And I spent the entire 35-day shoot staying at the Ritz Carlton. It's made me more calm, I don't worry about things so much, it's a new me and I feel great. Take it from someone who was floundering, it's all about having a personal relationship with God."
Most comedians, political or not, have used the past three years to hammer President Donald Trump.
Not Rodriguez.
"I've been a closet supporter of Mr. Trump and I've been apologizing to the Latino community," he admits.
Comedian Paul Rodriguez Says He 'Will Pay The Price' For Admitting He Supports Trump https://t.co/U0XcrSp0Gk pic.twitter.com/A2wP3gGRcH

— Daily Caller (@DailyCaller) November 7, 2018
That doesn't mean he agrees with every Trump policy, including the president's dream of a "big, beautiful" wall between the U.S. and Mexico.
"The wall is a monumental waste of time, it isn't going to stop Mexicans or others from coming here," he says. "In defense of my people, we're not the only ones coming into America undocumented. The whole world is coming here, but we're the only ones with a picture of us coming. There's that picture of a family crossing the freeway, saying look for pedestrians."
RELATED: 'Deplorable' Comics Endure Backlash for Trump Support
He's equally critical of the mainstream media in the Age of Trump.
"They're becoming very petty about what to criticize about Trump, they're railing against him. If you watched the news it used to be objective, but now if you like the man you watch Fox. If you hate the man, you watch CNN. But there's still objective venues out there like [The Man Up Show]."
Here are some random observations from the veteran comic:
"The #MeToo movement has made us all wussies and cowards and made us afraid to express ourselves. There have always been men who don't know how to approach women and are rogues. I'm not talking about grabbing or touching. But how do you approach? The highest honor Latino men at a construction site can offer as a pretty woman walks by is to whistle and suck in our teeth. If you can't rap or talk to women, you will be denied the ultimate goal: to live with them."
"What's missing right now in comedy is a woman, preferably a Latina woman who can be anti-Metoo with the right jokes could really explode … a Roseanne [Barr] without the baggage."
"My son may be a world famous skateboarder, but back in my day, skateboards had metal wheels, you made your own and basically had a scooter and if you went downhill, you caught on fire."
---
To hear more of this extensive interview with Paul Rodriguez, which was conducted for the "Man Up" radio show on KRLA AM870 in Los Angeles (and which Kozlowski cohosts with Antonio Delgado and Ron Pearson) visit the official Man Up radio show site.