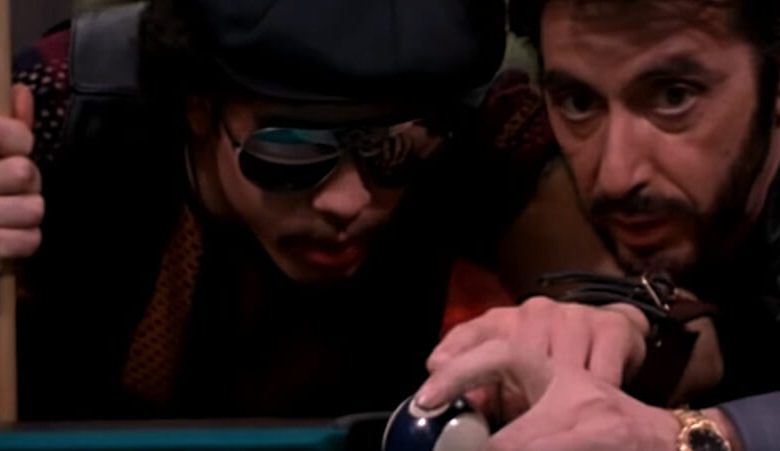 In Brian De Palma's "Carlito's Way," Al Pacino plays the "JP Morgan of the smack business."
Carlito Brigante has been a criminal for 25 years and has spent five years incarcerated. Recently out from a lengthy prison sentence, Brigante leans on the friendship of his lawyer, David Kleinfeld (an unrecognizable Sean Penn) and attempts to reinvent himself as an upstanding citizen and nightclub owner.
Immediately on his quest to rehabilitate his image and public standing, Brigante reencounters Gail (Penelope Ann Miler) the former love of his life and finds that, despite possessing a clear sense of right and wrong, Brigante can't stay out of trouble.
Released 10 years after De Palma's "Scarface," which featured the same director, star and producer, "Carlito's Way" is about reinvention. If "Scarface" anti-hero Tony Montana's journey was of a poor man selling his soul to be become a powerful criminal, then Brigante's tale (based on the novels "The After Hours" and "Carlito's Way" by New York Judge Edwin Torres) is of an infamous criminal striving to get his soul back.
De Palma knew how that felt, as the film represented his attempt to regain command as a commercial filmmaker after recovering from a series of bombs. Years of being the new Master of Suspense and establishing his signature style and themes with extreme, elegantly crafted and confrontational shockers like "Carrie," "Dressed to Kill" and "Scarface," De Palma landed a mammoth commercial breakthrough with the commercial and critical success of "The Untouchables."
The Untouchables (6/10) Movie CLIP - You Got Nothing! (1987) HD
Then came his brilliant but horrifying "Casualties of War," a summer movie whose subject matter was woefully out of place against the likes of "Honey, I Shrunk The Kids" (no kidding, De Palma's allegory about the rape of Vietnam opened against the Disney fantasy and died instantly).
A year later saw the release of "The Bonfire of the Vanities," a prestigious, lavish and greatly anticipated all-star satire that supposed to lead to Oscar glory. Instead, the film is among the most legendary disasters and is mentioned alongside doozies like "Howard the Duck' and "Ishtar.
A few years of licking his wounds later, De Palma returned to the thriller genre, delivered the lower budgeted but mostly ignored "Raising Cain" (the consolation prize is that the film has a healthy cult following today).
"Carlito's Way" was a means for De Palma, whose flops were ridiculed and his reputation as a reliable commercial filmmaker was on shaky ground, to regain and potentially surpass his former glories. De Palma, like Brigante, had a lot to lose.
Let me cut to the chase: "Scarface" is the more iconic, influential movie but "Carlito's Way" is better.
RELATED: Why 'Eyes Wide Shut' Lives Up to Kubrick's Legacy
"Scarface" clocks in at 170-minutes and "Carlito's Way," at 144-minutes, is almost 30 minutes shorter and feels much looser. Far more important than the running time is the grand storytelling, careful pacing, character building and masterful set pieces by De Palma, who is in his element.
"Carlito's Way' is nowhere near as excessive as "Scarface" and is comparably the "safer" film but, scene-for-scene, it has a momentum, focus and filmmaker's passion that elevates it above many great De Palma works (including "The Untouchables").
Pacino, in the decade that showcased his work in "Dick Tracy," his forever under-appreciated turn in "The Godfather Part III," "Heat," "The Insider," "Glengarry Glen Ross", "Donnie Brasco" and his Oscar winning performance in "Scent of a Woman," gives Brigante the fire and pathos required.
Scent of a Woman (1/8) Movie CLIP - Charlie Meets Frank (1992) HD
Although Pacino's "hoo-ah" drawl from "Scent of a Woman" frequently creeps in from his prior movie, his performance here is as good as the movie overall, which is saying an awful lot.
We like Carlito because Pacino is playing him. It's a big, theatrical performance, but Pacino connects with the inner struggle that makes Carlito's tale so tragic (obviously, it's this quality that makes Pacino's Michael Corleone comparable in how sympathetic we are to such a morally indefensible character).
Miller's Golden Age of Hollywood looks made her a perfect fit for "The Artist," "Chaplin," and this – she's the perfect film noir character. Not a femme fatale but akin to Mae Clarke's sad figure in the Cagney classic, "The Public Enemy." Miller holds her own here.
Penn is terrific in this, creating a vivid character and, like Pacino, giving him enough layers to elevate the role above being simply insufferable. Penn oozes impish carnality and, as in his turn in "Casualties of War," gives superbly textured portrayals for De Palma of characters who, in lesser hands, would have merely been villains.
DID YOU KNOW: In 2016 RogerEbert.com asked Brian De Palma if he would consider directing for television. His response? "Television is not cinematic. It's shots of people talking to each other."
A young Viggo Mortensen and Pacino have a key scene together; it's so well acted, one can almost forgive how Mortensen is going full-on Tony Montana with his accent.
David Koepp's screenplay is full of quotable dialog, like "When you can't see the angles no more, you in trouble baby, you in trouble." Also, "I don't invite this s–t," says Carlito, "it just comes to me."
Establishing Carlito as a Joe Gillis-like character (ala "Sunset Boulevard") in the very first scene felt like a misstep in 1993, as the opening credits reveal the last scene first. Today, it plays out like De Palma is firmly declaring this to be a cautionary tale and not a glamorous dive into the underworld that defines "Scarface."
Cocaine is also the drug of choice for these characters and, as in "Scarface" (but far less amusing), we see how it brings out the stupidity in everyone. "Shaft's Big Score" is visible on a movie marquee, establishing the anti-hero motif early on.
Shaft's Big Score! (1972) pic.twitter.com/xZlhBK0Uk6

— 🎄Killer Kitschmas🎄 (@killer_kitsch) February 6, 2017
When he's not designing his big sequences, De Palma lingers on the details. Note the amusingly bored looks on Carlito and Kleinman's dates. Or how Carlito (in a poetic touch) uses a trash can lid as an umbrella while he's spying on his ex and dreaming of the life he lost. There's also a shot of Carlito reflected in a mirror, glowing like a devil.
The climactic subway chase scene (aided by Bill Pankow's knockout editing, Stephen H. Burum's exciting cinematography and Patrick Doyle's roaring score) is a De Palma masterpiece, among the finest set pieces he's ever staged.
RELATED: Fanboys Are All Wrong About Ang Lee's 'Hulk'
The final scene has a whiff of the sad airport climax of "12 Monkeys" (which arrived tree years later)- even if you recall the opening and know what's coming, the devastating impact is still there.
There's no denying the ubiquitous nature and vast appeal of "Scarface," which has (to name a few spinoffs) an action figure line, lunchboxes, video games and, God help us, a snow globe (!).
Scarface (1983) - Every Dog Has His Day Scene (4/8) | Movieclips
It also sports the affection of generations of filmgoers, dozens of hip-hop artists and filmmakers who have cribbed from it for decades. I know the film has a permanent place in film history – most cinephiles I know of have authentic theatrical one-sheets framed on their walls.
Yet, Pacino and De Palma's encore into the world of crime and moral compromise a decade later is the much stronger, more emotionally stirring work.