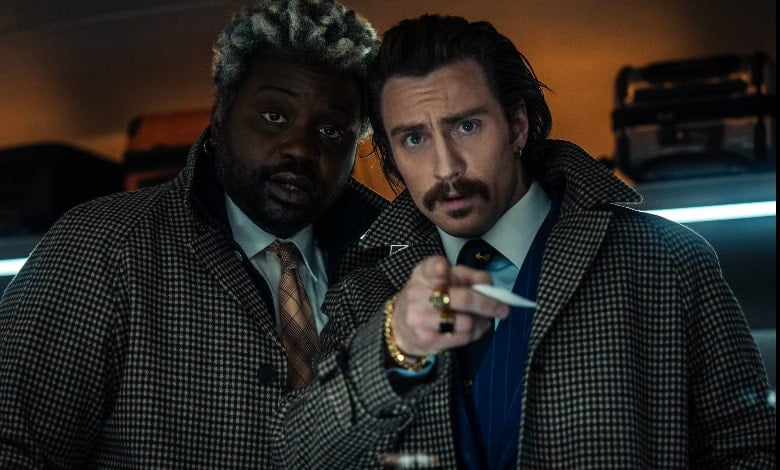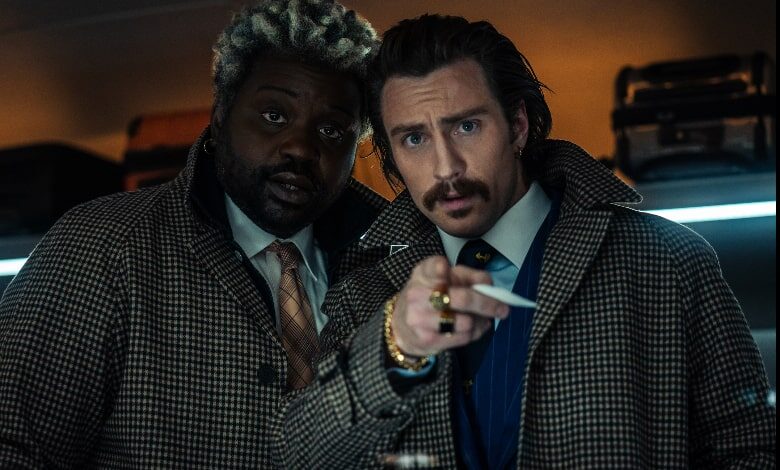 There's something seriously funny about Brad Pitt's recent Oscar win.
The A-lister richly deserved the statuette for his work in "Once Upon a Time … in Hollywood," but since then he's been working overtime to make us howl.
He did just that via a killer cameo in this year's "The Lost City," and he's burning serious calories to do it again in "Bullet Train."
Yes, it's an action romp from "Deadpool 2" director David Leitch, but comedy is the main course. How else to explain an adventure that stiff-arms reality before jettisoning any sense of reason in the final, deflating half hour?
BULLET TRAIN - Official Trailer 2 (HD)
Pitt plays Ladybug, a seasoned hit man who thinks he's landed a cushy gig for a change.
Enter train bound for Kyoto. Find metallic suitcase. Leave train and pick up a juicy check. That, combined with his newly enlightened self, suggests he can put aside the killing for a change.
Serenity now!
Except the train in question is infested with fellow hit men (people?) with competing motives. There's Tangerine and Lemon (Aaron Taylor-Johnson, Brian Tyree Henry), inseparable killers who bicker like an old married couple.
The beautiful Prince (Joey King) has a few tricks up her sleeve, as do the mercurial Kimura (Andrew Koji) and Hornet (Zazie Beetz).
They're all part of a scheme that slowly comes into focus over the course of the film. Don't bother dissecting it, or wonder why the great Michael Shannon even bothered to show up.
The twists and turns are the stuff of an overly clever screenwriter trying to pull the wool over our eyes. That's easier than writing a richly drawn story with smart characters and compelling dialogue.
RELATED: CONFESSIONS OF A BURNED-OUT FILM CRITIC
"Bullet Train" still gives us some giddy thrills, mostly thanks to the charismatic cast. Pitt's shtick, the beleaguered killer trying to talk his way out of trouble, is funnier than it should be.
Pitt's comic skills are first-rate, and he keeps the mayhem grounded for longer than most stars could.
Henry and Taylor-Johnson make the most of their thinly drawn characters, with Lemon's affection for "Thomas the Tank Engine" veering from cute to cloying faster than a speeding … you can fill in the rest.
That's as much character depth as screenwriter Zak Olkewicz ("Fear Street Part Two: 1978") can muster. It's all wink-wink, cute-cute antics pushing the style quotient at every opportunity.
And, darn it, that approach sometimes connects. At its silliest, "Bullet Train" resembles a Looney Tunes cartoon. Except for all the blood, bruises and bodies.
It helps that Leitch's action chops remain impressive. His hand-to-hand combat choreography (what else can you try on a moving train?) is taut and effective. Our anti-heroes make weapons out of the nearest objects, be it a snack tray or water bottle.
View this post on Instagram
After a while, though, a deep sense of exhaustion kicks in. Can you stop trying to pretend there's a deeper message here about fate? Please?
And that's before the absurdist final act, brimming with touches so dumb you wish the actors would step out of character, glance at the director off-screen and say, "really?"
We are talking Brad Pitt here, an actor who shouldn't be given such rubbish at this stage in his career.
Leitch and co. can't help themselves. They ladle on the wacky moments, hoping each increasingly shrill beat will make us grin.
It works for longer than it should. By the end, you'll be begging for the chaos to wrap.
It's not "Bullet Train's" fault that our cultural moment doesn't allow for certain jokes but cheers on films about lovable assassins. It still rings hollow when we're asked to care, and care so very deeply, about professionals who kill for a living.
Maybe Pitt should consider a comedy without such a wobbly moral compass next time 'round.
HiT or Miss: "Bullet Train" packs plenty of whimsy, and some rugged action beats, but by the end you'll want it all to stop.