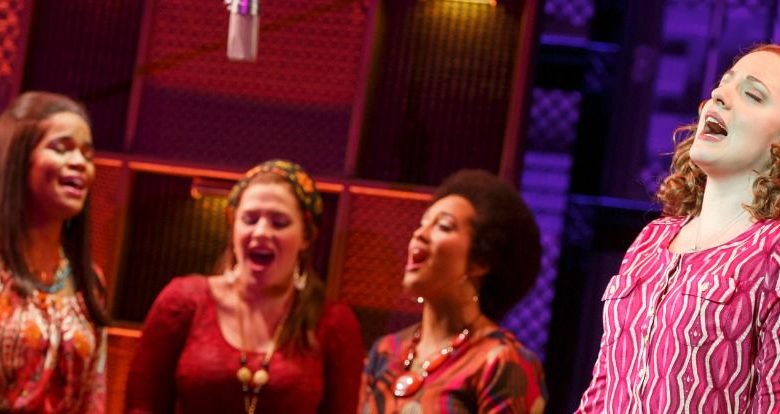 She's dowdy to the core, a Brooklyn girl who thinks she isn't pretty enough to sing her own songs. Her tunes are meant for stars, not a mom struggling with a wayward beau.
We all know she's far more than that.
Watching her blossom, along with the songs that made pop culture soar, proves a true feminist tale. Those looking for victims will be disappointed. King did it all on her own. Her talent and pluck forged her story of personal redemption.
"Beautiful: The Carole King Musical" showcases the singer/songwriter's early career with humor, heart and some nagging flaws. Playing at The Buell Theatre through July 31, the production boasts the kind of humor you might find on a veteran sitcom.
The jokes are corny but expertly crafted. Those classic songs? They can't help but mesmerize us anew. So why does the show's first act feel like an extended "American Idol" episode?
Young Carole Klein (Abby Mueller) bends the Golden Ear of music producer Don Kirshner (Curt Bouril) as the musical opens.
"I wanna be a song-writah," she pleads in her nasally New York drawl.
RELATED: The Missing Link in the Monkees' Legacy
He hires the promising teen, but it's the kind of deal that keeps her still living at home with Ma (scene swiper Suzanne Grodner).
Her career, and more, change when she meets fellow musician Gerry Goffin (Liam Tobin). He's a handsome flirt who connects with her artistic vision.
And then some.
FAST FACT: Carole King's songs have been recorded by more than 1,000 artists.
They make beautiful music together. They also fall in love at warp speed. Gerry isn't easily tamed, though. And their friendship with a pair of fellow songwriters, Cynthia Weil (Becky Gulsvig) and Barry Mann (Ben Fankhauser), reveal fissures in their pairing.
Jukebox musicals aren't known for their sturdy storytelling. Even by that modest benchmark "Beautiful" disappoints. A whole swatch of the first Act is a rudimentary set up for King's '60s classics like "Will You Love Me Tomorrow" and "Up on the Roof."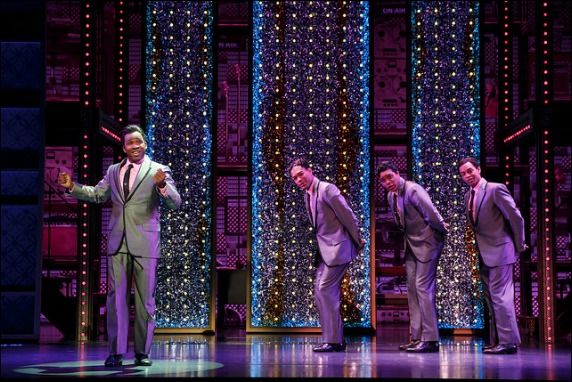 Those sonic recreations yield mixed results. "Pleasant Valley Sunday," one of the Monkees' most sublime smashes, sounds both faithful and alive. Yet director Marc Bruni stages the chestnut with a busy pastiche of singers and imagery. That misses the song's suburban angst.
Other medley moments are similarly conflicted. Partial blame goes to the set design, a strained collection of patterns that clash in too many scenes.
King's songs defy artistic confusion. Hits like "Uptown," "The Locomotion" and especially "You've Lost That Loving Feeling" soar, aided by background singers who occasionally lap the leads.
The story line ever so gently touches on the racial turmoil of the era, just enough to add context to the songwriters' lives and woes. Mueller holds the rest of it together. She's a work in progress, a young woman realizing why she matters as a songwriter and a soul. The actress gives that process a dignity King's story deserves.
"Beautiful" is consistently funny if rarely incisive. The best lines belong to Fankhauser, a neurotic who can't convince Gulsvig's character they belong together. Their tension is often more intriguing than the King/Goffin courtship.
"Beautiful" sometimes lives down to the jukebox musical format. Mostly, it reminds us why King made the stormy '60s, and the decades to come, that much brighter.
"Beautiful – The Carole King Musical" photographs by Joan Marcus.