Industry News
Opinion
'Bastards' Road' Director Shares How Veterans Doc Changed His Life
Jonathan Hancock's inspiring walk across America becomes a potent lesson for all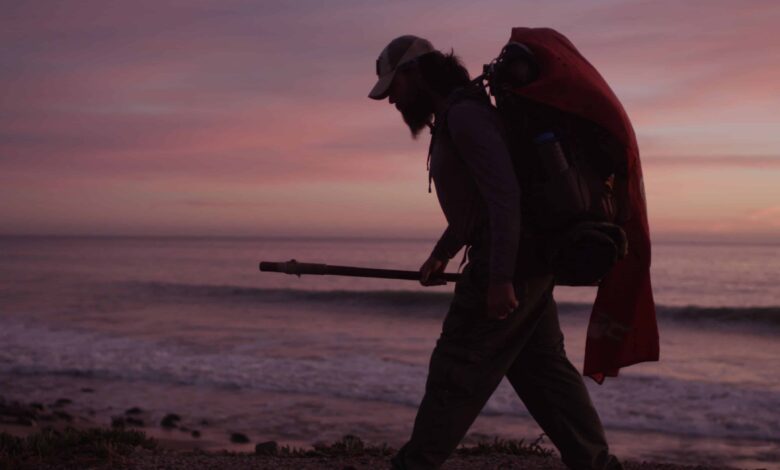 How do you act in response to hearing something traumatic?
I admit I experienced great anxieties upon starting a documentary, "Bastards' Road," about veterans struggling with post-combat trauma.
I'm not a veteran or a mental health professional. I am fortunate to not have been immediately touched by trauma. I'm not even a documentary filmmaker by trade. Despite my reservations and anxieties, I dove into this project face first.
Bastards' Road | Official Trailer
The main subject of the film, Jonathan Hancock, was walking across the country to fight his post traumatic stress from his time serving in the Marine Corps. We went to the same high school and despite not personally knowing each other, we shared many mutual friends.
That's how I became aware of Jon's walk early on. I say "early on", but Jon had already walked 1,700 miles before I first reached out to him.
Nothing about Jon's walk or this documentary could be thoroughly planned. Jon certainly prepared himself physically for the walk, but his route was circuitous and constantly shifting, as if he was being guided by the wind or guardian angels.
RELATED: Michael Reagan Honors Hollywood Veterans with Walkway Memorial
He was alone on the road for days, sometimes weeks. Although Jon was walking freely across the country he had fought for, he was silently trapped by his own thoughts and demons.
This is why I was drawn to him. Before we ever met I saw Jon's strength and courage and it was an inspiration to me. I knew that his story could inspire so many others, I just had to figure out a way to become a documentary filmmaker.
Combat Veteran's Walk Across U.S. Captured In New Documentary | MSNBC
The dangers to Jon on the open road concerned me, and I felt I couldn't wait for any film grants, crowdfunding or investors to begin filming. Jon's story couldn't wait for others to catch up. For each trip Jon would send me a GPS pin of his location.
I would fly into the closest airport, stuff camera gear into a rental car and then track him down on some state highway in the middle of nowhere. Most days on the road it was just us – no other cameraman, no sound guy, just Jon and I.
They were some of the most memorable days of my life.
Eventually I was introduced to other Marines. Jon's brothers. That's when everything changed for me. I was a stranger and a civilian. I felt I was asking too much to be amongst them during these very intimate and emotionally charged reunions.
Would my presence spoil the moment? Was the camera going to be violating or threatening? I'm essentially providing a window for somebody else to judge them. And beyond that, why would anybody want to talk to me? What credentials or right do I have to tell "their" story?
RELATED: 'Thank You for Your Service' Director Honors Military Veterans
And in this moment, I learned so much about them. Within this military community there is a degree of trust, love and commitment that is unparalleled. My credentials to this world was Jon. He gave his word that I was okay, and that was enough.
Extraordinary faith amongst an extraordinary brotherhood. And once I was given that incalculable trust, how was my anxiety going to affect those very personal and unguarded conversations? Would my reaction to hearing trauma create an adverse effect? What could I say to make things better in a reflection of such horror?
What I learned from Jon and his 2/4 brothers, The Magnificent Bastards, is that it's okay to not have the perfect thing to say. Those perfect words don't exist. And it's okay to not say anything… Your words won't help as much as your ears will.
Being willing to truly listen. Being present and emotionally available to receive whatever has been given to you without judgment or fear of recourse.
It's a powerful gift that we all have the ability to give. It's a lesson and experience that's made me a better documentary filmmaker and a better person.
—————————————-
Brian Morrison is the director of "Bastards' Road," available now on VOD outlets like YouTube, Google Play, iTunes and Fandango Now.