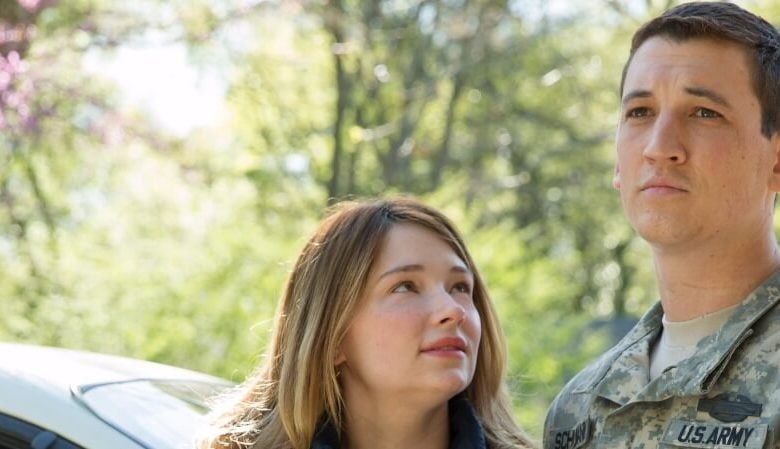 Jason Hall says selling a studio on his "American Sniper" screenplay wasn't easy.
"Nobody had made money on an Iraq war film. We got a bunch of passes [on it]," Hall says. The tide began to turn after Bradley Cooper signed up to play the late Chris Kyle.
"Sniper" went on to make $350 million at the U.S. box office.
Getting Hall's directorial debut "Thank You for Your Service" greenlit was another matter. He had the "Sniper" success to draw upon along with a powerful ally pushing the project. Steven Spielberg dropped David Frankel's 2013 book of the same name in front of Hall and said, "Hey, I wanna do this."
"And if Steven Spielberg wants to do it, it gets done," Hall says.
First-time directors dream of such moments. And Hall was more than ready for it.
Thank You For Your Service - A Look Inside - In Theaters October 27 (HD)
Miles Teller stars as an Iraqi War veteran struggling in his first few months back home. His fellow veterans are equally adrift, stranded by government bureaucracy and memories that refuse to fade away.
It's haunting and powerful, a bravura war movie that avoids political posturing. It's also being celebrated by veterans in a way that doesn't always happen, even with films that bring home Oscars.
"''Hurt Locker' got a lot of credit from Hollywood, but if you look at the reception of that by the military guys, and I really look to the military guys and what they respond to, they did not respond to [it]," he says. "This guy's running out there by himself in the middle of Baghdad at night? That doesn't happen."
RELATED: Hollywood Slams 'American Sniper' at Its Own Peril
Hall figured if he wrote "American Sniper" in a way veterans would appreciate he was on the right path. He took the same approach with "Service."
One way Hall's directorial debut does just that is how it portrays marriage on screen. Teller and co-star Hayley Bennett ("The Girl on the Train") capture the rhythms of a veteran and his spouse in powerful, profound ways.
"These guys go away and [the wives] take care of the family," he says. "It's their job not only to continue to carry the weight of the family but also to deal with their soldier, their husband, and to find a way to coax him home and nurture these stories out of him … If you try to pull them out or extract them like teeth it doesn't go well."
"I wanted to pay homage to her and other women like her," he adds.
Thank You for Your Service Movie Clip - VA Questionnaire (2017) | Movieclips Coming Soon
Watching "American Sniper" director Clint Eastwood assemble that film taught Hall plenty about both filmmaking and what makes the Oscar winner unique.
"He's looking for honesty in the moment," he says. "He doesn't necessarily stick it in your face. Sometimes he subverts it and hides it in the corner."
Hall points to a early "Sniper" scene in the film in which Eastwood captures Cooper from an over-the-shoulder angle. Hall wanted Eastwood to swing the camera around and frame the actor's face.
Wrong.

"[Clint] wasn't giving away what [Chris Kyle] felt about taking a life that early in the film. It turned out to be very, very important," Hall says. "He knew exactly what he was doing. He wasn't gonna shove it in our face. He was gonna make us lean in for it and reach for it. That's why people got involved in that movie. You have to reach for the truth. In reaching you create your own interpretation."
It's likely a method Spielberg wouldn't have taken.
"Steven, in every moment with every story, knows what he wants his audience to feel in that moment. He will shape things and move things around to achieve it," he says.
Spielberg initially signed on to direct "American Sniper." He later left the project, opening the door for Eastwood.
Two great directors. Two very different connections to the movie going public.
The film "probably wouldn't have hit the same chord it did [with Middle America]," he says. "We know Clint. We know his politics and we know he stands for us. He stands for the real people out there."