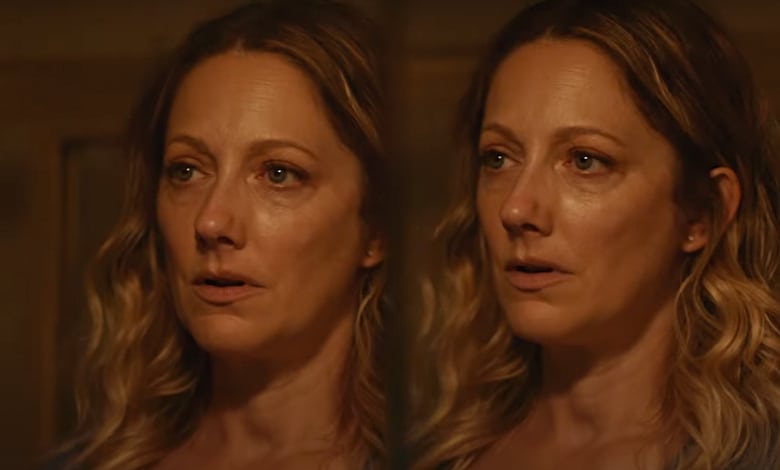 Jared Moshe's "Aporia" is about a family broken by a sudden death.
We meet Sophie (Judy Greer) who has lost her husband Mal (Edi Gathegi) to a drunk driver and has found her life spiraling downward. Sophie's relationship with her husband's best friend Jabir (Payman Maadi) provides comfort (he's there for her when no one else is available) but also a strange reveal.
Jabir has been working on a time machine with Sophie's late husband that could use quantum particles to alter the past in a profound and dangerous way.
Although Sophie is initially repelled by the idea and is skeptical of Jabir's creation, she eventually decides to join him as he activates the machine.
APORIA Official Trailer (2023) | Directed by Jared Moshé | Judy Greer | Edi Gathegi | Payman Maadi
The only hip touch here is a quick reference to "Back to the Future" (1985). Otherwise, there are no visual effects, action sequences or even much humor. In fact, "Aporia" is so dialog and character driven, it could have been a stage play.
Best described as sci-fi that is dialed down, "Aporia" lacks the cold brilliance of Shane Caruth's "Primer" (2004) or the eerie mind games of James Ward Byrkit's "Coherence" (2013) but deserves to be mentioned in their good company.
Moshe's film allows for the fragile emotions to come across as every bit as essential as the headier concepts introduced. It's worth noting that some of the most dramatic moments take place in locations as unassuming as a bowling alley, living room and neighborhood sidewalk.
Moshe succeeds in not only making his concept of time travel understandable but keeps the main characters engaging. One of my favorite scenes is a brave choice: rather than go with the cliché of having a character not reveal a giant secret about someone's existence, we have a confessional that is performed tenderly and smartly written.
View this post on Instagram
Greer is fantastic and gave a performance that dials into all of the emotional stakes of the screenplay. Anyone familiar with Greer's work knows she's been superb for decades, in dozens of roles ranging from thankless to appreciably scene stealing; her Oscar-worthy supporting turn in "The Descendants" (2011) and other recent works have only spotlighted how much she shines in any movie.
Her work here is the film's emotional center, and I liked all of her scenes with Gathegi.
"Aporia" is a thoughtful film and as much about parental anguish and struggling with grief as it is an intellectual/moral sci-fi tale.
RELATED: WHY 'JULES' ISN'T REALLY ABOUT ALIENS
There's a scene involving a botched recital of a scene from "Hamlet" that doesn't work – the intent may have been to portray s relatable depiction of any actor's nightmare or phobia about theater, but it's a dud sequence that undermines one of the wilder plot reveals.
The way Moshe brings the sci-fi into the narrative is forced, but the concept quickly takes hold, and the film improves as it unloads its many big ideas. While "Aporia" moves well, there's still enough here that could have been trimmed and made the 104-minute running time even tighter.
Seeing movie stars go indie and embracing low budget sci-fi vehicles is nothing new (remember Anthony Mackie in the so-so 2019 "Synchronic"?) but the pairing of Moshe's ripe imagination and Greer's emotionally generous performance makes me hope they collaborate again soon.
I found the ending truly haunting and, days later, I haven't stopped thinking about it.
Three Stars