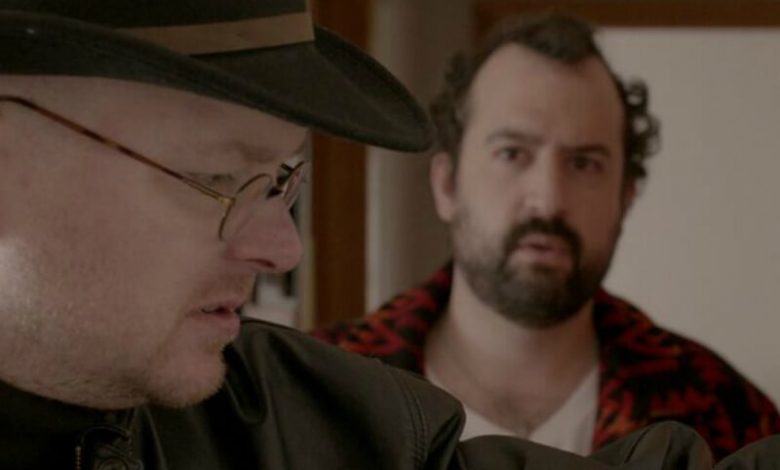 That's not because it's unbelievably scary. It's not. Nor does it pack as many laughs as "An American Werewolf in London" or "Shaun of the Dead."
Not even close.
It's wildly original all the same. How often can you say that about a horror movie? This creepy crawly affair burrows under your skin without the obvious flourishes. No cheap scares or gore. Heck, the jokes are almost microscopic in size, but they register all the same.
Another Evil Movie CLIP - Ghost (2016) - Mark Proksch, Steve Zissis Comedy HD
"Togetherness's" Steve Zissis stars as Dan, a painter who discovers some ghosts lurking in his upscale cabin in the woods. He hires a local paranormal expert to investigate.
The fellow (Dan Bakkedhal) looks like he just left a Bernie Sanders rally. He declare the ghosts non-threatening, but Dan isn't convinced. So Dan hires someone else, a more dedicated ghost buster to rid the home of its visitors.
Os (Mark Proksch) sees a far bigger threat. And he won't stop until he cleanses the home of its otherworldly creatures. Better stock up on alcohol in the meantime. Os likes to drink, and talk, and open up about his issues. And nice guy Dan is there for him.
For now.
Writer/director Carson Mell keeps us guessing on a number of levels. Is Os legit? Or is he a very lonely man who will do anything to spark a bromance? Does Dan buy into Os's sales pitch … and why?
RELATED: Horror Vet Defends Our Need for Nightmares
In a way, "Another Evil" is a second cousin to "Borat," the movie that showed just how patient the average American can be when confronting asocial types.
From a budgetary perspective, "Another Evil" looks like it costs less than "The Blair Witch Project's" food services' bill. The cinematography is stone-cold spare, with much of the action taking place in Dan's nondescript home. Its exterior is a bit better, paying quiet homage to the Amityville Horror house.
FAST FACT: Carson Mell gained fame for not only creating a series of animated shorts but penning episodes of "Silicon Valley" and "Eastbound and Down."
It's all about the back and forth between Dan and Os. On that level, it's a triumph. Proksch is so very good because you'll recognize him right away. He's the guy at the party who doesn't quite fit in. He misses more social cues than he gets. In short, you feel for him even while you try to maneuver out of his path.
Please don't let me get stuck talking to him.
Those looking for big scares, sizable reveals or even white-knuckle tension will be exasperated by "Another Evil." For everyone who's grown bored with the genre or just think it's needs a wakeup call, this "Evil" is the answer.
---
"Another Evil" will screen at the Denver Film Festival at 9 p.m. Nov. 4, 10 p.m. Nov. 5 and 9:15 p.m. Nov. 7. All showings will be held at the Sie FilmCenter.