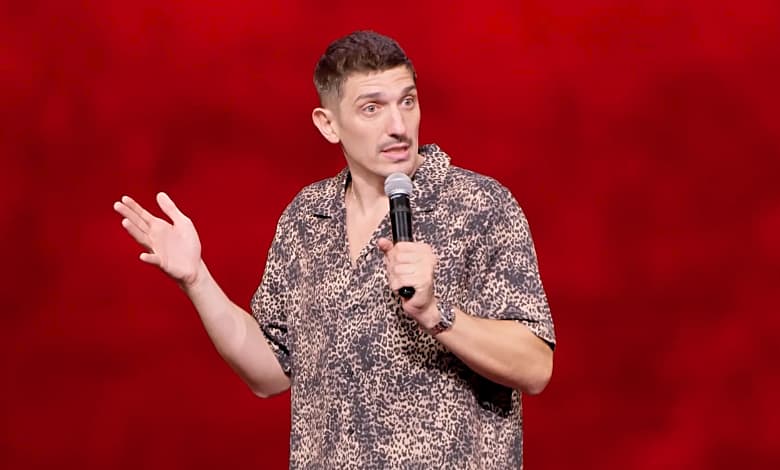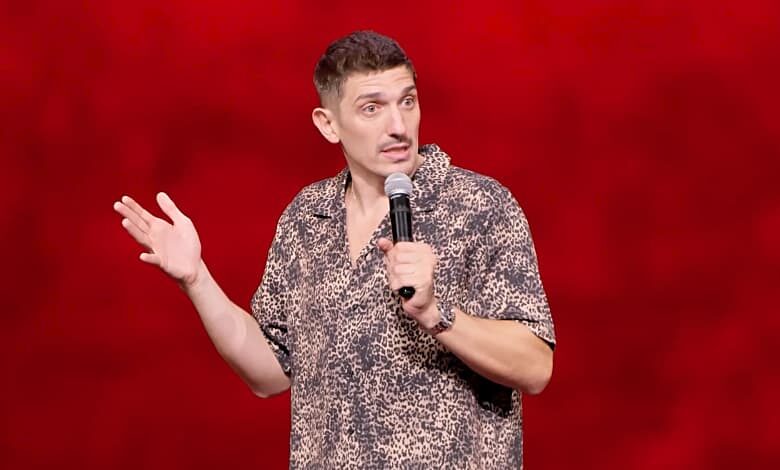 Andrew Schulz famously bought back his "Infamous" comedy special from an unnamed streamer.
The platform had asked him to edit out select jokes, and he refused.
Watching "Infamous" leaves one nagging question — how did any of Schulz's jokes slip past today's censors?
ANDREW SCHULZ | INFAMOUS | OFFICIAL TRAILER
"Infamous," taped before a rapturous crowd in Austin, Texas, is like a primer on what gags you're no longer allowed to tell. Here's a sampling of the topics the New York native explores, in no particular order.
Rape (childhood and adult)
Abortion
Handsome serial killers
Pro-Trump material
Blackface
Bill Cosby, rapist
Get the idea?
How does he get away with it? It helps that he brings an innocence to his shtick, akin to Sarah Silverman's cherubic face letting her say dirty jokes in her pre-woke days. It's hard to get grumpy at Schulz when he's clearly having a blast, his crooked smile flashing between punch lines.
The other, integral part of his delivery system's success? His fans.
They made him a star without the typical comedy trappings. They arrive at the theater eager to laugh at him, and more importantly, themselves.
That critical one-two punch sets Schulz free to say just about anything.
15 mins until #INFAMOUS 🤯

Thank you so much to every single one of you that got the word out about my special. We just might change comedy tonight. What a movement to be a part of. What a time to be alive.

If you haven't already, buy that shit now! https://t.co/ESE9SE2nxn pic.twitter.com/aFu8exRO0o

— Andrew Schulz 👑HEZI (@andrewschulz) July 18, 2022
Even a few audience members caught on camera looking skeptical are soon won over by the comic.
Schulz's crowd work is flawless – he could probably do a tight hour without a single prepared joke and kill. An interesting note – his Austin audience is both youthful and diverse. They're not scrambling for pearls to clutch, nor do they lunge for the nearest fainting couch when Schulz toys with racially-barbed tropes.
They're too busy laughing.
RELATED: Big Tech Is Crushing Conservative Comedy
Schulz isn't a political creature. He front-loads his special with gags about Trump, the Jan. 6 riots and MAGA hats, but he's not trying to score political points.
You won't hear any clapter in this hour.
He leans on flimsy, anti-Trump assumptions early on (MAGA acolytes are racist … yawn) but scores better by comparing MAGA hats to tear-drop tattoos. He has little of interest to say about President Joe Biden beyond how the 79-year-old inspires zero passion.
"Biden ain't go no merch," he says.
Andrew Schulz | The Tim Dillon Show #307
It should go without saying that Schulz's shtick isn't for everyone. He's working on the edge of comedy, fully aware of where the lines are and how close he can come to stepping over them. It's where he thrives, knowing that it takes skill to flirt with topics lesser stand-ups might trip over.
Not Schulz.
It starts with his body language. He's like a prize fighter bouncing to get loose before the first round, ready to pounce. He knows when to stay silent, too, and how to flail his arms to hammer home a point.
He's no Sebastian Maniscalco but his physical shtick is always on point.
"Infamous" doesn't have an overriding theme, nor does the material coalesce into something profound like your average Mike Birbiglia set. And he might be 38 but he often sounds like a 17-year-old who found his parents' stash of Red Bull.
RELATED: Rogan: Wokeness Killed the Hollywood Comedy
He's shrewd, though, especially in the way he upends conventions. That's never more true than when he's dissecting the abortion debate. He's pro-choice, we think, but he attacks the subject from several angles we've never heard before.
That's impressive.
So, too, is the sex banter that caps the performance. We've heard just about every promiscuous gag over the decades, but Schulz's approach is both funny and fresh.
He also can turn pre-written bits into lines that pop up seamlessly with his banter. It sounds like he just thought them up, but that can't be.
Can it?
RELATED: Meet 2022's Essential Comedy Rebels
Dave Chappelle made some waves with his Michael Jackson gags in "Sticks & Stones," but Schulz leans into the subject in ways that will make some viewers squirm. He makes himself the target of his harshest critiques, which makes them more palatable.
Some viewers will still cringe, and understandably so.
At the end of the day they're just jokes told by a disarmingly smart comic who craves one thing above all — audiences ready to howl, not fold their arms in outrage.