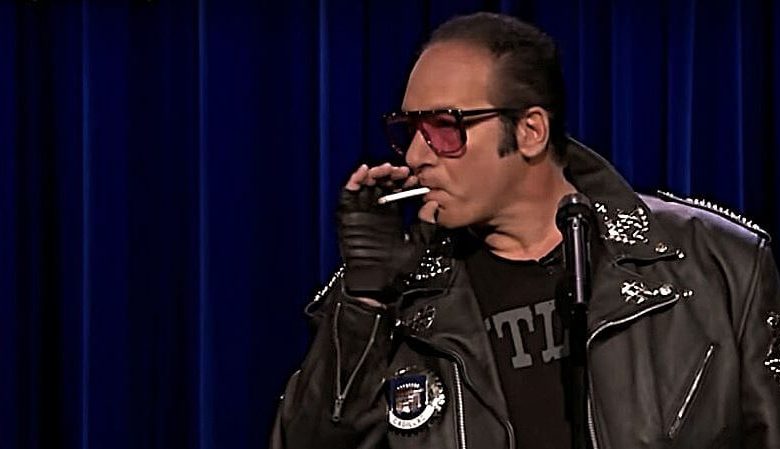 Andrew "Dice" Clay once packed arenas like that obscure venue in New York City.
Roseanne Barr created one of the most consequential sitcoms of all time, a show that rose from the sitcom grave last year to massive ratings.
Together, they're … desperate for a career boost?
That's the unvarnished truth behind "Mr. and Mrs. America." The upcoming tour pairs the iconic comics at a time when, on paper, the culture rejects them.
Feminists howled over Clay's uber-macho routine back in the late 1980s. Imagine the reception he'd get now if he trots out his intentionally misogynistic barbs?
Barr, in one sense, is an easier sell. She never pushed the envelope like Clay did. Her ABC sitcom "Roseanne" merely showed blue collar Americans looking like … blue collar Americans.
That changed the TV landscape for the better.
That was then. Today, Barr is still in Hollywood purgatory following her racially charged Tweet aimed at Valerie Jarrett. The comic lost her show, her job and the money that flowed from both. Her brief embrace of President Donald Trump made her expendable in the eyes of her peers.
Roseanne Barr on Supporting Donald Trump
Clay's career, on the other hand, stands in a curious place. He can't pack arenas anymore, and his acting career, which began with the disastrous "Adventures of Ford Fairlane," never fully blossomed. Still, he's proven effective in supporting roles, witness his work in "A Star Is Born" and "Blue Jasmine."
The Clay/Barr pairing matters not just for these comics, though.
Should the tour thrive it's another sign artists can work around the usual Hollywood gatekeepers. No one is begging to hire Barr following her "Roseanne" debacle. Clay can still work the comedy circuit, but this tour will give his un-PC act more attention than it's received in some time.
Another plus?
There's a mountain of material left virtually untouched by modern comics. Trump Derangement Syndrome. Rep. Alexandria Ocasio-Cortez. The gaggle of not-ready-for-prime-time Democrats running for the White House. Social Justice Warriors. Social media deplatforming.
That's just a partial list.
Yes, The Babylon Bee makes hay out of these ripe targets. Most comedy institutions avoid them, straining muscles in the process. That opens up a treasure trove of jokes for Clay and Barr to mine. Some practically write themselves.
Barr already sounds like she's ready to rumble on some of the aforementioned topics.
Please sign this petition if you want to fight against bias in social media. No matter what your political affiliation is, Big Tech should not control your speech. https://t.co/Xlw16fPAQy #DemandFreeSpeech pic.twitter.com/Dcv91FI7rl

— Roseanne Barr (@therealroseanne) May 16, 2019
The double billing also proves friendships matter in Hollywood.
"She's a comic because she's wacky. I've known her since we were kids," Clay told the news channel. "When people ask about what she said, I say, 'She's a comic!' We got to stop policing comedians. This is America!"
That's Clay defending both the upcoming tour and his bond with Barr. That's instantly better than what the cast of "Roseanne" said following her dismissal. She gave them steady work for years, and likely millions as a result. Her co-stars couldn't say much, if anything, in her defense after TweetGate, though. Some threw her directly under the bus.
RELATED: Roseanne Barr's Son Shreds Hollywood, And He's Right
The most important upside to the tour? Reminding comedians it's safe to push boundaries again. Clay hints the tour will poke and prod topics our PC scolds have deemed off-limits.
This is comedy. Since when did it come with training wheels?
PC COWARDS: Why You NEVER Apologize for Comedy | Louder With Crowder
Media outlets mostly played the tour announcement straight. One hard-left source, though, savaged the duo before the first joke is told.
In the Year of Our Lord 2019, comedy is under siege. PC Police and Twitter account-wielding SJWs patrol Laugh Factory after Laugh Factory, hunting for the brave comedians who refuse to reject comedy's time-honored tradition of reducing ethnic groups to stereotypes and/or joking about rape. Thankfully, heroes walk among us—chiefly, Roseanne Barr and Andrew Dice Clay, who are teaming up for a comedy tour. We are so truly blessed.
All of this assumes the tour lives up to those expectations. Nothing is guaranteed, especially with stars many years removed from their prime.
Worst case scenario? Clay and Barr has lost their comic instincts, and they run through reheated variations of their best bits. It's certainly possible. Comics don't stay at the top of their game indefinitely.
If that proves true, "Mr. and Mrs. America" will be not just a disappointment but a lost opportunity.