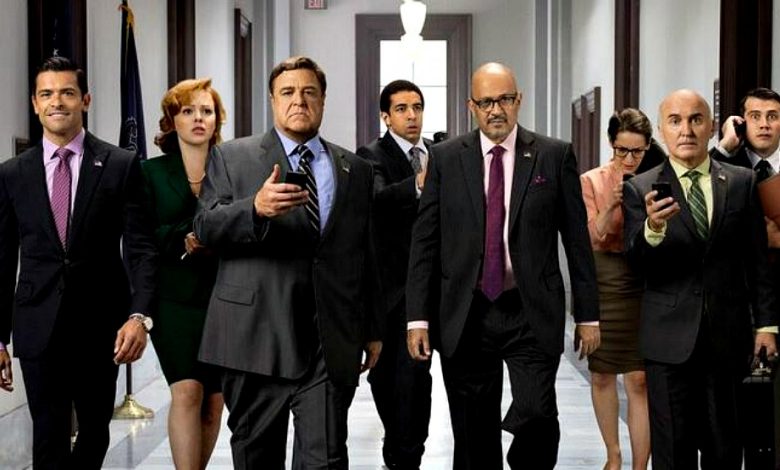 "Alpha House," one of Amazon's first original programs, is "not a current show." That's according to company studio chief Roy Price.
For those unfamiliar with the wild, wild west of streaming, that means it's canceled.
The series starred John Goodman as one of several GOP congressmen living in the same house. Created by liberals Jonathan Alter and Garry Trudeau, the series took pot shots at Republicans.
Season two, for example, featured an attack on the Koch brothers.
That made it one of TV's freshest comedies. After all, the only other programs mocking Republicans are:
"The Daily Show"
"Real Time with Bill Maher"
"The Late Show"
"The Nightly Show"
"Full Frontal"
"Late Night with Seth Meyers"
"Saturday Night Live"
Don't worry, though. Price hints the show could come back if real-world political events demand it. Apparently, the current presidential race isn't wild enough to do the trick.
In other entertainment news:
Big … and Bigger!: "Suicide Squad" ruled at the box office, earning a big $135 million. The Friday-to-Saturday drop off, though, was bigger. Word of mouth began earlier than usual.
Thin Skin: "Suicide Squad" co-star Cara Delevingne says movie critics have been "really, really horrible" to her film. "You know, I just don't think they like superhero movies," she says, ignoring recent history as well as any actress could.
Thin Skin, Part II: A Change.org petition to shut down RottenTomatoes.com for daring to aggregate lousy "Suicide Squad" reviews gets summarily mocked.
TCA Beclowns Itself: The TCA honored TBS's nasty, one-sided "Full Frontal" with its "Outstanding Achievement in News and Information" award.
Sexier Is Better: Britney Spears fans howl over singer's new video, requesting an earlier, sexier cut get released. They, too, turned to Change.org to help right this historical wrong.
Crank Up the Tour Bus: A new Ronnie James Dio hologram debuted in Germany, paving the way for a possible 2017 concert tour.
Bye-Bye Broadcast TV: David E. Kelley, one of TV's most prolific producers, has little interest in returning to network fare after dabbling in his first streaming project.
VIDEO ROUNDUP
Amazon Serves Up Sizzle (Reel)
Your Obligatory Lip Sync Update
James Corden's Other Gig
'Jason Bourne' Stunt Double w/ Matt Damon