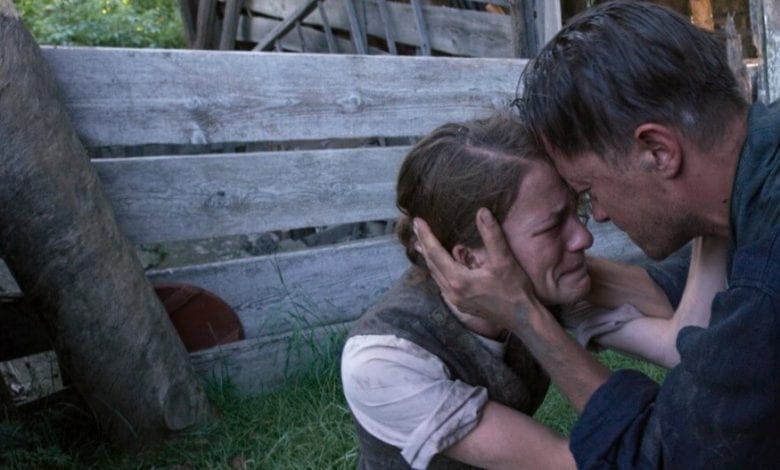 At the beginning of Terrence Malick's "A Hidden Life," Franz Yagerstatter (August Diehl) is returning home to his family.
Living in Austria during the early days of Nazi recruitment and the war to come, Yagerstatter has been training as a soldier. He finds his conscience at a crossroads, wanting nothing to do with the obvious evil that is the Nazi party.
Upon his walking home to his mountainside home, Yagerstatter is greeted by his wife, who not only embraces and kisses him but tackles him to the ground. That moment says all we need to know about them as a married couple and how affectionate and comfortable Yagerstatter's home life is.
A HIDDEN LIFE | Official Trailer [HD] | FOX Searchlight
He is a father, happy husband, a hard worker and a member of a tight-knit community. To give all that up would be excruciating, mentally as well as socially. Yet, over the course of the story, Yagerstatter's refusal to join the Nazis, even in the most causal of ways, tears him from his family, his community and his chance to see his children grow.
August Diehl (who once played a Nazi in Quentin Tarantino's "Inglourious Basterds") and newcomer Valerie Pachner are incredible as Franz and Fanny Yagerstatter. Malick contrasts his protagonist's suffering at the hands of Nazi guards while imprisoned, as Fanny tends to the overwhelming farming and parental demands at home.
Diehl plays Franz as strong, internally powerful and deeply thoughtful, but never a symbol. We clearly see Franz's strength, love for his family and aching soul through Diehl's excellent work. Matching him scene for scene is Pachner, who brings astounding depth to the film's most compelling character.
Richly atmospheric, vividly recreating a lost era and yet, chilling in its timeliness and how it mirrors contemporary struggles, this is Malick's most accessible film in years. While the length will be an issue for some, it moves well but it does require the audience's patience.
Don't let that sound like I'm hinting that the film is a bore, which it isn't. In fact, what Malick and his sound mixers and engineers have crafted is remarkable.
Check out this clip from #AHiddenLife before watching the new Terrence Malick movie at #ChezArtiste this week. Get Tix: https://t.co/DdHZi3526Q https://t.co/NowQ1JtWrZ

— Chez Artiste & GWV (@LTDenverCO) January 5, 2020
"A Hidden Life" takes place in a world bereft of our technological overkill, with many of the homes and buildings on screen devoid of electricity. While James Newton Howard's gorgeous score fills the frames, it's the work of the sound designers who give the film its most authentic quality.
Taking place in a quieter, simpler and slower time, Malick's film requires (demands, even) that audiences simply relax, take in the imagery and give in to the mood and pace established.
Everything on screen appears so lived in, from the costumes to the settings, and the performances are so raw and (typical of Malick's films) naturally inquisitive, viewing this is akin to stepping into a time machine.
Malick's past three works (outside of his IMAX release, "Voyage of Time," an expansion of his Creation sequence from "The Tree of Life") have been "To the Wonder," "Knight of Cups" and "Song to Song," highly improvised, experimental dramas, set in present day with all-star casts.
Coming off of "The Tree of Life," which felt like many to be Malick's cinematic master's thesis, his prior films, a modern day trilogy dealing with troubled romances, internal struggles and the need to alter one's place in life, were largely ignored by audiences and dismissed by critics.
I adore those movies, particularly the first two, while "Song to Song," despite arresting scenes and performances, is the only Malick work that seemed to be impaired, not enhanced, by Malick's tendency to alter works in the editing room and have actors perform lengthy scenes without the scripted dialog.
Still, outside of the US, where these three films are rightfully recognized having a feel and aim to reflect the likes of Antonioni, nobody is making movies like Malick. His latest is, indeed, a masterpiece but calling it a return to form is akin to dismissing the early '90s works of Scorsese, without consideration of how they fit into the overall body of work.
FAST FACT: Terrence Malick harvested wheat, wrote magazine features and served as a philosphy lecturer before becoming one of Hollywood's most respected, and reclusive, auteurs.
While a period piece, "A Hidden Life" speaks to the need of individuals to stand up against tyranny, oppression and forces that are clearly wrong but viewed by many as an acceptable evil. Yagersatter's stance against Hitler and avoidance of giving any kind of allegiance to the Nazi party speaks to the power of one man's ability to defy the masses, as he chooses the difficult path of resistance, when everyone around him suggests how easy it would be to just outwardly kneel to Hitler and maintain an inner, secret opposition.
Yagerstatter chooses to perform an external method of social activism, though it's a stubborn, quiet stance that resembles Mahatmas Gandhi's method of passive resistance. It's no accident that Yagterstatter's suffering and abuse by those in power resembles the torturous final days of Christ – there's even a key moment in which three prisoners await execution together, as well as other moments that reflect Christian themes and ideas in Malick's past films.
Academy Conversations: A Hidden Life
A consistent quality to Malick's approach to exploring religious subjects is to allow the gravity of the ideas and the emotional complexity of faith to take focus. There is no heavy-handed proselytizing or attempt to convert secular audiences; this is faith on film as take-it-or-leave-it, personal and devoid of being simplified or made acceptable to the masses.
In the same way that Martin Scorsese's "Silence" (quite likely the greatest film he ever made) is a religious film, so is "A Hidden Life."
Malick's film offers his expected visual and thematic trademarks, such as nature shuddering at the arrival of outsiders, idyllic good contrasted with stark evil, a female lead who is the film's center and audience surrogate and voiceovers providing much of the dialog (albeit effectively presented here as letters rather than prayers in prior works).
Some moments are perplexing and require differing interpretations and repeat viewings to fully grasp. Malick's film, similarly, harrowing but essential as "The Thin Red Line," is a powerful experience, full of incredible visions and intelligent contemplation on how much one suffers for their beliefs in the presence of those whose aim is suppression.
The Thin Red Line Official Trailer #1 - Terrence Malick Movie (1998)
A striking reflection of Malick's 1998, WWII epic: consider the scene where the characters played by Sean Penn and Jim Caviezel are sitting in a field and Penn's Sgt. Welsh is digging into Caviezel's Private Witt, asking, "What difference do you think you can make, one man in all this madness?"
That question echoes throughout "A Hidden Life," as it is constantly asked of Yagerstatter by his family, the Nazis and himself.
"A Hidden Life" is effective on the surface as a tribute to a man who refused to compromise whatsoever, but universal enough to apply to any form of mass persecution and/or systems that require humanity to take a stand.
---
Five Stars