Industry News
Epic 'Wrinkle in Time' Teases Christian Sci-Fi Yarn
Few remember Hollywood's first attempt at bringing "A Wrinkle in Time" to the screen.
That won't happen again.
The 2003 TV film didn't have the star power the 2018 adaptation boasts: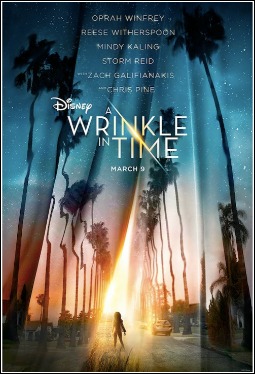 Oprah Winfrey
Reese Witherspoon
Chris Pine
Zach Galifianakis
Mindy Kaling
Director Ava DuVernay ("Selma") enlists the stellar cast to tell a sci-fi yarn brimming with Christian themes. The tale of a young girl (Storm Reid) searching for her father (Pine) is already entrenched in western culture.
And for good reason.
The tale captures the uncertainty faced by its young protagonist in a way each new generation can grasp. The story also deals with issues of light and dark, elements with broad appeal to people of faith.
FAST FACT: Author Madeleine L'Engle's "A Wrinkle in Time" has sold more than 15 million copies since its publication in 1963.
"Wrinkle" also may be that rare project that bridges the ideological divide. The original story got name-checked by Chelsea Clinton last year, drawing robust media coverage.
It's unabashedly about the fight between good and evil, leaning on the author's Christianity in the process.
A Wrinkle In Time Official US Teaser Trailer
Should the film score with movie goers we can expect more of the same. L'Engle's book spawned four sequels.
Here's the project's official description:
The film, which is an epic adventure based on Madeleine L'Engle's timeless classic which takes audiences across dimensions of time and space, examining the nature of darkness versus light and ultimately, the triumph of love.
Directed by Ava DuVernay from a screenplay by Jennifer Lee based upon the beloved novel by Madeleine L'Engle, "A Wrinkle in Time" is produced by Jim Whitaker and Catherine Hand with Doug Merrifield serving as executive producer. The film stars: Oprah Winfrey, Reese Witherspoon, Mindy Kaling, Gugu Mbatha-Raw, Michael Peňa, Levi Miller, Deric McCabe, André Holland, Rowan Blanchard with Zach Galifianakis and Chris Pine and introduces Storm Reid.
"A Wrinkle in Time" opens nationwide March 9, 2018.