Industry News
Woody Allen's 'Rainy Day in New York' Stars Vanish at Rotten Tomatoes (UPDATED)
The 'canceled' auteur's big-name cast can't be seen on the popular movie site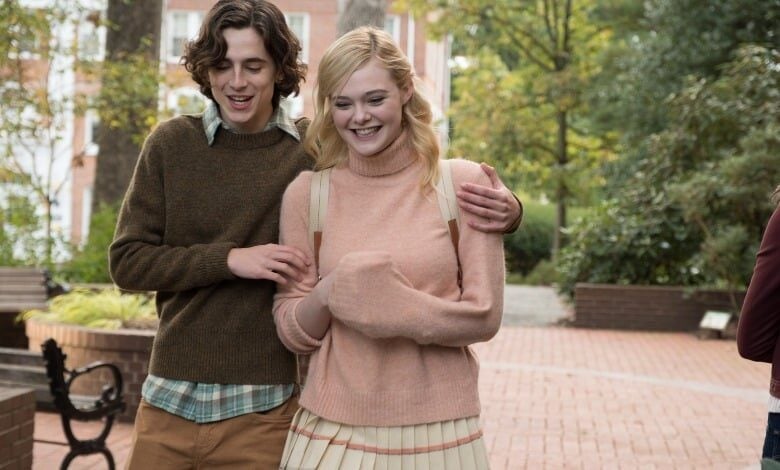 Woody Allen's off-screen behavior wasn't a deep, dark secret a la Harvey Weinstein.
Almost everyone knew Allen courted, and married, a young woman adopted by the director's then-girlfriend Mia Farrow. They also heard accusations by Dylan Farrow that her biological father, Allen, sexually abused her.
Yet when Hollywood's MeToo movement sprang to life following Weinstein's precipitous fall, the industry collectively turned on Allen.
No judge. No jury. Countless career executioners.
It's why "A Rainy Day in New York," the director's latest film, took several years to finally reach theaters.
Amazon Studios scooped up the rights to the romantic comedy and then shelved it when Allen's MeToo issues surfaced. Some of the film's stars, along with past Allen actors, suddenly divorced themselves from the legend.
A few, like Rebecca Hall, donated her salary from "Rainy Day" to the Time's Up charity in a show of defiance.
"I see, not only how complicated this matter is, but that my actions have made another woman feel silenced and dismissed," she wrote. "I regret this decision and wouldn't make the same one today."
It turns out the actors took their stance to a new, seemingly unprecedented level.
Take a look at the following screen capture from RottenTomatoes.com. The massively popular movie site aggregates film reviews from across the web. [Editor's Note: This critic is a RT-approved reviewer.]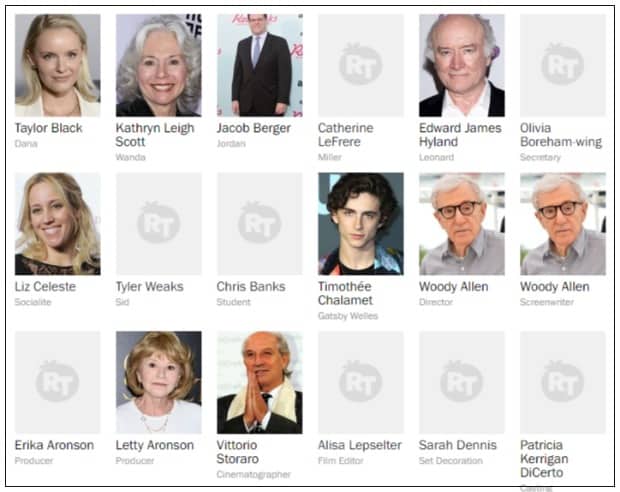 Notice something missing from the "Rainy Day in New York" RottenTomatoes.com page? Here's a hint: Some of the movie's biggest stars aren't featured. The web site lists Allen not once but twice to flesh out the mug shot montage.
Yes, Timothee Chalamet's image can be seen, although you need to click the 'expand' button to spot his name and face.
Typically, the film's biggest stars are listed up front.
It's not that "Rainy Day" lacks star power. The film features a number of notable actors, including Selena Gomez, Jude Law, Elle Fanning, Diego Luna, Rebecca Hall, Cherry Jones and Liev Schreiber.
Their names and faces aren't included in the cast and crew montage.
This critic routinely uses Rotten Tomatoes to find film reviews, researching stories and more. I can't remember another example of a movie's stars getting edited out of the cast roundup. It's possible the stars' agents or representatives requested their names and images be stripped from the site.
No matter how it happened, it's another sign of how toxic Allen remains in modern Hollywood.
Allen's next film, "Rifkin's Festival" starring Christoph Waltz and Gina Gershon, was shot overseas, but it's release date stateside remains uncertain.
One thing is clear. It's unlikely the 84-year-old Allen will ever make a movie in his beloved Manhattan, or elsewhere in the United States, again.
"A Rainy Day in New York" opens in select theaters Oct. 9.
UPDATE: RottenTomatoes.com recently updated the film's official page, and the main stars of the film are suddenly showcased in the site's traditional fashion.