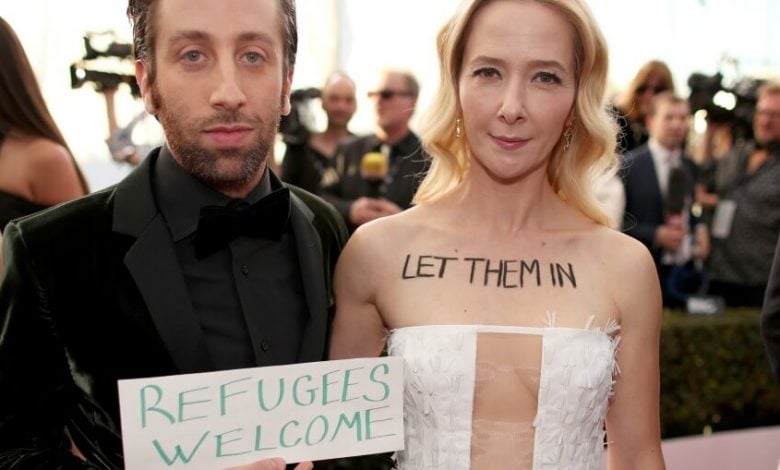 This weekend proved one thing beyond a doubt.
The upcoming Oscars telecast will be a three-plus hour rally for the Democrats. Both the Golden Globes and the SAG Awards were dress rehearsals for the main event. Let's face it, the Oscars remain the preeminent awards gala for Hollywood types.
Will anyone be watching it this year, though?
Stranger Things Cast: Acceptance Speech | 23rd Annual SAG Awards | TNT
Oscar ratings have been falling for some time. Last year, despite populist fare like "Mad Max: Fury Road" up for the night's biggest honors, the ratings tanked. Even host Chris Rock could't stop the free fall.
How bad were those ratings? Let Variety paint the picture:
Compared with last year with Neil Patrick Harris as host, Sunday's Oscars were down by 7.6% in total viewers (34.425 million vs. 37.257 million) for the show's smallest overall audience in eight years. Other than 2008 (32.01 million), the only other Oscars to draw a smaller crowd came in 2003 (33.04 million).
In adults 18-49, this year's 10.5 rating is down 5% from last year (11.0) and believed to be the lowest on record (emphasis added); the previous low in the last 30 years was 2008 (10.7).
And that was after the #OscarsSoWhite imbroglio promised to make the night a must-see affair from a culture war perspective. Only viewers don't want to see culture wars in real time. They prefer to watch the very best actors honor the movies they'll be watching with their grandkids someday.
That's no longer part of the awards season agenda. It's all about politics now. Actors must make their views known, no matter how inappropriate the setting. The fact that each actor shares roughly the identical viewpoint doesn't matter.
They must be heard (in a forum where opposing views can't).
That means many red state viewers will likely tune out before that Oscar monologue begins next month. And why not? Who wants to have their values mocked by a coterie of millionaires who, lets face it, aren't our moral betters?
The Greatest Show on Earth?
The average Oscars telecast is a bore on a good year. It's too long, too self-referential and too focused on categories 98 percent of the audience doesn't care about. Sorry, short film purveyors. We haven't seen your product, but wish you the best all the same.
Host Jimmy Kimmel hinted he'll make his monologue one long Trump bash. Can we expect anything less, given even the fairly apolitical Jimmy Fallon did just that earlier this month at the Golden Globes?
The only drama remaining is which Trump administration policy will the stars attack with poor logic and straw men aplenty?
Faulty Logic 101
The folks behind the Oscars program say, "Bring on the Trump bashing!"
"Spontaneity helps these shows," Oscars producer Michael De Luca told The Hollywood Reporter. Is there anything less spontaneous than a star slamming Trump at an awards gala, though? Want to shock us? Let Jon Voight grab the podium for a good five minutes, and tell the openly conservative icon to let 'er rip.
De Luca's comments remind us of what Sony producer Tom Rothman said about the "Ghostbusters" culture war debate. He cheered it on, assuming it would help the film's box office fortunes.
"Can we please get some more haters to say stupid things," Rothman cracked, referring to the backlash against the Summer 2016 reboot.
We later learned Sony could lose as much as $70 million after "Ghostbusters" flopped.
Niche Only Goes So Far
Niche programming can succeed in 2017. Shows can be hits by grabbing a small but solid demographic.
The recent decision to use Planned Parenthood to promote "20th Century Women" was flat-out brilliant. Indie movies speak to a smaller, more dedicated audience. Urban movie goers would find the pro-abortion appeal catnip.
20th Century Women | Modern Women | Official Featurette HD | A24
You wouldn't make that marketing effort for a superhero film or "Star Wars" sequel, though.
The Oscars telecast isn't niche programming. It's meant to deliver boffo ratings while promoting both the industry and its best films. And all indicators suggest last year's terrible ratings returns will look darn good after the numbers roll in after next month's telecast.
The 2017 Oscars telecast will air at 7 p.m. EST Feb. 26.