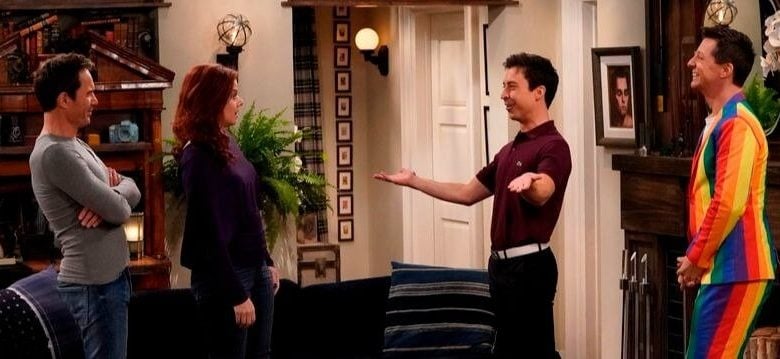 "Will & Grace" broke up with me after a long and fulfilling courtship.
I confess to never having watched the popular NBC sitcom during its first few seasons. Then, after I met the plucky nonprofit worker who would become my wife, that changed. The only show she watched religiously was the travails of best chums Grace Adler and Will Truman.
She didn't "own" a TV but found one left near the dumpster outside her apartment complex. So each week we'd gather and try to make out Will and Grace through the snow of the set's lousy reception.
When that set died she found another one the same way … with the same snowy picture.
We persevered all the same. I was hooked on this amazing woman and the show's frothy charms. My future bride leaned to the left, hard. I balanced her out with my conservativism. That didn't matter. We shared many bipartisan laughs thanks to the show.
Can Reboot Mania Strike Gold?
So when news broke two years ago that "Will & Grace" would return from sitcom purgatory I experienced more than just nostalgia. I wondered if that old magic could come back, maybe stronger than ever.
The first mini-episode turned out to be a 10-minute in-kind contribution to Hillary Clinton's doomed presidential campaign.
Oh.
Debra Messing Credits Presidential Election for Will & Grace's Revival
When the show officially resumed last year it became part of the "Resistance." In between the manic gags and slaptick came attacks on President Donald Trump. I'm no Trump Train obsessive. I've got as many reservations about the Commander-in-Chief as my conservative peers without that destructive "Never Trump" fervor.
I'm also exhausted by Hollywood targeting Trump in all the overplayed ways. The word "Cheetos" rushes to mind, a Trump insult featured in the first new episode in 11 years.
I quickly lost interest in the reboot.
Why Social Issues Can Be Funny … and Inclusive
This wasn't the show I remembered. Sure, some social issues cropped up during the program's initial run. The mere fact that two of the show's core characters are gay spoke volumes, too. As a conservative I welcomed more voices, more representation. But directly commenting on the latest headlines in a partisan way? I don't recall that during the show's early years.
Ironically, the show's co-creator David Kohan assured audiences prior to the reboot "Will & Grace 2.0" wouldn't be as political as that initial 10-minute reunion clip:
"It's not an opportunity to preach. Anyone who needs to be preached to is not going to be listening, so that's not the purpose. And I don't think it's helpful, quite frankly, I really don't. If people are going to be entrenched in their positions, then telling them how to think is not going to change the way they think."
That was then.
Now, the show's creative team is promoting its upcoming second and third seasons by trumpeting its political banter. One sided, of course.
Will & Grace - Love Is Complicated (Episode Highlight)
Can we expect more episodes like the one riffing on the Christian baker who refused to bake a cake for a gay wedding? That show insulted Red State America with Nazi references and more.
The new "Will & Grace" is emblematic of a more divisive media age. Shows like "Supergirl," "Agents of S.H.I.E.L.D." and others embrace the "Resistance" and inject liberal politics into their plots.
A recent "Designated Survivor" episode explored gun issues in a way that sounded scripted by Everytown for Gun Safety. Actually, it might have been, given that group's track record of doctoring scripts with Hollywood's approval.
'Will & Grace' in 2028?
There's an obvious problem to all these lectures disguised as entertainment. Two, actually. First, they're alienating large portions of their potential audience, preaching to a smaller, pre-sold choir. Secondly, the tactics could crush their future entertainment value.
I can't be the only potential viewer turned off by the new, "improved" "Will & Grace." And while the ratings for the reboot have been strong, those numbers would be larger had the show not chosen its current, partisan path.
Hollywood is leaving money on the table.
It's one reason I've yet to watch the "Roseanne" reboot. I'm delighted one show out of dozens treats Trump voters with some respect. Great. I'd rather avoid revisiting the culture wars in sitcom format, no matter what sides are represented.

The other factor also involves economics. Looking ahead, how will the current crop of "Resistance" TV shows age? Content created today will live on for years, arguably decades, in our streaming age. We're still laughing along with Lucy and Ricky, Ralph and Alice. Those shows are moldy in many ways, but the jokes and themes are timeless.
That "Will & Grace" bakery episode will age badly. And soon.
Will people, even liberals, be interested in watching progressive shows riffing on 2018 hot button issues in 10 years? Five? Is the virtue signaling worth it?
I'll happily watch older "Will & Grace" episodes. The new installments? Hard pass. I'd rather see Ralph Kramden get burned by another get rich quick scheme for the tenth time, thank you.
YOU MAY ALSO LIKE:
---
This article originally appeared at TheHill.com