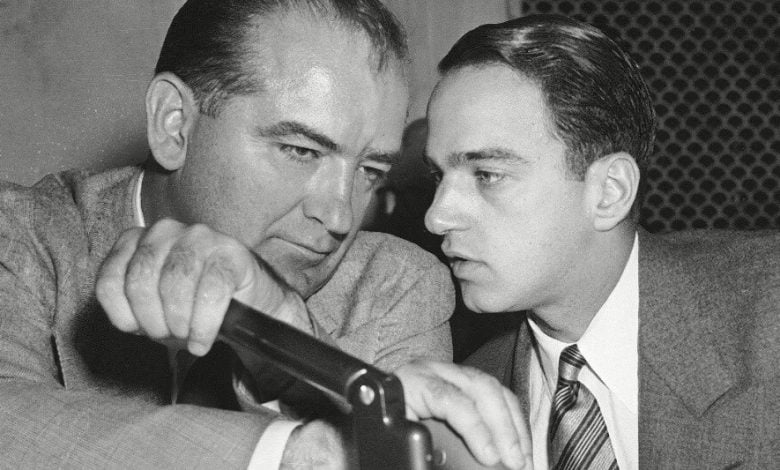 There's an obvious reason "Where's My Roy Cohn?" is being released in 2019.
The documentary connects the late, disgraced lawyer with President Donald Trump. Unlike the Russia conspiracy hoax, though, there's real connective tissue between Cohn and the Commander in Chief. The two worked together in the 1980s, and both shared a bare-knuckle style of fighting back.
The film's title even refers to something President Trump allegedly said during one of the many attacks on his presidency.
"Where's My Roy Cohn" has plenty of axes to grind – including the Trump connection. It still delivers a compelling portrait of one of the 20th century's most fascinating, and reviled, public figures. It saves the harshest implied criticism for a culture which stood by while he plied his nasty trade.
Where's My Roy Cohn? | Official Trailer HD (2019)
We track Cohn's career from his days aiding and abetting Sen. Joseph McCarthy to helping New York mobsters clean up their messes. In between he became a star of sorts, a mainstay on the social circuit and a power player whose ring everyone wanted to smooch.
That alone makes "Cohn" worth your attention. How did this toxic lawyer leap into the society pages? The film focuses on Cohn's Republican connections, from his bond with First Lady Nancy Reagan to how he helped a younger Donald Trump wriggle free from a nasty, race-based lawsuit.
Cohn also hobnobbed with the likes of Andy Warhol, New York Mayor Ed Koch and Barbara Walters.
How? He had money, fame and power, and he was good at leveraging all three.
"Where's My Roy Cohn?" is like many modern documentaries. It tilts the truth to fit a progressive narrative. That happens early in the film, where it revisits the trial of Julius and Ethel Rosenberg. The two were executed for sharing U.S. government secrets related to the atomic bomb with the Soviet Union.
It's a complex case, but the film only shows the most emotionally charged elements, framing it as a gross miscarriage of justice. The truth doesn't align with that spin, and it's clear early on not to wholly trust the documentary.
RELATED: Media Can't Spin Away Hollywood's New Blacklist
Director Matt Tyrnauer digs deep into the Cohn vault, uncovering everything from scratchy audio recordings to obscure TV interviews. The results are impressive, giving us a broad array of media with which to consider Cohn's life.
He always made "good copy," we're told, a fact that's undeniable. It's partly why he stayed relevant for so long. That, and frequent talk show appearances and gossip column name checks. Turns out we needed Roy Cohn as much as he needed to twist the truth.
Trump enters the picture officially at the hour mark, with one of Cohn's comments proving prophetic.
"He just wants to be the biggest winner in the world," Cohn says of his client, with whom he worked during the late 1970s and '80s.
At other times "Where's My Roy Cohn?" traffics in broad accusations with little merit. Those moments target the usual suspects, from Fox News to President Ronald Reagan. The film never goes the full Michael Moore, thank goodness, but it's still sloppy when it should be razor sharp.
Sony Pictures Classics acquires the #Sundance world premiere documentary "Where's My Roy Cohn?" Matt Tyrnauer's film chronicles the late McCarthy lawyer and political fixer. It is currently screening as part of the U.S. Documentary Competition. https://t.co/71QaTNWRwg pic.twitter.com/Cdj4SQncdD

— WhenYoureNotWorking (@WhenUrNotWorkin) January 28, 2019
"Where's My Roy Cohn?" is best at exploring how Cohn's superior intellect and lack of morality didn't matter to his vast inner circle.
Cohn was the ugly only child of an ugly woman, a man who later had plastic surgery but denied it. The obsession with Cohn's physical appearance is odd, and so is how the movie zooms in on his gay dating life. His closeted persona matters, no doubt. It's both a sign of his times and pertinent given his efforts to root out gays in the U.S. government.
Still, it's part of a piling on technique employed aggressively during "Where's My Roy Cohn?" It's hardly necessary. Cohn was an undeniable scoundrel.
HiT or miss: "Where's My Roy Cohn?" works best when examining how American culture propped the cagey lawyer up for decades.