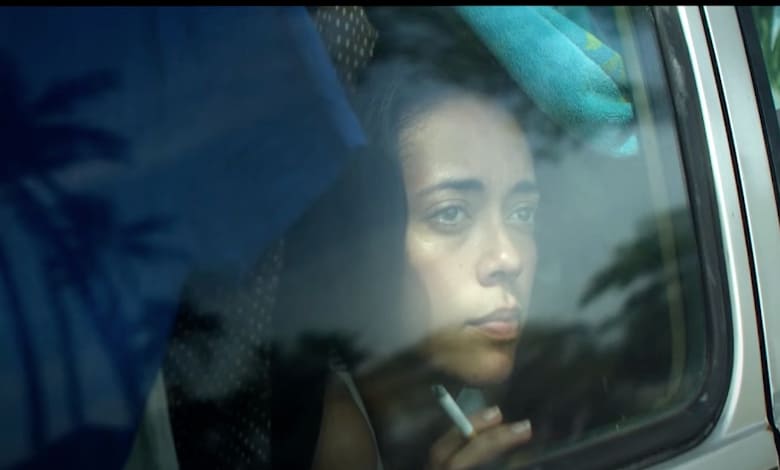 When we meet Kea (Danielle Zalopany) in "Waikiki," she's working as a singer in a karaoke bar, living in her van and broke.
Her ex shows up during her shift and is furious about her working in a place filled with sleazy patrons. Not long after, Kea drives off and makes a terrible mistake. In the aftermath of this event (which I won't spoil), her awareness of those around her, her cultural pride and her survival instincts are heightened, even as her personal life and safety become uncertain.
Waikiki Trailer #1 (2023)
Christopher Kahunahana's "Waikiki" is a tough, confident and forceful plea for understanding, particularly for those who are homeless and devoid of hope. Kahunahana, who wrote, directed and produced "Waikiki," has made a gritty, unpredictable drama in which nothing feels inevitable.
Here is an uncompromising, highly-profane work that takes its audience on a journey that will challenge them. I first saw "Waikiki" at the 40th Annual Hawaii International Film Festival in 2020 and can't wait to experience it again.
This is unlike most films made on Oahu, certainly the ones that are about the island itself. In Kahunahana's hands, Waikiki is akin to Las Vegas, a rundown haven for tourists and a place of fading buildings and broken hearts for those who live there.
It's refreshing to see a locally-made, independent film that feels as personal and outside of the norm as this one. While stylish, with a number of scenes that offer dream-like imagery, there's no whimsy, comic relief or handholding, either.
While I was always enticed by Kea's journey, at no point does the screenplay tip its hat and tell us that everything is going to be all right. What the film is asking of us is to be conscious of those around us who are hurting and to not look away.
The director is a major talent – keep your eye on him. His team is full of discoveries.
#MovieNews new poster for #Waikiki.

Directed by Christopher Kahunahana.

With Peter Shinkoda, Danielle Zalopany, Jason Quinn, Kimo Kahoano. pic.twitter.com/bBUpSBacqV

— Ciné Binger 📽 (@CineBinger) September 24, 2020
Zalopany is excellent – her performance is the aching heart of the film. She has a disarming smile that we don't see often. Rather, it's her deeply expressive eyes that are forefront in her performance.
There's a rawness to her work and shaping of Kea that made me marvel at her abilities. She's in every scene and the experience must have been draining.
Playing the character of Wo, Peter Shinkoda does so much giving a nearly dialog-free performance; his scenes with Zalopany, in which Kea's empathy builds as her world crumbles around her, are deeply affecting.
Brandon, played by Jason Quinn, is a crucial character and a window into Kea's current state of being; Quinn makes the character alternate between reasonable and ferocious. It's another example of an actor who leaves a strong impact.
For a low-budget film, there's nothing amateurish or forced. Every scene has an emotional weight and concludes leaving a mark. The cinematography is by Ryan Miyamoto and lenses the film in way both demonstratively striking and quietly observant. There are a number of lovely aerial shots, serene and quiet, that contrast the pain and struggle taking place below.
Conversation with Filmmakers of "Waikiki" – 2021 Mother Tongue Film Festival
There are haunting images here that will never leave me: one is a gorgeous, recurring scene of young Kea and her Grandma, sitting in the ocean. The other is a galvanizing scene where an angry father punches a hole in the wall and the camera peers inside the hole, showing us a frightened child being comforted by a grandmother on the other side of the wall.
A ringing payphone is a taunting audio reminder for Kea, a touch that (like several scenes here) has varying interpretations with repeat viewings.
"Waikiki" is not mawkish or remotely formulaic in the way it depicts Hawaii's homeless men and women. If this doesn't sound like a "fun" movie, it's because it isn't and doesn't have to be. The artistry on display and the filmmaker's ability to pull off such a challenging work of total immediacy are cause for celebration.
The overall point of the film can be taken in a single line of dialog, in which a homeless character proclaims, "Show me some f—–g sympathy…and Aloha."
Four Stars
"Waikiki" opens in New York, Miami, and California (L.A. and Long Beach) on Oct. 27th and expands to Maui, Oahu, and Hawai'i on Nov. 3rd.