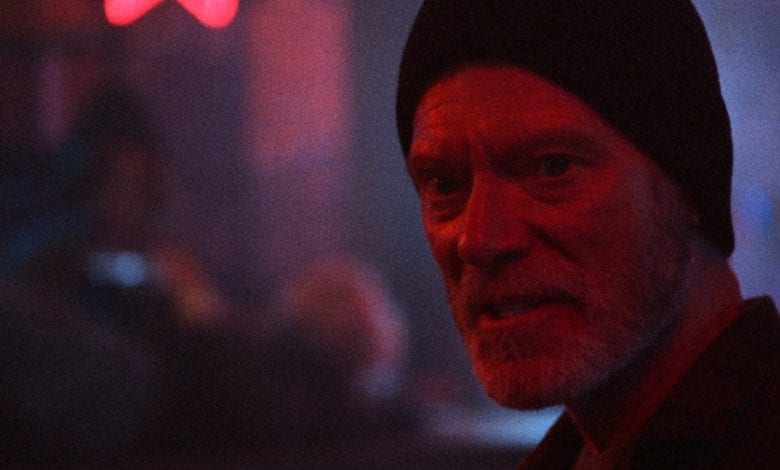 Horror movies can take two very different path.
The first? Make the deaths so clever, so over the top that you don't give a dang about the folks biting the bullet. Just crank out those sweet, sweet kills.
Number two? Give audiences characters they care about. It raises the stakes of the inevitable bloodshed.
By that scale "VFW" goes two for two.
Yes, some of the kills are absurd by even Fangoria standards – the rebooted company presents "VFW" sans apology. Think practical effects gone oh, so wild.
More importantly, you'll care about the old codgers defending their turf from a horde of addicts. And if you think the mob resembles an undead army, that's partly the point.
VFW | Official Trailer | Voltage Pictures
The film begins in a future America where society teeters on the edge of collapse. A new drug called Hype has countless souls addicted, which means the dealers hold considerable sway over the culture.
None of that matters, yet, to Stephen Lang's Fred. He's a Vietnam vet pouring stiff drinks for his old platoon buddies at the VFW. They curse, and drink, and tell the same B.S. stories over and again.
It's a home, of sorts, and folks like Lou (Martin Kove), Thomas (George Wendt) and Abe (Fred Williamson) wouldn't have it any other way.
Their sozzled status quo ends when a woman (Sierra McCormick) bursts into their clubhouse clutching a whole lotta Hype. Naturally, the dealer she stole it from wants it back, and he'll summon an army of "Hypers" to help.
Can these old soldiers do battle one last time, or will they be overrun like the rest of the neighborhood?
Soundtrack album to be released for @joebegos' 'VFW' feat. music by 'The Guest' & 'Mayhem' composer @stevemoore2600. https://t.co/HGk2Eaj6YS pic.twitter.com/PoVizakx6q

— Film Music Reporter (@filmmusicrep) February 6, 2020
"VFW" plays out like a zombie film in more ways than one. We watch a gaggle of "types" hunker down in a building while the zombie-like addicts pound on the walls. Their hunger can't be quenched, leaving our heroes with few options.
Swap "Hype!" out for "Brains!" and you've got an undead splatterfest.
The local drug kingpin (Travis Hammer) takes advantage of their appetites. The role demands an outsized persona if not some serious scenery chewing. Hammer lacks that gale force level presence.
What a shame.
RELATED: 'Puppet Master: The Littlest Reich' Is Crazy in the Very Best of Ways
These curmudgeons are far from saints, which makes the story richer than expected. Fred has a hot temper, and Kove's Lou is always looking for an angle. Poor Thomas (George Wendt) just wants to belly up to the bar … and stay there. (Get it?) Walter (William Sadler) thinks everything in life can be better if they just go to the nearest strip bar.
It's Fred who reminds them, between endless shots of booze, of their better selves. They can't leave this poor woman to die at the dealer's hands, can they?
Duty calls, as odd as it may sound in a grindhouse affair like this.
"VFW" doubles down on that heroic bent without smacking us across the face with it. A flicker of righteousness lingers in these crusty coots, even if their bodies aren't as strong as they once were.
Lang, the standout in the ensemble, isn't content to dish out the necessary punishment. He's building a character, by golly, and screenwriters Max Brallier and Matthew McArdle let him do just that.
Of course the mayhem gets a bit wearying after a while. There's only so much dismemberment one can digest before our eyes glaze over. That's where the strong performances kick in. We know the death count will keep climbing, but we hope these old timers live to see the end credits.
FAST FACT: Stephen Lang earned a Tony nomination for his work in the 1991 production of "The Speed of Darkness."
Director Joe Begos clearly adores '80s genre flicks, the kind we look back on fondly despite their flaws. "VFW" throbs with a retro synth soundtrack, and the film looks as scuzzy as a bootleg VHS tape.
That's no accident.
The film reminds us of how Quentin Tarantino resurrects pop culture morsels but gives them new, vibrant life. Any "episode" of Rick Dalton's "Bounty Law" is better than most shows from the era.
Now, Begos isn't the Next Tarantino, but both directors share a love for genre bloodletting from a simpler era. "VFW" would stand tall next to most '80s horror films. It fares pretty well today, too.
HiT or Miss: "VFW" is for horror purists only, but they'll cheer on the blood, gore and three dimensional characters in harm's way.