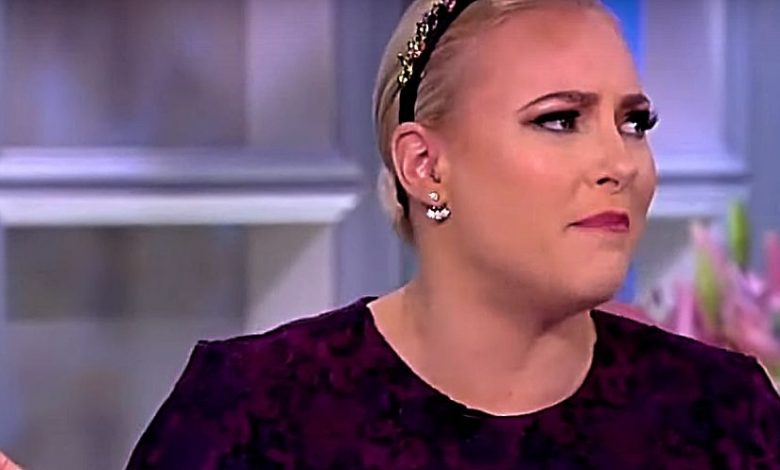 "The View" may be the last place you'd look to find reasonable debate.
The long-running show remains cartoonishly tilted to the Left. Its coterie of hosts chase conspiracy theories like Pulitzer-worthy leaks. Worst of all, any remotely heated debate gets drowned out in a tide of cross talk.
You'd think after all these years they'd learn it's best to speak one at a time.
Still, "The View" remains a staple of daytime television, surviving 20-plus years in a brutally competitive landscape.
That's no small feat.
'The View' 20 Years in the Making: Rarely Heard Stories From the Set
And, with the addition of conservative Meghan McCain, the show snared a broader audience eager to see her daily counter punches.
That fragile mask of respectability slipped this week. The results were so dramatic, so revealing, it's hard to consider the show the same way again.
RELATED: 'The View' Takes Bold Stand Against … Free Speech
The first body blow came when Rep. Tulsi Gabbard dropped by "The View." This wasn't a courtesy call or yet another stop on the Hawaiian Democrat's presidential campaign. Gabbard seethed over twice-failed presidential candidate Hillary Clinton implying she's a Russian asset without evidence.
So did "View" co-host Joy Behar.
"She hasn't denied it! She hasn't said anything in her tweets [like] 'How dare you! That's outrageous, of course I'm not!' She didn't say that. She's just going after Hillary … I don't say that Tulsi is an agent. I just think that she could be a useful idiot the way that Trump is a useful idiot to the Russians."
Gabbard, who served two tours of duty in the Middle East, came ready to fight.
"Some of you have accused me of being a traitor to my country, a Russian asset, a Trojan horse, or a useful idiot I think was the term that you used," Gabbard said to Behar.
Tulsi Gabbard Fights Back Against Clinton's Remarks | The View
How low did Behar go during the conversation?
"Richard Spencer, the white nationalist leader, says he could vote for you," Behar said at one point in a series of exchanges.
Gabbard thoroughly dismantled Behar, exposing her for all "View" audience members to see. Behar had no proof to back up her claims, just toxic innuendo against a military veteran and patriot.
That turned out to be minor compared to what came a few days later.
Donald Trump, Jr. and his girlfriend, former Fox News star Kimberly Guilfoyle, dropped by the show to promote the First Son's new book, "Triggered." The hosts didn't attempt much book promotion, though. They seized on Trump's father and his worst impulses. When the eldest Trump son fought back things took an interesting turn.
RELATED: Hollywood, Reporters Collude to Take Down Meghan McCain
Trump deflected the attacks, saying the "View" hosts had some skeletons in their closets, too, and you can't judge a person by a few flaws.
He said Whoopi Goldberg once defended admitted child rapist Roman Polanski, saying his attack on a 13 year old girl wasn't "rape-rape." Trump also chided Behar for once dressing in blackface.
Both charges are 100 percent accurate. Goldberg said exactly that on, of all places, "The View." For context, the Hollywood director drugged and anally raped the girl in question. He later described the sexual encounter as "consensual."
Behar once confessed to her "View" co-stars how, years ago, she dressed as an African woman and used makeup to darken her skin. She even showed the picture to her colleagues on air.
Yet both Goldberg and Behar denied those truths. Goldberg even rallied to Behar's defense on the blackface accusation, saying as a woman of color she should know what constitutes blackface.
They lied, and the proof of their lies could be found with a simple Google search.
Here is @TheView's @WhoopiGoldberg defending Hollywood pedophile Roman Polanski, claiming what he did wasn't "rape-rape."https://t.co/dS0SGJ1ub1

— Donald Trump Jr. (@DonaldJTrumpJr) November 7, 2019
That wasn't the only damage done to the show's wobbly brand during the Trump/Guilfoyle exchange.
Guilfoyle also accused the show's hosts of embracing impeachment from the very start of President Trump's administration. Once again, the show's hosts denied that ever occurred.
Suffice to say they lied… again.
Guilfoyle Nails Goldberg For Pushing Impeachment, Goldberg Denies. Here's Proof Goldberg Said It. https://t.co/L9oPet4Bvt

— Ryan Saavedra (@RealSaavedra) November 7, 2019
RELATED: Whoopi, Joy Shred 'Will & Grace' Stars' Blacklist Schemes
The show's shameful week should be shared with some mainstream news outlets. Several reports tried to protect "The View," deleting key facts to confuse their readers. The Hollywood Reporter did just that. Politico brought up Trump's "explosive" accusations without taking the 30 seconds (or less) needed to show he was right.
Enter "Whoopi Goldberg rape rape" into Google and you'll find a Guardian article detailing the incident. Chances are plenty of audience members did just that moments after the exchange aired.
"The View" has had cringe-worthy moments in the past. Former host Rosie O'Donnell once suggested U.S. soldiers were the true terrorists fighting in the Iraq War. Behar caught plenty of heat last year when she said people who hear Jesus speak to them are mentally ill.
She later apologized.
Those were isolated moments, the kind any talk show could endure. No host, or show, is perfect. Tempers flare. We sometimes say things we regret.
This week is different, and radically so. The combination of lies, conspiracies and outright denials is unworthy of any major broadcast.
"The View" should do some serious soul searching. Viewers may simply search for other shows to watch.