Contributors
Opinion
'Trump's Rosebud' – My Cinematic Odyssey Through Citizen Kane's Lens
Filmmaker Robert Orlando's quest to get to the heart of the Trump phenomenon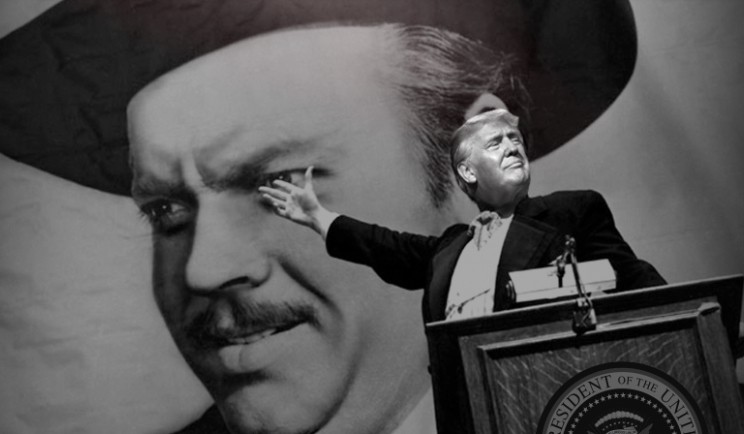 Donald Trump, synonymous with media omnipresence, has commanded our attention for years.
It's as if he's been an eternal fixture on our screens, a constant in the ever-shifting landscape of news cycles.
This enigmatic figure has dominated headlines, controversies and discussions since his emergence on the political stage in 2015. Amid this perpetual media frenzy, I contemplated the idea of telling the Trump story in a way that hadn't been done.
Trump's Rosebud Documentary Trailer
As an independent filmmaker, I've engaged with his media dominance while creating two previous films, "Silence Patton" and "The Divine Plan." But the prospect of delving into a project about Trump and his rosebud had always intrigued me.
It wasn't until an unexpected turn of events—a global pandemic that locked me in my studio—that I discovered a fresh perspective.
During those lockdown days, as I battled uncertainty about the virus and my health, I sought refuge in revisiting classic films. And that's when it hit me—the revelation in the form of an American cinematic masterpiece: "Citizen Kane."
Citizen Kane (1941) Official Trailer #1 - Orson Welles Movie
Amid a pandemic-ridden 2020 and a charged election atmosphere, struck by the uncanny parallels between Charles Foster Kane, the film's protagonist, and our contemporary Citizen Trump, it was time to move.
This realization illuminated my path: to view Trump's persona through the lens of Kane's character—the film he claimed to be his favorite.
Discovering that "Citizen Kane" held a special place in Trump's cinematic preferences became the pivotal moment for my project. The title crystallized my vision, and this unconventional narrative was in motion.
Despite Trump's ongoing campaign for re-election, my intent wasn't to create a political exposé. As a writer-director, my primary goal was to embark on a profound character study of one of the most polarizing individuals of our era.
Instead, I aimed to dissect the archetypes of storytelling, the intricate expressions of interior character that intriguingly linked Trump and Kane.
RELATED: TRUMP WAS RIGHT: HE DESTROYED LATE-NIGHT TV
My perception of Trump was colored by his presence in gossip columns and talk shows. He seemed like a larger-than-life showman who craved media attention.
He was the Man behind Trump Tower, the subject of countless tabloid stories, the charismatic presence on television screens. Trump's flirtation with ongoing presidential bids was a recurring punchline, a stunt to promote his books.
He would dip his toe into the presidential pool, only to withdraw once his book sales soared. This backdrop shaped my initial perception of him, a figure whose presidential aspirations were more promotional than earnest.
The shift occurred when he took the plunge and secured the presidency. His tenure forced me to reevaluate my perspective, leading to my book "Citizen Trump: A One Man Show," followed by a film of the same name.
Citizen Trump: A One Man Show (Film Preview)
The project emerged from the depths of introspection, seeking to examine Trump's multifaceted character rather than perpetuate political narratives.
One reviewer called it a visual essay on the parallels of Trump vs. Hearst (through Kane).
My first film was censored, blocked and crushed by COVID-19 and was never given a chance on the big screen. Its release came during the political blood bath of an election in November 2020 that left all nuance and complexity behind.
Instead, it would take two years and the meeting of Trump's inner circle, such as Sebastian Gorka, Bill Barr, and Steve Deace (Blaze Media), for the present film, "Trump's Rosebud," to be completed and reach IMAX screens on August 9th.
"Trump's Rosebud" isn't just a tale of politics; it's a cinematic journey into a man's soul who, like the enigmatic Charles Foster Kane, challenges easy categorization.
By delving into this exploration, I aim to capture the essence of the man who defies traditional labels and invites us to contemplate the intricacies of his character.
He also challenges us to look into the mirror of our modern media selves.
In a world inundated with news cycles and sensationalism, I hope "Trump's Rosebud" peers beyond the headlines and understands the individual behind the media spectacle.
It's a reminder that every personality, even one as polarizing as Trump's, holds the same thorns that disguise a rosebud.
As cameras roll and stories unfold, "Trump's Rosebud" tries to transcend the cacophony of political noise and present a portrait that reveals the complexity of our modern age, with a quiet moment for self-reflection.
Through the lens of "Citizen Kane," we embark on a journey that seeks not to judge but to illuminate and capture the humanity hidden beneath the larger-than-life facade.
To watch the film or find out more information, please visit www.trumpsrosebud.com
——————–
Robert Orlando, B.F.A., School of Visual Arts, is an award-winning author, filmmaker, and entrepreneur who founded Nexus Media. As an award-winning writer and director, he has released more than a dozen movies, including the thought-provoking documentaries "Silence Patton," "The Divine Plan" and "Trump's Rosebud." His latest book and film is "The Shroud: Face to Face," hitting bookstores and theaters later this year.