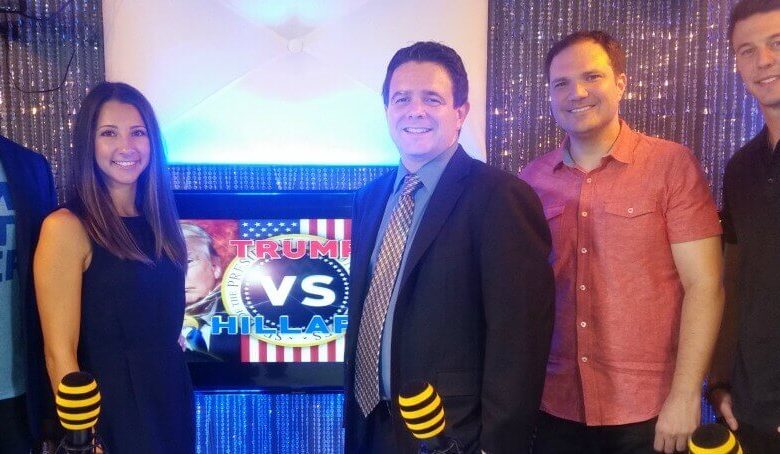 Take politics, for example. The young generation doesn't simply want information handed to them, Bladt says. And they care about substantial policy issues as much as other groups.
They just consume news differently – like via YouTube and iTunes.
It's one reason Bladt joined AfterBuzz TV's "Trump vs. Hillary" show. The weekly online series features a panel of young, engaged personalities breaking down the latest headlines.
Trump vs Hillary: Another Brick in the Wall | AfterBuzz TV
It's not "Meet the Press." Nor is it meant to be. Think a group of affable friends dissecting the news and exploring how it could impact their lives.
"[Millennials] might not be willing to sit through a one-hour, prime-time speech," Bladt says. That doesn't mean they don't care. "Trump vs. Hillary" speaks to them in a friendly, thought-provoking fashion.
"It's not trying to be hip or cool," Bladt says. Nor should viewers expect a cable-like shout fest every week.
Bladt, the former producer of Dennis Miller's syndicated radio show, moderates a panel featuring Drexel D. Heard II, Chelsea Galicia, Scott Moore and Steven Helmkamp. Fresh voices occasionally join the fray, including radio talker Michael Hausam.
It's part of AfterBuzz TV, an online broadcast network founded by Maria Menounos and Keven Undergaro.  The network boasts 31 million weekly downloads on top of a billion downloads last year.
Some viewers may prefer more traditional political pundits, people hired to be "super-smart" and deep dive into policy in an instant, Bladt notes.
"Trump vs. Hillary" doesn't pretend to compete with that format. It's about people processing the latest news through conversation and debate.
That debate often bends to the left.
"There's not a lot of conservative voices to lean on," Bladt says. Even the show's resident "conservative," Steven Helmkamp, isn't a George Will protege.
"We've got a diverse viewership who are more engaged than people think, and voters who are starting to recognize that sitting around doesn't make change. Our job is to not only keep them engaged, but keep them informed. Just because you're active doesn't mean you have the facts" – Drexel D. Heard II.
Bladt says he's approached a few right-leaning folks about joining the show. No luck so far.
"'I can't go on camera to talk about my politics,'" he was told from GOP-friendly talkers. "They know that [being conservative] will come back and hurt them as they try to build their careers."
"I certainly understand. It's definitely frustrating as I'm trying to put together a round table," he adds. It doesn't alter the show's mission, though.
"We already have a Bill Maher show," Bladt says of the comic's HBO platform, "Real Time with Bill Maher." "The approach was not to do another show like that."
So far, the online comments support his argument. Bladt says online feedback comes from "all across the political spectrum."
"What I have to say about voters won't be very nice, so I'm thinking I should keep my mouth shut on this one." – Chelsea Galicia
AfterBuzz launched with a three shows a week format built around the summer's political conventions. The current weekly format will temporarily expand during the three presidential debates. "Trump vs. Hillary" will go live immediately after each verbal slugfest.
So what happens on Nov. 9?
The show will go on, Bladt vows, but in a different format.
"It's going to be smaller, more wonkish kind of stuff, especially during the transition," he says.
Bladt knows which outcome benefits AfterBuzz TV.
"If Trump wins the election, it's much more interesting for the show," he says. "I don't know if I'm willing to base what's better for the country based on what's better for the show."
"I'm having a great time being on this panel. It challenges me to stay on top of current events and to keep an open mind and try see both sides of the coin. It's been amazing to see how vocal and energetic people are with this election, giving people a platform to voice their opinions (or in a lot of cases, frustrations) appears to be a great release for us and our viewers. Reading the comments in the live chat room are my favorite, it keeps me motivated knowing that people enjoy the show.. Even if they disagree with me." – Steven Helmkamp
No matter who wins come Election Day, one thing will remain constant on Bladt's show. Everyone will get their chance to be heard. It just might not impact the next election.
"The most important thing? Just be willing to see you're probably not going to change someone' else's mind," he says.
---
"Trump vs. Hillary" on AfterBuzz TV airs at 10 p.m. EST/7 p.m. PST Tuesday nights. Episodes can be viewed at AfterBuzz TV, YouTube and iTunes.