Lists
HiT Classics
15 Super Fun Facts from 'Three Amigos'
The 1986 comedy underwhelmed at first before becoming a comedy classic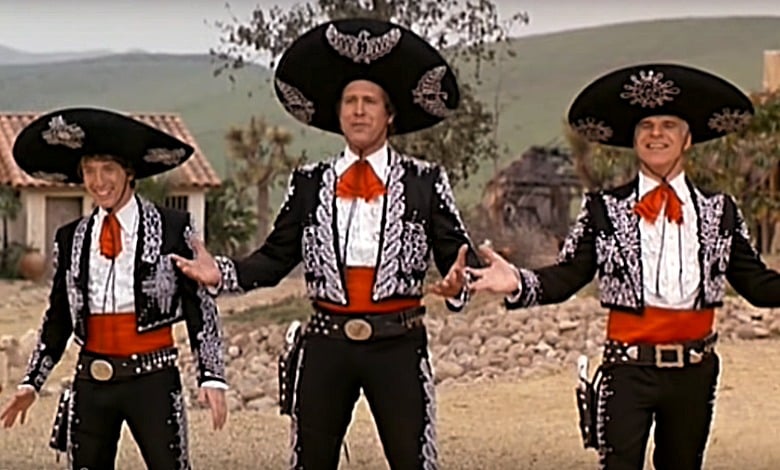 Three of Hollywood's funniest people once gathered for a film sure to crush the competition.
Said competition walked away, mostly uncrushed.
The 1986 comedy "Three Amigos" assembled Steve Martin, Chevy Chase and Martin Short (making his big-screen debut), all under the direction of hit-maker John Landis ("Animal House," An American Werewolf in London"). They played three silent film stars who get roped into protecting a Mexican village from some bad hombres, led by El Guapo (Alfonso Arau).
Even the trio's named suggested box office gold -- or at least endless snickers:
Lucky Day (Martin)
Dusty Bottoms (Chase)
Ned "Little Neddy" Nederlander (Short)
What could go wrong? That's the wrong question to ask in Hollywood.
Three Amigos (8/12) Movie CLIP - Lip Balm? (1986) HD
The comedy corralled $39 million during its U.S. theatrical release, which started during the Christmas season. That's not an "Ishtar"-sized dud ($14 million). Still, pairing three red-hot comedians in a high-concept comedy seemed like money in the bank, or at least stuffed beneath a mattress.
Not so fast. Roger Ebert's review declared, "the madness was missing," cursing the comedy with a single, lonely star.
And he wasn't alone.
RELATED: 17 Comedy Characters You'll Love Forever
The film's current Rotten Tomatoes score, 46 percent "rotten," reflects the sentiment during its initial release. For some galling perspective, that year's "Police Academy 3:Back in Training" made more loot than these "Amigos."
Like many movies from the '80s, "Three Amigos" has lived longer, and prospered, beyond its ho-hum debut.
In that spirit, here are 15 funny, silly, outrageous facts from the film sure to make fans do the "Three Amigos" salute.
Imitation Is the Sincerest Form of Flattery: Martin Short's cousin served in a "Three Amigos" impersonator troupe.
It's a Western: Shoot It in the West: Landis primarily called his shots in Tucson, Ariz. in the Mohave desert.
Ten Years in the Making: Martin came up with the idea behind the film during the 1970s. He tried hammering the concept into a script along with two fellow scribes, but it initially fell apart.
Steve, Meet Marty: Martin and Short first met on the film's set, and the silver haired actor recalls a memorable "impression" his new co-star delivered. Who knew Katharine Hepburn was on the set, too?
We've Got the Script … Now What? Martin co-wrote the final "Amigos" script with songwriter Randy Newman and "Saturday Night Live" guru Lorne MIchaels, but they had no plans for who would actually perform the Three Amigos' salute at first.
Three Amigos (2/12) Movie CLIP - What's Tequila? (1986) HD
We Read It … for the Interviews: Martin first teased the "Three Amigos" project in a 1980 Playboy interview, but back then the working title was "The Three Caballeros." The initial plan, long before Michaels and Newman joined the project, was for Martin to co-star with Dan Aykroyd and John Belushi.
One SCTV vet for Another: Had Short passed on the project, Landis has a back-up plan in mind -- fellow "SCTV" star Rick Moranis of "Ghostbusters" fame.
RELATED: Is 'Caddyshack II' the Worst Sequel … Ever?
Ohhh OHHHHHHH! Screechy funnyman Sam Kinison shot a cameo for "Three Amigos," but the footage ended up on the proverbial cutting room floor. Even worse? His scenes got lost entirely following the production. Fortunately, Kinison's killer cameo in that same year's "Back to School" made the final cut and became one of that film's funniest moments.
"Three Amigos 2?" Not So Fast: Martin put the kibbosh on any official "Amigos" reunion during a 2019 interview. "I don't think that's for us … maybe for someone younger," Martin said.
Three Amigos (5/12) Movie CLIP - Three Amigo Salute (1986) HD
Memories: The crew shot the movie's silent film sequence on Universal Studios' oldest outdoor set, one originally created for a Tom Mix production.
OK, It's a Wrap: The three leads enrolled in horse riding lessons to prepare for the film. After one brutal day, they gave up and let the stunt doubles carry the load.
A Serious, Somber Subplot: Landis had a significant distraction while finalizing "Three Amigos." He was on trial over the deaths of three actors, including Vic Morrow, from his film version of "The Twilight Zone." That meant he could only work on the "Amigos" final cut at night.
Money Changes Everything: One written bit that didn't make it had the Amigos buried in dirt up to their heads, their fates in the hands of an Incan tribe. The sequence cost too much to pull off, so it got jettisoned.
Real Life Gets in the Way: Chase entered the Betty Ford Clinic shortly after finishing the film to deal with a pain medication issue.
Friends … to a Point: Chase, Martin and Short began a lifelong friendship on the set of "Three Amigos." That camaraderie didn't extend to a certain co-star. Bill Kinison, the late comedian's brother, said the hard-charging comic loathed Chase from their limited time on the set. "In the short time he was on the set, Sam found Chase arrogant, cold and pompous," the brother wrote. The comedian even blamed Chase for his scenes not making the final cut, but Landis has repeatedly said the film was too long and the non-essential scenes had to be snipped out.