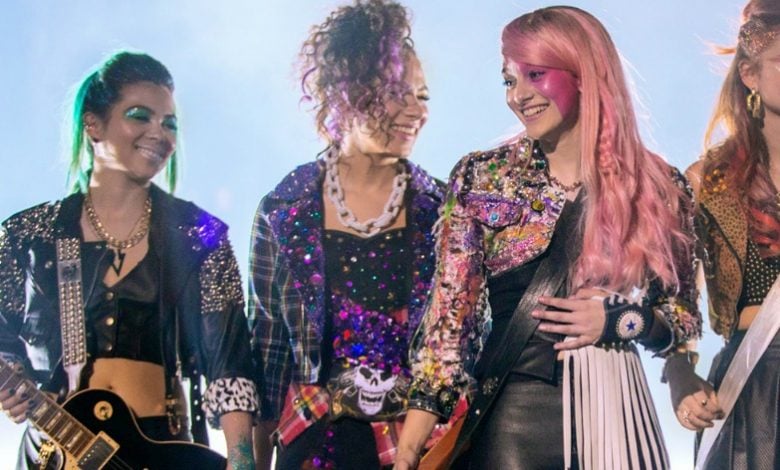 The big screen adaption of the '80s animated hit had one of the worst openings of all time. The few who saw it weren't impressed. "Jem" director Jon Chu claims he received death threats from fans of the original TV show. Yikes.
All of this is a lot of baggage for a small, $5 million movie, and it's more than you needed to know. Yes, "Jem and the Holograms" is a silly, juvenile fantasy. It's also genuinely sweet and one of the few family-friendly movies tailor made for little girls.
Jem and the Holograms Official International Trailer #1 (2015) - Aubrey Peeples Movie HD
.
Aubrey Peeples plays the title role, a shy but gifted performer whose YouTube video skyrockets her into a world of glamour, opportunity and compromise. Will she shed her secret identity as "Jem" and let the world know that, underneath, she's a meek teenager named Jerrica?
The product placements are non-stop: I counted plugs for Instagram, Facebook, Apple and Snapchat in the first five minutes alone. That's not to mention a feature-length demo for Google Earth.
RELATED: '80s Redux: Why New Wave Music Mattered
Jerrica must decide between being herself or selling out and becoming a product for a record company, yet, this dilemma is never actually resolved. Also, the story revolves around Jerrica's love for her father, who leaves her a figurative breadcrumb trail to reconnect with him. If you stop to think about it, the scavenger hunt involving Synergy the robot is a lot of leg work that could have been solved with a simple letter.
Peeples makes a likable Jem, and Juliette Lewis amusingly vamps it up as the villainous record company head. The normally stoic star is having a blast. As love interest Rio, Ryan Guzman is much better here than he was in "The Boy Next Door."
Professional scene stealer Nicholas Braun has a supporting bit as Brad the Valet that I especially enjoyed (the write up on his demo tape gave me a good chuckle). Despite not being set during the gaudy 1980s hair band era, this is still a richly colored film, full of pinks and purples.
Jem and the Holograms Movie CLIP - We Got Heart (2015) - Stefani Scott Drama Movie HD
.
While a non-performer in theaters, I suspect a massive cult following awaits this on Blu-ray and DVD. What other fate could be in store for a film based on an '80s cartoon that features Lewis in leather pants, a CGI robot AND Molly Ringwald?
While the songs are all Radio Disney-ready, there is one memorable number. Jem sporting a Lady Gaga-esque get-up, is backed by both interpretive dancers and touching flashbacks to her childhood. It's the centerpiece of the movie, both supremely cornball and sublimely campy.
FAST FACT: The team that gave us the "G.I. Joe" and "Transformers" cartoons united to bring "Jem" and her pals to animated life. 
The mid-end credits scene suggests a potential sequel which, if this becomes a cult hit, isn't an impossibility. It's amusing to see it all end in a cliffhanger manner not unlike a Marvel movie.
It's also rare to see a sleepover-worthy comedy made for young girls that is genuinely tender and fairly inoffensive. The PG rating is just right. This is as age appropriate as "Disney's Prom" or "Aquamarine" and less obnoxious than the "Pitch Perfect" series.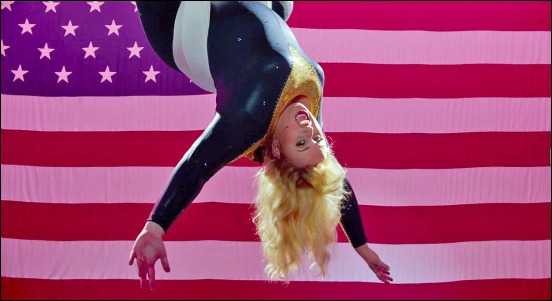 I'd have an easier time explaining to a small child why Jem does a double take over Rio's chiseled abs than why "Fat Amy" shows the world her vagina in  "Pitch Perfect 2."
I can't quite recommend "Jem," but I must admit an affection for it. I'll also own up to watching the cartoon diligently in the '80s,and buying my wife (also a fan) the box set of the series for her birthday. That said, the movie does not reprise the original theme song.
Now that's an outrage.