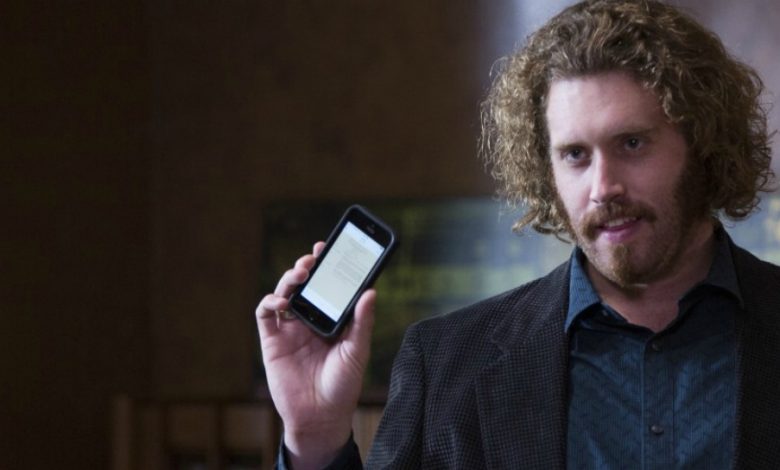 He's been killed by an evil robot in the last "Transformers" movie, landed a lucrative voiceover role in the "How To Tame Your Dragon" films and TV series and will soon appear as the sidekick in the Marvel feature "Deadpool."
To show just how fast his star is soaring over Hollywood, Miller will go from winning the Critics Choice Award for Best Supporting Actor in a TV Comedy for "Silicon Valley" to hosting its awards show Jan. 17, 2016.
T.J. Miller Wins Best Supporting Actor in a Comedy Series - 2015 Critics' Choice TV Awards | A&E
He still found time between writing the movie "Ex-Criminals," which was just sold to DreamWorks Pictures and filming "Silicon Valley's" third season to discuss his career the Radio Titans podcast "
Kozversations
."
"The truth is it's all comedy, because these are all different mediums of comedy, and all have their plusses and minuses," says Miller. "Standup is nice because it's direct but it's not collaborative. With voiceover work, you get 1,000 takes but no physicality, meaning you rely wholly on your voice, which for me sounds like a drag queen who chain smokes.
"I like doing it all, but my fundamental mission statement is that life is pretty tragic, and people need comedy to be able to laugh at stuff in a world where religion has failed us or at least we're moving on from it," Miller continues. "I didn't grow up wanting to be an action star but in 'Transformers' I made hundreds of millions of Chinese people laugh. You get a bigger audience in TV and movies, which is good for reaching people on a mass level."
ALSO CHECK OUT: Why Allen Covert Cares More About Fans than Critics
A native of Denver, Miller started performing comedy while in college in Washington, D.C. when he joined a comedy troupe called receSs and spent four years making sketch-comedy short films with them. But college proved momentous for him on a couple of other fronts as well, as Miller met his wife Kate and also took time to study classical acting at the British Academy of Dramatic Arts in Oxford, England and circus arts as well.
In fact, Miller's bag of performing tricks includes the ability to stilt walk with ease, as well as clowning and juggling. He's also so gifted at 3-ball tricks, clubs, torches, knives and cigar box maneuvers that he has the rare honor of being an official Magician Member of the Magic Castle in Hollywood.
Yet he is also one of the deeper comics in the standup world, having parlayed his psychology degree into creating a true mission for his comedy career ever since his post-college beginnings in the Chicago comedy scene. And remarkably, he strives to bring positive vibes and laughter to the world despite not being religious at all.
"I'm a positive nihilist. I used to consider myself an atheist, but it's not applicable, because you're either religious or you're not," says Miller. "It's a waste of time to take a stand and say someone else is an idiot for believing. Everything in this world is meaningless and absurd, but not like Sarah Silverman saying that we're just a speck of the universe. No, we're the center of it.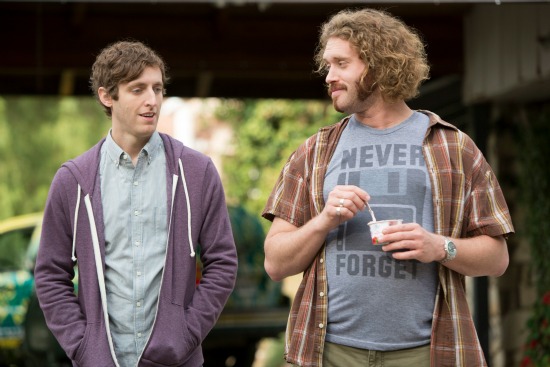 "But there is no meaning. Once you wipe that all away, then you realize you're completely free and have complete control of your life and have the master of that life," he continues. "That hopefully empowers people of any race or gender, and if there isn't any meaning I can make whatever I want of it. You are a practicing Catholic and afraid of death, but that's a part of everybody's life. It's a weird thing where if you want to make a meaning of that there's God the Bible and Pope, if that's what makes you feel better and want it to be meaning of life, that's great if you chose that.
"But as a positive nihilist, the greatest gift I could give myself is to understand and admit nothing means anything. A lot of stuff in the world isn't funny but I'm trying to figure how to talk about this stuff and make it funny or absurdist. And help people see how to people quash their death anxiety. But that's very difficult and will probably take 15 years."
For more on Miller's take on life as we know it, as well as info about "Deadpool," his daring audition for "Yogi Bear," working with Mike Judge and more, hear the audio at Radio Titans. You also can find interviews with hundreds of other top comics, actors, filmmakers, musicians and writers at the Radio Titans' home page.
---
Carl Kozlowski is founder and Chief Creative Officer at Radio Titans (www.radiotitans.com), and host/cohost of its shows "Grown-Ass Men," "Pajama Party," "The Koz Effect" and "Kozversations," plus Chief Guest Booker Winner of the world-famous Laugh Factory's "America's Funniest Reporter" contest.