Interviews
Chuck Dixon, Sylvester Stallone Send 'Expendables' to Hell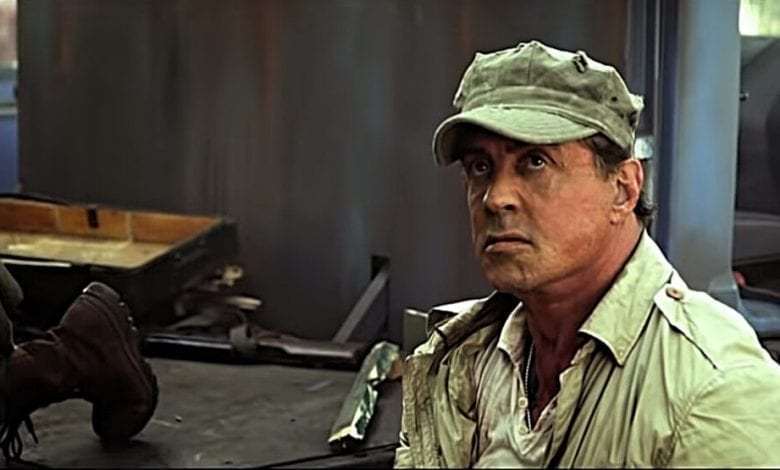 Sylvester Stallone isn't one to quit on a movie franchise.
The icon behind both "Rocky" and "Rambo" (not to mention "Escape Plan") knows audiences can't get enough of his beloved characters.
His latest franchise extension, though, may be the most creative of his career.
Stallone is teaming with comic book maestro Chuck Dixon to bring "The Expendables" back for another round of '80s style mayhem, but with a twist.
The Expendables (1/12) Movie CLIP - Greedy Pirates (2010) HD
The pair's new project is a graphic novel based on the action movie saga. "The Expendables Go to Hell" is self explanatory. The crowdfunding campaign behind it promises the same blend of mayhem, comic relief and bravery the three feature films delivered.
HiT reached out to Dixon, the mind behind arch villain Bane and countless comic book yarns, to learn more about the latest "Expendables" story.
HiT: How did this project come to be … and were you initially sold on the concept, or did it take time to envision the possibilities?
Chuck Dixon: Sly was talking to me about his initial plans for a fourth "Expendables movie;" just kind of bouncing ideas off me and I was offering my two-cents. He said," You know what movie I'd love to make?" I'm all ears.
"The Expendables Go to Hell," he says.
Then gives me the high points of Barney Ross and the guys actually going to hell and fighting Satan. He confessed that he could never get that one greenlit.
I can't remember who suggested it as a possible comic project, but Sly was all for it.
I tried setting it up at another company, but stuff happened, and the stars did not align. Then, a few months back, it struck me that Richard Meyer is the biggest "Expendables" fan I've ever spoken to. I emailed Sly and gave him Richard's background and he gave me his blessing.
I called Richard and literally told him to sit down before laying it out. Needless to say, things moved fast after that and we were in production by the end of that week.
HiT: What makes this story an "Expendables" story, in your eyes?
Dixon: The characters, the humor, the particular patois these guys share. And a hopeless, suicide mission the guys will not back down from. And what more forlorn hope is there than being damned?
HiT: Talk about collaborating with Stallone. What did you take away from the experience?
Dixon: I think the best illustration of our working relationship is a production meeting we were both in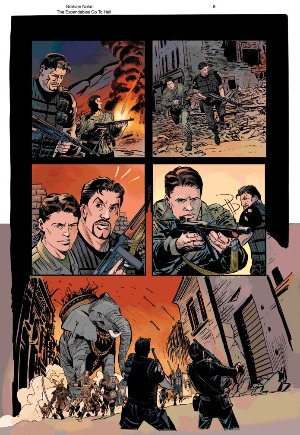 on. We found ourselves, over and over again, completing one another's sentences.
Other than being a pair of Philly guys, we just have an easy working relationship. We are totally on the same page on what makes a great action story and what twists and shadings to put on it without moving away from what makes the genre tick.
RELATED: 40 Insane 'Rocky' Facts
The guy likes story and, honestly, I think maybe he likes talking to me because I am not in the movie business nor do I want to be. He knows I'm not gonna be shoving my latest screenplay in his face or pitching to him every time we talk. I don't want anything from the guy other than the talks we have that I enjoy so much.
HiT: What can you tell us about the Hell in the story… without giving away too much?
Dixon: The simplest way to put it is our slugline: Hell is War. This is a soldier's Hell and everyone who's ever fallen in battle is there in an eternal, endless battle. It's basically Valhalla seen through a Judeo-Christian filter.
We'll meet a ton of historical figures as Barney and the guys ally themselves with some of history's greatest warriors. And not to say that it's all just pointless fighting. There are real stakes and a couple of happy endings.
HiT: Did you re-watch the films to get into the proper head space … or is this the kind of story that goes in its own creative direction?
Dixon: I did. With special attention to the second movie. The reasons for that will be apparent in the finished story. Richard contributed a kind of recurring theme to sub-plot from events in the first sequel. That forms the heart of the story. But we're definitely off into new country for the franchise while staying true to the characters.
HiT: Did you need permission to recreate the likeness of other "Expendables heroes" (the actors who created the roles)?
Dixon: At this time, we're only using the characters we have clearances for. I'd love to get to all the others in future projects featuring the Expendables.
HiT: Are there any movie possibilities here? Does Stallone or his team think this could be a stand-alone project of the big screen?
Dixon: Who knows? There might be someone visionary enough (or crazy enough) to produce this.
---
Please visit the official "Expendables Go to Hell" Indiegogo campaign to support the project.