Interviews
Stage Right Theatrics Brings Balance to the Arts (At Long Last)
The Columbus company delivers shows that speak to right-leaning values, crowds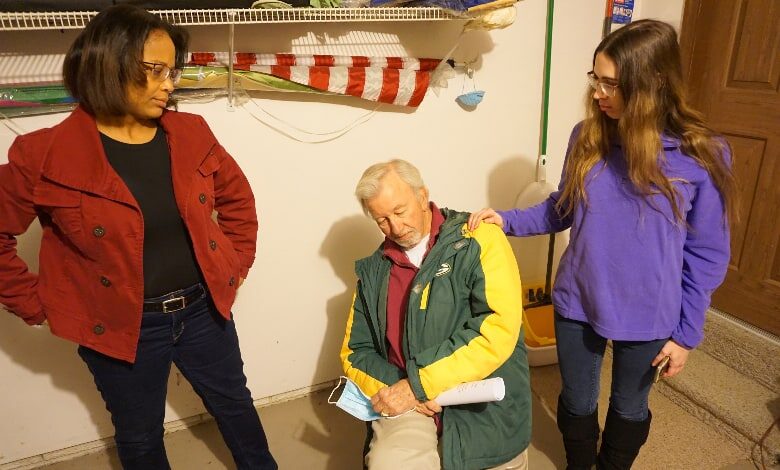 Robert Cooperman isn't raging against the left-leaning tilt of most theatrical productions.
He's doing something about it.
Cooperman's Stage Right Theatrics is running a January showcase of four short plays, and audiences can see them either in the theater or at home. These stories all lean to the right, creatively speaking. That makes Cooperman's Columbus-based company unique in the arts world.
He founded Stage Right Theatrics in 2016 to promote conservative artists in the theatrical space. Previous shows have showcased works by Phelim McAleer, David Mamet and Jonathan Reynolds.
Andrew Klavan Mentions Stage Right Theatrics!
Here are the four shows in the current lineup:
"Banned" by Christopher Lindsay (British Columbia, Canada), directed by Ben Hartwig: A young man finds himself in great distress after being suspended by Twitter.
"Honor Flight" by Edward Bloor (FL), directed by Veronica Heer. An aging Vietnam vet hopes his honor flight to the Vietnam War Memorial means more than just a photo op for an ambitious Congresswoman.
"Paul Binder" by Raven Petretti-Stamper (NJ), directed by Alyssa Ryan. A school district Athletic Director finds himself to be guilty by association in a sexual harassment case.
"Underneath" by Dana Hall (IL), directed by Ariel Wiles. A window into the world of a family dealing with the natural consequences of aging, loss, and the dignity in making one's own life choices.
HiT reached out to Cooperman to learn more about his current projects and how he keeps his unique company afloat.
HiT: You have four short plays in this current cycle … is there one in particular that really captures the spirit of Stage Right Theatrics … and why?
Cooperman: Really, they all do. Each play embraces some aspect of what I'm trying to present. What these plays do is present a cultural/societal issue (such as censorship on Twitter or guilt-by-association at a high school) and promote a "conservative" viewpoint on that issue.
I have always wondered why the Left is permitted to "rage against the machine" but the Right is supposed to stay silent. We on the Right should be able to use the arts to present our take on current issues without being called racists, homophobes, misogynists, or the like.
HiT: Tell us more about "Natural Theater" — do you see other modern playwrights embracing this approach?
Cooperman: The Natural Theater is a theatre movement that builds on the philosophy of our nation's founding, in that all people are free to pursue their lives in accordance with the Natural Rights given to them by Nature's God. Such pursuits inevitably lead to conflict.
Translated for the theater, this means that characters of the Natural Theater encounter conflict not because they are victims of an unjust society, but because they have contributed to this conflict through their own actions (defined by the (mis)application of reason, as the founders outlined).
Ultimately, despite setbacks and suffering, the plays of the Natural Theater remain hopeful, forgiving, and redemptive. Human nature, therefore, becomes both the cause and the resolution of drama.
HiT: Has the struggle to get right-leaning plays and voices heard gotten easier or harder over the past few years? Why?
Cooperman: I think it has gotten harder. The Left really hunkered-down when Donald Trump came into office: I was interviewed for an article in "American Theatre Magazine" about theatre "in the age of Trump." He had only been in office less than a year at that point; how could he possibly have created an "age?"
I think theatre companies believe that any conservative voice must be a Trumper and must therefore be silenced. My company began around the time he was elected, but we did not come into existence because of the emergence of Donald Trump.
The "Trump effect" will, I think, continue to make conservative voices marginalized, but my company will continue, I hope, well beyond the Trump years. Traditional values transcend time, after all.
HiT: Have you had a hard time attracting actors to your shows for political reasons (either they don't align with the Right or fear the reaction from appearing in a right-leaning show?)
Cooperman: Yes, but it's getting better. I have not been embraced wholeheartedly by the local theatre community, but more and more people are seeing that working with my company will not cause permanent scarring. I always say that the only qualification for working with me is a love of theatre.
Those who accept that very truthful statement feel better about sharing their talents with Stage Right Theatrics. Still, we don't attract as many local perfromers as other companies do.
HiT: Working as a right-leaning theater figure must be frustrating given the industry's overall bent. Where do you draw inspiration these days?
Cooperman: I draw inspiration from the fellow artists who, for right now, are "closeted" because of their beliefs. I do what I do for them (and for me). I draw inspiration from the timelessness of our nation's founding and have faith that the institutions and governing philosophy of the Founders will continue to prove itself to be the best hope for the betterment of humanity.
I also draw inspiration from the good judgment of the American people who, I believe, are finally waking up to the fact that the Left is bringing to the cultural table little beyond misery, fear, despair, and authoritarianism. Like the Founders, I believe it is the natural state of humanity to be hopeful and free and we are drawn to that state innately.
Therefore, just being a human being in America gives me reason to believe.
HiT: How do you attract new talent? Are they drawn to your mission? Are there less obvious ways you hear from artists who share a similar worldview?
Cooperman: I do get artists who appreciate my mission, but I also get artists who make it a point to tell me they are liberals. As noted before, I really don't care: we don't sit around and discuss politics at rehearsals! What I think people are drawn to is my motto–Disagreement Does Not Equal Hate!®–the fairness and equality with which I treat all those who work with me, and my call to a return to traditional values (which I think touch people's hearts even if they refuse to admit it).
Last year we did a play about civil rights entitled "When Your Soul Cries." Some asked why the "conservative" company would produce such a play (after all, conservatives are all racists, right?). When I explained that conservatives ackowledge that Blacks in America were treated like hell and our treatment of them goes against the grain of the Declaration of Independence, they were pleasantly surprised and grateful.
One of the most gratifying things for me is when I get a play submitted by a playwright who also thanks me for allowing his or her play to be taken seriously. Mostly, people feel free to express their beliefs when corresponding with me because they know I am a kindred spirit.
HiT: Those who want to attend the shows but are fearful of COVID will appreciate the streaming option. Do you think you'll keep that option moving forward, even as the pandemic (hopefully) fades away?
Cooperman: Ironically, COVID has given my company a boost!
Last year, we could not perform our annual festival in front of a live audience, which left live-streaming as our only option. I was not (Iand still am not) a fan of virtual theatre as we lose the immediacy and community that only a live audience can provide. Yet, I wanted the festival to go on and so I agreed to live-stream it. Then result was, not only did I have an audience of local patrons, but a whole new audience from across the country!
As a result, I will continue to offer my productions both live-streamed and in-person, even when this rotten pandemic is behind us.
Performances are January 28 and 29 at 7:30 PM and January 30 at 1:30 PM at the Abbey Theatre of Dublin (5600 Post Rd, Dublin, OH 43017). The plays will be presented both in-person and live-streamed. Tickets cost $12 per person (for in-person) or per device (for the live stream) and are available here.
Supporters can help Stage Right Theatrics move forward in 2022 and beyond by donating to the company's GoFundMe.com page.