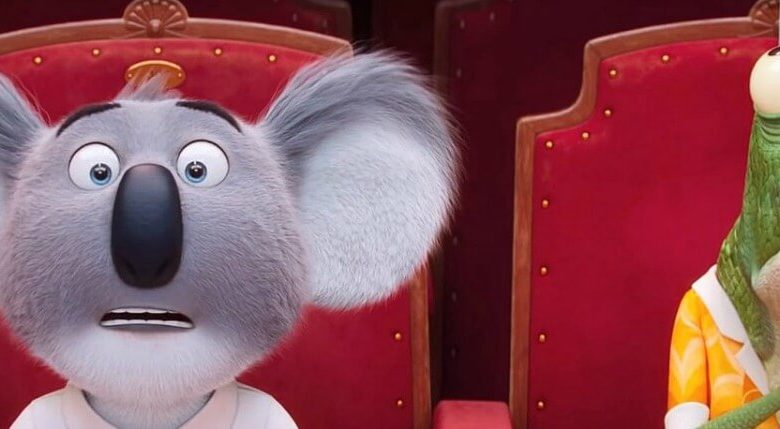 Imagine if all those wannabe singers on your average reality showcase weren't quite … human.
No, instead of young men and women vying for insta-fame, they were gorillas, pigs and mice desperate for fame.
"Sing" starts with that surreal premise. And, in fits and starts, it climbs higher than its reality show underpinnings. The story is always a jukebox selection away from mediocrity all the same.
Matthew McConaughey supplies the voice for Buster Moon, a down on his luck Koala bear impresario. His antiquated theater has left him bankrupt, and he needs one "really big shew" to save his financial future.
So he throws an open call out to anyone who can belt out a tune. That attracts a hodgepodge of potential stars. Consider Rosita (Reese Witherspoon), a harried mama pig with more kiddies than you can count. Or Ash (Scarlett Johansson), a rebel rocker with boyfriend issues.
The unlikeliest singer might be Johnny (Taron Egerton), a gorilla who serves as the getaway driver for his dad's criminal outfit.
Really.
Their oddball stories collide in Buster's expansive theater. Only a printing error puts Buster in even more financial jeopardy. Can he, or anyone for that matter, corral the talents of his amateur troupe in time for opening night?
Sing Movie CLIP - Johnny Gets Distracted (2016) - Taron Egerton Movie
Every time "Sing" threatens to blaze an original sequence the formula kicks back in. The soundtrack hums with catchy pop hits. Yet the characters' back stories are far from ordinary. Rosita's quest to live a live separate from her mommy chores could have been poignant with more screen time.
And Johnny's heartbreak over his dad's chosen profession is palpable. Yet this is still family entertainment, and those rough edges demand smoothing.
What's left? A chipper film with moments of both whimsy and pure calculation.
FAST FACT: "Sing" writer/director Garth Jennings says it took six months, and a personal meeting with Elton John's husband and business partner David Furnish, to secure the rights for John's smash "I'm Still Standing." 
At times, "Sing" strains for those elusive high notes and nails them. The musical finale features some stand up and cheer moments, shoving aside our cynical expectations. It's one thing to whip up an ending to give us goosebumps. It's another to stick the landing, both creatively and emotionally.
"Sing" does that.
That hardly squares with a mid-film disaster which shakes up the story's tone in dramatic fashion.
The comic relief proves far more consistent. You'll howl over an ancient socialite who could, in theory, save Buster's hide. What about Buster's elderly receptionist whose glass eye pops out out the very worst times?
Very funny stuff.
Behind The Scenes With SING Voice Cast
"Sing" exists in the odd space between artistry and commercial slam dunks. That makes it a dizzying affair, sometimes for all the right reasons.
The dramatic arcs don't tug at our hearts beyond Buster's "let's put on a show" moxie. Ash's boy troubles produce a laugh or two but little else. The German pig (Nick Kroll, suddenly Hollywood's busiest comic) is such a broad caricature it doesn't quite belong.
John C. Reilly, who anchored the overrated "Wreck-it Ralph," kills it as Buster's trust fund chum. You almost wish he was standing on the stage rather than his animal peers.
HiT or Miss: "Sing" delivers a quiet message about pursuing your dreams no matter what anyone else tells you. So why does it resort to so many slam-dunk musical covers to make that point?