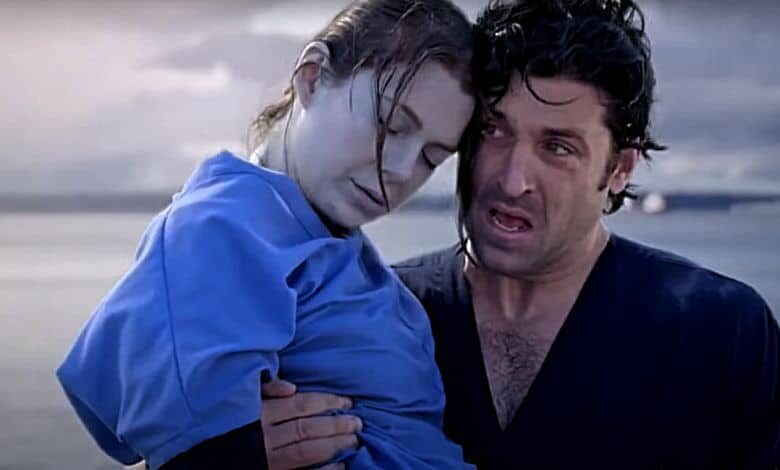 There aren't a lot of R-rated Disney action movies, but "Run" remains a supreme guilty pleasure from the Mouse House.
No, this isn't the "Run" (2020) that stars Sarah Paulson as a mother committing Munchausen by Proxy. It's also not "Run Hide Fight" (2020) the controversial school shooting drama that is becoming an online talking point. Nor is it "Run All Night" (2015), the Liam Neeson vs. Ed Harris action showdown.
Actually, the 1991 "Run" stars a post-"Can't Buy Me Love" Patrick Dempsey as a smug law student named Charlie Farrow. His character is assigned to drive a Porsche to Atlantic City but winds up in Sawtucket when the engine overheats.
Run (1991) 35mm Trailer And TV Spots
While waiting for the local mechanic to fix the car, Charlie talks his way into a high-stakes poker game, in which a hostile gambler (well played by veteran character actor A.C. Peterson) challenges him. A fight breaks out and, in an act of self-defense, Charlie accidentally kills him.
We quickly learn the gambler was the son of the highly connected goodfella named Halloran (Ken Pogue, solid as an unstable mob boss), who controls the entire town. Charlie flees the casino but finds every cop and gangster on the take is now after him.
If John Wick weren't an assassin supreme but a smarmy punk college kid, whose special ability was just dumb luck, he'd be Charlie Farrow.
Dempsey fails to make this wiseass-on-the-run truly endearing but, in terms of his physical performance, he's impressive here. Dempsey sprints, leaps, slides through the pins in a bowling alley lane, smacks into brick walls, dangles over high rise buildings, leaps over a cop car and flings himself down flights of steps.
It appears that he did most of his own stunts.
FAST FACT: "Run" earned an anemic $4.4 million at the U.S. box office, hardly making up for the film's reported $16 million budget.
Dempsey's best performance as a leading man was already behind him: Phil Alden Robinson's "In the Mood" (1987), another out-of-print title, is Dempsey's finest film work. Nevertheless, while "Run" isn't an Oscar-caliber performance (and neither is the movie, to say the least), his fans would be delighted to see how convincing he is in a movie like this.
There are a few reasons you've probably never heard of "Run."
It was an instant flop in theaters, found an audience on videocassette but was never released on DVD or Blu-ray and it's not on Disney Plus, either. Dempsey's late-career breakthrough with "Grey's Anatomy" and a charming turn in "Enchanted" would surely have been enough reason to resurrect interest in "Run," as it was one of two high profile 1991 movies that were aimed to turn Dempsey into an action star.
The other was the summer movie, "Mobsters," in which Dempsey played Meyer Lansky and co-starred with Christian Slater.
Mobsters Official Trailer #1 - Christian Slater Movie (1991) HD
As for why the film has been kept under wraps, perhaps Disney is uncomfortable promoting anything with a rating higher than PG (which has been its thing lately, since purchasing 20th Century Fox but putting the emphasis on its family-friendly streaming channel).
Or, maybe Dempsey is embarrassed by it, though he has nothing to be ashamed of – after all, he was once the star of "Meatballs III" (1987).
"Run" was the third film (after "Arachnophobia" and "Taking Care of Business") released under Disney's new Hollywood Pictures label (indeed, the end credits make it clear where it originates from: "This motion picture was created by Walt Disney Pictures and Television").
RELATED: 'Radioland Murders' Looking Back at Lucas's High Profile Flop
Hollywood Pictures was the second distribution label Disney created after the great experiment with Touchstone Pictures, in which the company known for "Bambi" and "Pinocchio" could release live-action, R-rated comedies for grown-ups. Think hits like "Down and Out in Beverly Hills," "Stakeout," "Ruthless People," and "Outrageous Fortune" in addition to edgier PG-rated fare like "Splash" and "Who Framed Roger Rabbit."
Unlike today, where anything too objectionable doesn't get aired on Disney+ and, therefore, is shelved, Disney used to distribute a diverse slate of films for a wide variety of audiences.
"Run" isn't their first R-rated action/thriller shoot-em-up, either. Through Touchstone Pictures and Hollywood Pictures, they released "D.O.A." (1988), "One Good Cop" (1991), "Crimson Tide" (1995) and "The Rock" (1996), to name a few examples.
What makes "Run" stand out, in addition to its obscure status, is that, even though it's a dopey, generically plotted B-movie, it delivers junk food cinema enjoyment. Like its star, it's quick on its feet and never stops moving.
As directed by Aussie filmmaker Geoff Burrowes (who helmed the winning "The Man from Snowy River" and "Return to Snowy River"), it's like a junior version of "North by Northwest," minus style or wit but lots of drive-in movie thrills.
Did I mention how dumb the screenplay is (from the writing team that gave us "Turner and Hooch")? Farrow has three college roommates who are introduced in the first few minutes, demonstrating how the screenwriter likely took a single character, stretched it to three and divvied the lines to three interchangeable actors.
On the drive to Sawtucket, Farrow gleefully cries out, "Oh, I am so shallow!" No argument here.
The orchestral score is a synthesizer heavy and a missed opportunity – a string orchestra could have really enhanced this. There's a bit involving the wrong man being assaulted at a payphone that landed much better in "F/X" (1986).
The one-liners don't land, though the closing line is a keeper (though I don't mean to imply that it's any good).
Kelly Preston has a key role as a casino dealer who takes pity on Farrow. The late actress is too good for this role, though she shined in many thankless parts as girlfriends and love interests before her best work ("Citizen Ruth" and "Jerry Maguire") showcased her abilities as a character actress.
Jerry Maguire (3/8) Movie CLIP - Jerry Dumps Avery (1996) HD
According to an old issue of Premiere Magazine, "Run" was originally supposed to star Mikhail Baryshnikov and Tracy Pollan; the mind boggles at what this would have been like with those two in the lead (could Pollan have created chemistry opposite the greatest dancer of the 20th century?).
Nevertheless, the whole premise is set up and in motion before the opening credits have finished. Twenty minutes in, Dempsey has already been running a lot. This has better momentum than smarts.
"Run" maintains its grip and not because Farrow is so likable (the opposite is true, as Dempsey lays on the self-satisfied attitude too thick); the depiction of an entire town under the grip of a wealthy criminal, who is rich enough to pay anyone willing to sell out for him, is compelling.
As everyone in Sawtucket with a gun, badge or both is willing to compromise their ethics and stalk Farrow, the feeling of moral rot is all over the film.
The CGI-free and on-the-level stunt work is strong and by the end, in which there's a showdown in an empty dog track, this becomes as pulpy and brutal as it should be.
Perhaps it was a mistake sticking with the R-rating, as a PG-13 could have at least enticed Dempsey's fanbase from his (at this point) steady work in rom-coms. Maybe Disney wasn't really the best choice to release a movie with a body count this high or repeated scenes of characters being kicked and punched in the crotch.
It isn't classy, but "Run" is a guilty pleasure, a B-movie that gives us TV's "McDreamy" playing the kind of role we'll never see from him again.