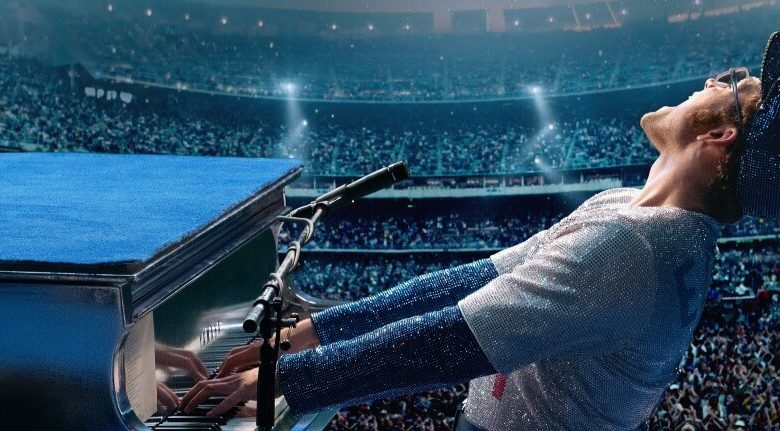 It's impossible to watch "Rocketman" without comparing it to last year's "Bohemian Rhapsody."
Both films cover rock gods who came of age in the 1970s. Each showcases their main character's budding homosexuality. And each delivers blistering performances by their leading men.
The comparisons run dry from there.
"Bohemian Rhapsody," for all its generic qualities, had us rooting for Freddie Mercury as if he were a member of our family … or that lovable neighbor who talks too loudly at dinner.
You'll cheer for "Rocketman's" Elton John, too, but mostly because his parents didn't love him enough. That's a sizable difference, and why the John biopic is a multi-colored disappointment.
Rocketman (2019) - Official Trailer - Paramount Pictures
Taron Egerton of "The Kingsman" franchise stars as John, a superstar introduced via a surreal therapy session. Right away "Rocketman" zigs from "Bohemian Rhapsody's" zaggy template. This isn't going to be a straight-up musical biopic,
Phew.
We then shift to John's younger years, where his emotionally stunted pa (Steven Mackintosh) can't bother to hug his own son. Mamma (Bryce Dallas Howard) isn't much better, but at least she turns her head when the lad enters the room.
Daddy can barely do that.
Young Reggie Dwight's piano talents will take him far away from his dysfunctional roots. He quickly rises to the top of the music business, buoyed by his voice and some peculiar dance numbers.
"Rocketman" could be confused for a jukebox musical. The narrative ditches John's recording chronology, jamming hits wherever the story pleases. It's both refreshing and odd, reminding us stage productions aren't a cozy fit for the big screen.
Remember the tepid response to 2005's "The Producers?"
View this post on Instagram
Along the way John embraces his sexuality, falls for an oily record producer (Richard Madden of "Bodyguard" fame) and does a copious amount of drugs.
Why? Because they're there, and he had a painful childhood. It just doesn't seem enough, dramatically speaking. What about John's musical chops? The humanitarian spark that burned so brightly years later? The sensitivity that flavored his beloved hits?
The film would rather show the singer warbling under water than flesh out those knotty themes. Such an approach isn't necessarily the wrong way to bring John to the big screen. Director Dexter Fletcher, who finished "Bohemian Rhapsody" after its director, Bryan Singer, went AWOL, senses his flamboyant lead is a sour fit for a rags to riches yarn.
Fletcher's eye for dazzling dance choreography, alas, isn't up to the task here. Some numbers, like "Saturday's All Right (For Fighting)" lack the sizzle of sublime dance sequences. Others, like John literally lifting off his piano bench in concert, suggest a fully realized approach.
FAST FACT: Taron Egerton says he practiced for three months on the piano to approximate John's legendary moves for the film.
"Rocketman," for all its creative hiccups, is never dull. The soundtrack won't let us down, even if Egerton's uncanny John impersonation should have been saved for the press tour.
Let the legend sing!
The film's richest dramatic moments come from the Elton John-Bernie Taupin pairing. Their collaborations are the stuff of classic rock lore. On screen, Jamie Bell's Bernie is the quiet counterpoint to John's theatrical flourish. We still crave more creative moments between the two, but their connection is beyond dispute.
John's love life gets a few short, spiky closeups here. Fortunately, those scenes help paint his portrait without overshadowing the reason we care about this "Rocketman" in the first place.
It's all about the songs radio stations can't stop playing. And thank heavens for that.
HiT or Miss: "Rocketman" delivers the hits you love and a superb turn by star Taron Egerton. It still keeps us at arm's distance from Elton John's unique spirit.