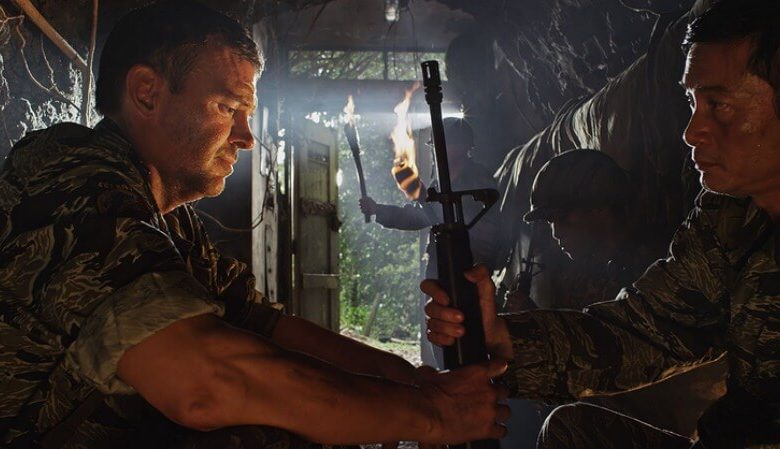 In playing John Ripley I wanted to move people like I was moved reading Richard Botkin's "Ride the Thunder: A Vietnam War Story of Honor and Triumph
." I wanted them to understand how great Ripley was, along with his good friend Major Le Ba Binh.
Starring in "Ride the Thunder" had personal meaning to me.
All of the men in my family have served in the military. My grandfather was in WWII and received a Purple Heart. My father, a Navy veteran, served aboard the USS Springfield CLG-7. My uncle served in Vietnam.
I believe that our service men and women contribute directly to our freedom, allowing us the luxury to pursue any endeavor we wish. They are the backbone of our country; the flesh and bone that put their lives on the line, willingly, for our greater good. It takes a special kind of person to do this. I am grateful to each and every one who have fought that we may live free.
Ride the Thunder - Official Trailer (2015)
In every war involving our country, all soldiers have fought and died, and lived, to uphold the ideologies that this great country was founded upon – freedom.
"Ride the Thunder" is an important movie every American should see. To all of our servicemen and women, their families and loved ones, I think you will have a special appreciation for the film and its powerful message.
Botkin's "Ride the Thunder" is one of the greatest books I've ever read. I want to encourage everyone to pour over its pages. It sheds light on an important part of our living history in an honest way.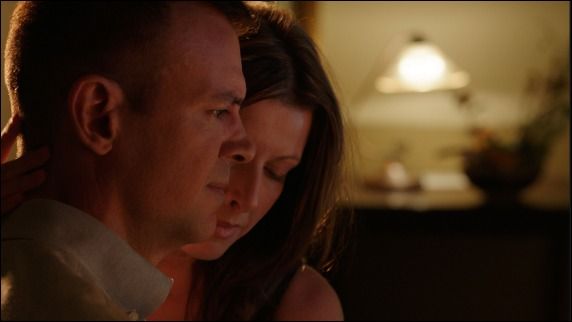 My intent in being in this movie is to bring honor to all Vietnam veterans. That is something they didn't all receive when they came home.
When I found out I was selected to play Col. Ripley I was absolutely thrilled. My number one priority was to bring honor to him and his legacy, to his family and all the men who served with him in Vietnam. Those men came to know him through his acts of courage which ultimately earned him the Navy Cross.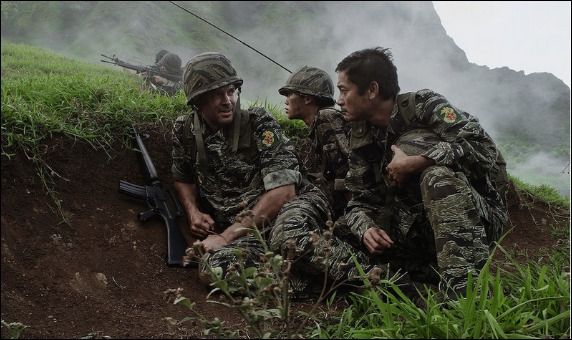 Botkin, who served as the film's executive producer, proved instrumental in my development of playing Ripley. He sent me volumes that he wrote that didn't appear in the book. The material specifically addressed Ripley and his life, which I absorbed to better capture this incredible man. Botkin's writings were key to understanding who Ripley was; a man of strong faith who loved his wife, his family and the men who served with him in Vietnam.
Botkin's care and passion for this movie came through in everything he did; from the way he took care of the cast and crew, to his guidance and encouragement while he was on the set at all times during the shoot.
Fred Koster did a fantastic job directing "Ride the Thunder." Fred is truly an actor's director. He took his time with each member of the cast and was able to communicate his vision to each of us. That, in turn, translated into the performances you see on screen.
Reactions To "Ride the Thunder" Movie Premiere
Journalists covering the war coined Ripley's men as "Ripley's Raiders," the fierce warriors that served with Ripley during his time in Vietnam. I had the distinct honor of meeting two of "Ripley's Raiders" when they visited the set while filming in Hawaii.
I sat with them for hours as they shared stories from the war and time spent with their leader.
Ripley died in 2008. The men who served with him proclaimed it the saddest day of their lives. They spoke of how beloved he was as tears ran down their faces. It is an honor and privilege for me as an actor to portray such a man. He was a warrior and a great American hero.
"Ride the Thunder" recently completed its theatrical run and is now available on VOD and DVD. You can purchase it or watch it here.
---
Eric St. John is an American actor residing in Los Angeles. He is a graduate of The American Academy of Dramatic Arts New York. Some of his television and film credits include "General Hospital," "Passions," "It's a Miracle," "Troubled Child," "Bullet," "Isle of the Dead" and "Being American." He is a highly skilled martial artist and won the Gold medal in the Black Belt Division in Taekwondo in the Jr. Olympics. Eric is trained in Muay Thai, Taekwondo, Jeet Kune Do, Kali, Boxing, and Brazilian Jiu-Jitsu. He is also skilled in Japanese and Filipino based weapons. You can follow Eric on Instagram, Twitter and Facebook.