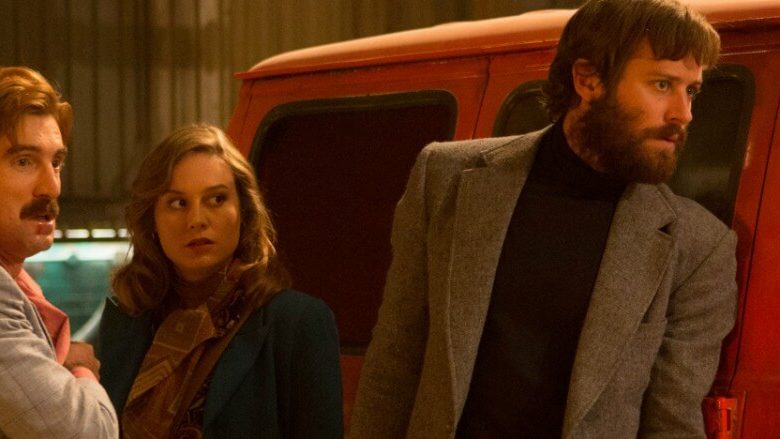 If Quentin Tarantino made "Free Fire" the running time it would be three hours. At least.
Thankfully, British director Ben Wheatley understands a lean, mean premise demands efficiency above all else.
A gun sale that goes south is enough for a great action sequence. Can it consume an entire movie? Wheatley sure thinks so. Too bad by the halfway mark he's disproven his own thesis.
Free Fire | Official Red Band Trailer HD | A24
A quirky cast of characters converge in a Boston warehouse for what should be a simple exchange. On one side you have IRA gunrunners, including Cillian Murphy. The sellers are a loose cannon arms dealer from South Africa (Sharlto Copley, natch) and his partner (Babou Ceesay).
Armie Hammer and Brie Larson play Americans helping to seal the seedy deal. And then there are other figures on the periphery, lackeys chosen so poorly they can't help but muck everything up.
RELATED: Did Tarantino's Police Protest Hurt 'Hateful Eight?'
We're given precious little else. The era is oh, so '70s, given the fashion and hairstyles of everyone in play. Context? Not so much. Back stories? Please.
And yet the film's first half crackles in a way that's both original and invigorating. Wheatley revels in the challenge he sets out for himself given the microscopic canvas. It's one he designed, in part, via the popular video game "Minecraft." He's got a game cast, an ear for thrilling sound design and an irresistible hook.
If something might go wrong, chances are it will. The same can be said for "Free Fire."
FAST FACT: Ben Wheatley shot his 2009 breakout film, "Down Terrace," in just eight days.
Once the guns start firing, it's clear Wheatley's technical chops have grown over his still young career. And yet it's here where the fun starts to fade. Why should we care who lives or dies? What are the stakes? And how many times can we watch grown men and women get shot but not die? It brings to mind an old gag from "Yellowbeard," — "stagger, stagger, crawl, crawl."
The stars spend half the movie on the ground, squirming and moving an inch at a time toward … nowhere in particular.
Are you not entertained? Frankly, no.
Free Fire Movie CLIP - Testing the Merch (2017) - Brie Larson Movie
Performances are solid throughout, but in a style over substance marathon few actors come out shining. Hammer is given the most embarrassing task, ignoring the cold reality while assuming a series of "above it all" poses.
Pass.
And why would Larson take this bland of a role coming off her recent Oscar win? She's probably enamored of Wheatley's potential — as are we all. Perhaps she missed the director's awful 2016 film "High Rise?"
"Free Fire" may stumble upon cult status all the same. It's Tarantino lite at a time when the "Kill Bill" auteur takes his sweet time between projects.
It's still a disappointment given Wheatley's intriguing resume. It's the kind of misfire you might expect from a young director hooked on his own cheeky lines and gunplay. A seasoned filmmaker should have known better.
HiT or Miss: "Free Fire" feels like an instant classic for a good 20 minutes, and then we slowly learn why movies offer more than guns and style aplenty.
"THE PROMISE"
Few real-life atrocities are more deserving of a cinematic closeup than the Armenian genocide. The Turkish government refuses to acknowledge, let alone apologize, for its actions during World War I.
Hollywood also has been remiss in sharing this nightmarish chapter of the 20th century. The films that dared to chronicle the death of 1.5 million Armenians have come from the documentary and indie worlds, not mainstream Tinsel Town.
"The Promise" changes all that.
The epic yarn may pin its box office hopes on a love triangle featuring two of the industry's most intense actors. That romance isn't one for the ages. It's enough to introduce us to a historical chapter that demands a glossy, wart-free feature.
The Promise Official Trailer 1 (2016) - Christian Bale Movie
Oscar Isaac is Mikael, an ambitious medical student who agrees to marry a virtual stranger in the film's opening moments. Why? The dowry will help pay for his schooling in Constantinople.
Yet as soon as Mikael sets his eyes on Ana (Charlotte le Bon, "The Walk") he knows he made a mistake. That attraction may be mutual, but Ana is already attached to Chris (Christian Bale), an AP reporter covering the Ottoman Empire's entrance into World War I. And, much to his shock, the way government officials are rounding up Armenians for no reason other than their ethnicity.
Both Ana and Mikael are from the same Armenian hamlet, and their loved ones are quickly targeted by local police. Soon, no one is safe from the poisonous incarcerations. Love blooms all the same, complicating efforts to keep everyone alive.
FAST FACT: "The Promise" director Terry George said his film's shoot employed extra security to ensure the safety of the cast and crew given the delicate subject matter in play.
"The Promise" shrewdly lets us enter a ghastly part of history with characters who reflect the very best in humanity. Bale's Chris drinks too much and can be as smug as any modern journalist. Yet his love for Ana is tender, and every time he sees her with Mikael his heart breaks a little more.
Mikael wants only to run away with Ana, but his made a promise to someone else, one he won't easily ignore.
Isaac and le Bon smolder, but we need more. We get their attraction, but in order to sustain it over the length of the movie demands more context, more moist glances between them.
"The Promise" looks gobsmackingly gorgeous, at least until the killings begin. That breathtaking cinematography hearkens back to an other era of filmmaking, one not beholden to digital tweaks.
The film itself is a throwback, too. It's not just a cinematic wakeup call to a historical abomination. It reminds us sweeping romances, set within real world woes, can still ensnare us like previous movie generations.
HiT or Miss: "The Promise" doesn't deliver a love story for the ages. It settles for a realistic romance atop an epic-style snapshot of a diabolical chapter in modern history.