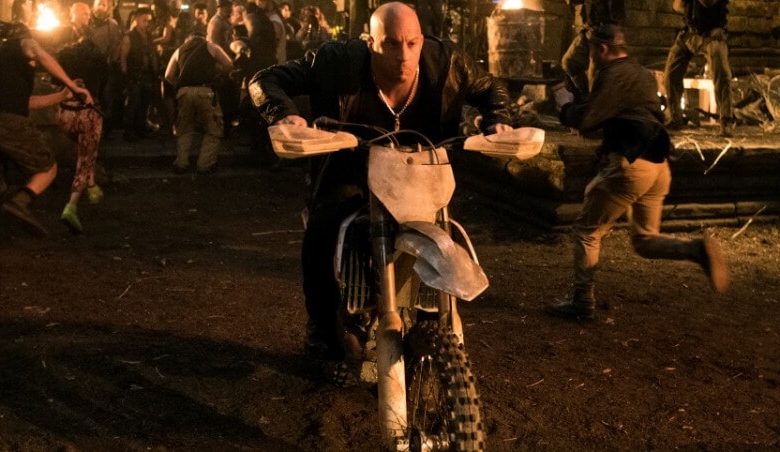 Plagiarism can sink a political career. In Hollywood, it's called smart thinking.
The wizards behind behind "xXx: The Return of Xander Cage" didn't just rip off the "Fast and Furious" template. They cribbed every action movie cliche from the past 30 years, too.
The ultra cool poses during gun battles.
Dialogue so hokey you'll wince.
Catch phrases only the screenwriter's mum will think are hip.
It's all here, along with Mr. "Furious" himself, Vin Diesel. He's still a fine action hero. All muscle, little emotion and a craggy voice to bark out his punch lines.
What else do you need? How about a screenplay that doesn't make you feel pity for co-stars like Toni Collette? Or random action movie moments that feel spat out from a computer simulation: Insert action hero retort here … drop tough guy/gal banter there.
xXx: The Return of Xander Cage Official Trailer 1 (2017) - Vin Diesel Movie
Diesel is back after taking the second "xXx" off. He's dragged back into the extreme spy game when his old mentor, Gibbons (Samuel L. Jackson) gets offed in the film's opening minutes.
We learn there's a new gadget that can send satellites screaming down to earth, and Diesel's Xander Cage is just the man to track it down. Of course, he'll need a team of diverse, and colorful, characters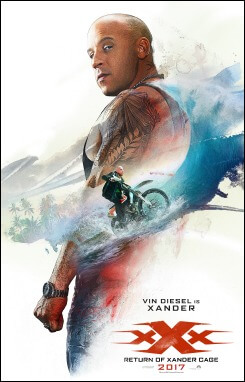 to make the "Fast and Furious" connection complete.
If you look closely enough you can see a film that marks the end of the Obama era. No institution can be trusted. Our civil liberties are threatened like never before. Talk of the evil Big Oil comes and goes without much passion.
And the lines between hero and villain are so blurred you won't even bother choosing sides.
There's something palpable to be pulled from these themes … on paper. "Xander Cage" cares far more about making its star/producer look good. Over and again.
Watch the ladies swoon over Xander! See him save a village from life without satellite TV! It's embarrassing, frankly. Isn't starring in a spy movie where you save the day enough?
As for the movie itself… suffice to say the "Furious" films make it all look easy. You'll suddenly pine for Tyrese Gibson's wit and Michelle Rodriguez's nuanced line readings.
Honestly.
xXx: Return of Xander Cage Movie Clip - Skateboarding (2017) - Vin Diesel Movie
The film perks up a bit whenever Donnie Yen's villain appears on screen. Is there another martial artist who delivers fury and grace with such devotion?
The other players, both "heroes" and "villains," desperately strain to be "characters." Most fail, including Ruby Rose, Rory McCann and Kris Wu.
Bollywood star Deepika Padukone looks like she's enjoying life in a big-budget American movie, even if the screenplay can't give her much to do.
FAST FACT: Vin Diesel once worked as a bouncer in between acting auditions.
"Xander Cage" desperately wants to indoctrinate us into the reborn franchise, which Ice Cube temporarily took over with 2005's "xXx: State of the Nation."
"X takes care of its own," we're told, and then re-retold and then reminded once more.
Director D.J. Caruso ("Eagle Eye") keeps the action humming in the film's second half, but his style involves bombarding the screen with pure chaos. Compare that to the "Furious" features, which are jaw-droppingly surreal but let us enjoy every second of the ride.
It's the perfect guilty pleasure franchise. That's something "xXx" can't copy no matter how hard it tries.
HiT or Miss: "xXx: The Return of Xander Cage" is for Vin Diesel completists and action junkies only.