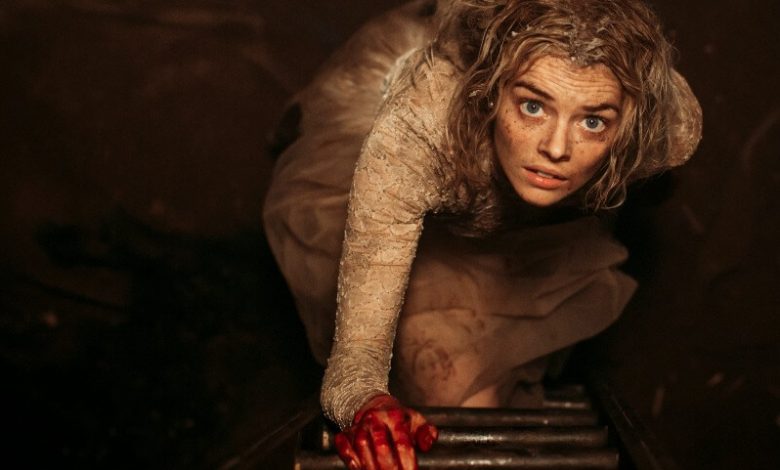 The trailer for "Ready or Not" gives away almost everything.
A beautiful bride (Samara Weaving) realizes her in-laws' wedding gift is a deadly one: Her murder. Now, it's time to divorce these uber-rich ghouls, and fast.
And … you just saved whatever the exorbitant price a movie ticket costs these days.
But wait … there's more. Really.
"Ready or Not" leaps beyond a silly setup with a ferocious sense of humor. It helps that Weaving is so much more than a pretty face. Hugo Weaving's niece might just be a star.
'Ready or Not' Official Trailer (2019) | Samara Weaving, Adam Brody, Andie MacDowell
Weaving's Grace looks lovely on her wedding day, but she's keenly aware of the eyes locked upon her. Her beau's family makes the Trumps look like beggars. The stuffy clan luxuriates in their wealth, wondering if Grace has designs on a morsel of it, if not more.
Still, Grace loves their bland but doting son Alex (Mark O'Brien). So Grace grits her teeth through the ceremony, eager to win her in-laws over. She's less than thrilled about the clan's wedding day ritual – game night!
Who knew Hide & Seek could be so … deadly?
Horror movies ask us to swallow a host of silly premises. Serial killers who can't be killed, Puppets with a mind of their own. Rubbery creatures that emerge from toilets.
"Ready or Not" pushes that maxim to the edge. Why would Alex allow his bride to be part of these shenanigans? How does the family get away with so much bloodshed?
Don't think too hard about any of the above. You'll spoil the fun. And yes, "Ready or Not" is a certified hoot.
READY OR NOT Clip - Choosing (2019)
The filthy rich are the targets here, and on that level "Ready or Not's" satire lacks teeth. Alex's family is a parody of a caricature of a stereotype, so the screenplay barely leaves a mark. What's more intriguing is the concept of family, and how what seems abnormal to one is quite reasonable to another.
We saw a glimmer of that in "The Farewell," one of 2019's best indie treats.
RELATED: Sexy Horror Movies … from a Female Perspective
The film's cast includes an ageless Andie MacDowell and Adam Brody as Alex's conflicted brother. Both stars strain to bring substance to their roles, but the absurd set-up won't allow it.
Good thing directors Matt Bettinelli-Olpin and Tyler Gillett have a nifty plan B. Strip away all unnecessary fat and let the lean, mean game commence. "Ready or Not" starts at the happy couple's wedding day and never slows down. The jolts are frequent and satisfying, and so are the laugh lines.
Black humor lurks around every impossibly ornate corner. The mansion itself is a character in the film, all mahogany surfaces with stories to share.
Weaving could have delivered your standard Final Girl routine. Instead, she's alternately fierce and forlorn, amazed that the love of her life could betray her so completely. Weaving stood way out in the Netflix dud "The Babysitter." Here, she owns the screen in no uncertain terms.
Her future seems impossibly bright.
HiT or Miss: "Ready or Not" isn't for the squeamish. Love horror with a splash of coal black humor? Here's the movie for you.