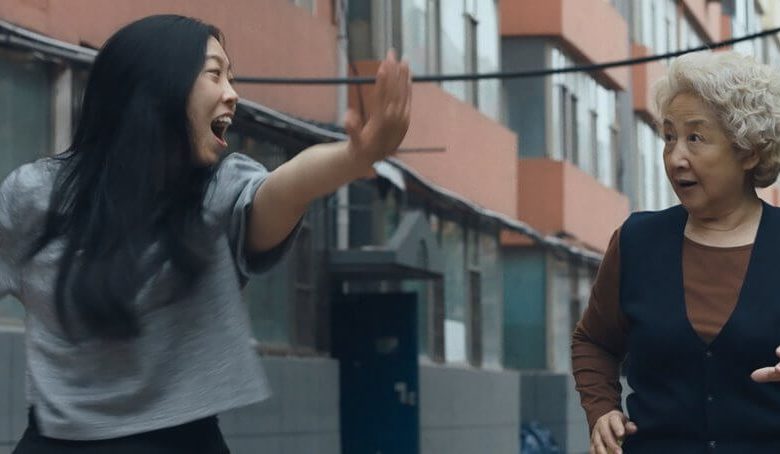 Some stars shine brighter in limited light.
Is anyone clamoring to see Charlie Day as a leading man?
Even the Minions, those yellow pranksters from the "Despicable Me" franchise, fizzled in their spin-off feature.
Rising rapper turned actress Awkwafina seemed ripe for a similar designation. Sure, she ran away with entire moments in "Crazy Rich Asians" and "Ocean's 8." Could she sustain a leading role, particularly one that doesn't require her manic energy?
Indeed she can, and the charming indie film "The Farewell" proves it.
The Farewell | Official Trailer HD | A24
Awkwafina stars as Billi, a young woman mourning her grandmother's terminal diagnosis. Only Grandma Nai Nai (a sublime Shuzhen Zhou) doesn't know she's dying.
The family refuses to tell her.
Why? It's tradition. That doesn't sit well with Billi, the most westernized member of her clan. She's forced to stay silent while her family gathers in China for a "faux" wedding meant to honor Grandma one last time.
That farcical setup could fuel a caffeinated mainstream comedy. Sounds exhausting, right? "The Farewell" has something much richer in mind. The story drills down into Asian culture, gently exploring the reasons we enact traditions in the first place.
Awkwafina shares the tearful reactions to 'The Farewell'
The ensemble story lets the tradition in question breathe, giving it a measure of respect in the process. How do we grieve? What choices do we make in those last, critical moments? And just how far will we go to preserve the status quo?
Director Lulu Wang coaxes fine performances from her key players, but she also shows both restraint and visual ambition. That balance keeps the story in control, and Awkwafina takes it from there.
She's our western culture surrogate, a New Yorker whose pragmatism isn't easily distinguished. Her connection to Nai Nai is something we rarely see on screen. Our obsession with youth often won't make room for it, or it's treated like a cutesy device, and little else.
if only the screenplay fleshed out Billi's character better. She's defined by her love for Nai Nai and frustration over the Big Lie. That's mostly it. Even her artistic side is lazily sketched out.
What a missed opportunity.
The story, too, is skeletal in nature. That Lie is more than enough to carry the feature, but the comic scenarios rotating around it can be spare. Even the culture clashes, while given the proper texture, are mainstreamed for our consumption.
Lulu Wang's #TheFarewell is the most exciting hit movie of the summer, but it came together after she nearly lost all hope of making the film. Our interview with the filmmaker: https://t.co/jTQdnHe4Sz pic.twitter.com/3eSufi5f4Z

— IndieWire (@IndieWire) July 19, 2019
It's still a joy to soak in a story with such an eye for detail, be it the textures of Chinese landscapes or the cultural tells that define a storyteller eager to share.
Even better, the supporting players are richly detailed, the kind you want to spend more time with after the story wraps. Wang instinctively knows when to let the actors push their eccentricities and when to hold back.
"The Farewell" offers a tone poem about death and how we process it. Witness a scene at a graveyard where the rituals take on a darkly comic view. It's played for gentle laughs but there's a respect given to the proceedings that can't be ignored.
HiT or Miss: "The Farewell" delivers the sleeper indie hit we needed while proving star Awkwafina is more than a scene-stealing artist.