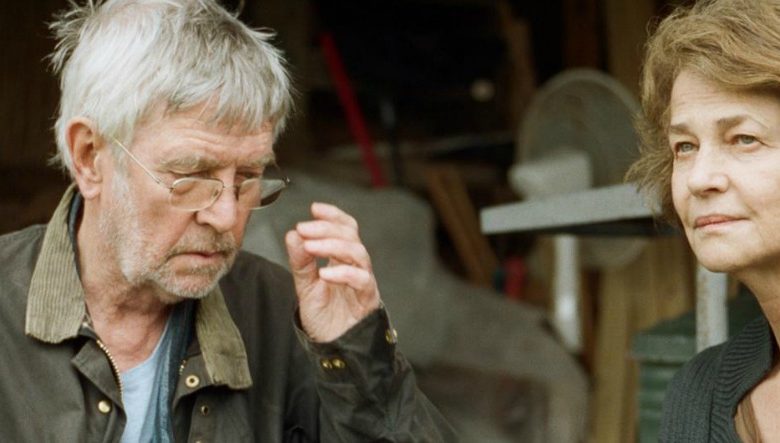 Charlotte Rampling and Tom Courtenay star as Kate and Geoff Mercer, a late-middle-aged couple preparing for their 45th wedding anniversary. We learn this will be a milestone celebration, bringing many of their old friends together. It also is meant to make amends for how their 40th anniversary party was postponed.
The days leading up to the event show what life for the Mercers is like: quiet and comfortable. Decades into their marriage, the two are still visibly fond of one another. A letter addressed to Geoff reveals the outcome of a former lover, a note that jolts them both.
Suddenly, Kate's familiarity with her husband is shaken. She ponders just how close he was to his decades-ago lover and how genuine their current relationship is.
45 Years - Official Trailer I HD I IFC Films
.
Writer/director Andrew Haigh's previous film was the sensitive love story, "Weekend." That film also leans in on the emotional intimacy of its protagonists, allowing us to witness stunning moments of characters discovering truths about one another. I've never forgotten "Weekend's" moving final shot. I'm still thinking about the transfixing moment  in "45 Years" when Kate's face and an illuminated photograph share the frame.
FAST FACT: Charlotte Rampling earned her first Academy Award nomination for '45 Years.' 
If "45 Years" sounds dry, it surprisingly isn't. Its story could work as a theater piece, but it isn't a stagey or dull film. Because the caliber of the performances is so high, the questions raised are so startling and the story is never contrived or resorts to formula. It respects its audience as well as the characters. The chapter breaks in between the days portrayed are appropriate, as this plays like the equivalent of a page turner.
RELATED: 'Rosencrantz & Guildenstern' Stumble into 25th Anniversary
Rampling and Courtenay are such great, versatile performers, it's no surprise their work not only carries this but makes it essential viewing for lovers of fine acting. Rampling has played the object of affection, the alluring younger and older woman and has a remarkable list of credits that include "Georgy Girl," "The Night Porter," "Stardust Memories," "Swimming Pool" and even "Basic Instinct 2."
Likewise, Courtney is likely best known stateside for his excellent, Oscar-nominated turn opposite Albert Finney in "The Dresser" as well as "Billy Liar", "Doctor Zhivago," "Quartet" and playing Bill Cosby's butler in the hall of fame stinker, "Leonard Part 6."
.
I mention just a few of the highs and lows of Rampling and Courtenay's extensive careers out of genuine awe; the chance to see them play off one another and take on roles that are as rich, layered and thoughtfully considered as they deserve is a golden opportunity.
The tantalizing direction of the narrative's puzzle isn't so much what happened as what happens now? It leads to a final scene, shot in one take, where Kate and Geoff dance together, along with dozens of others and Kat comes to a realization. Exactly what epiphany crosses her mind is open to interpretation, as Rampling keeps it a secret from us. No matter how one views it, the scene has powerful resonance to it.
DID YOU KNOW: Woody Allen once dubbed Charlotte Rampling, who he directed in 1980's 'Stardust Memories,' the "ideal woman.'
"45 Years" has moments that gain dramatic weight upon consideration, as the full understanding of Geoff's past creates both tension and a greater depth to even the smallest moments. This is filmmaking and drama at its most smart and subtle. It never resorts to grandstanding, from the actors or the screenwriter, to leave an impact.