Interviews
'Patriot Awards' Comic Jimmy Failla Salutes Real-Life Heroes
FOX Nation to host celebration of everyday stars, AKA the 'Oscars for Camouflage'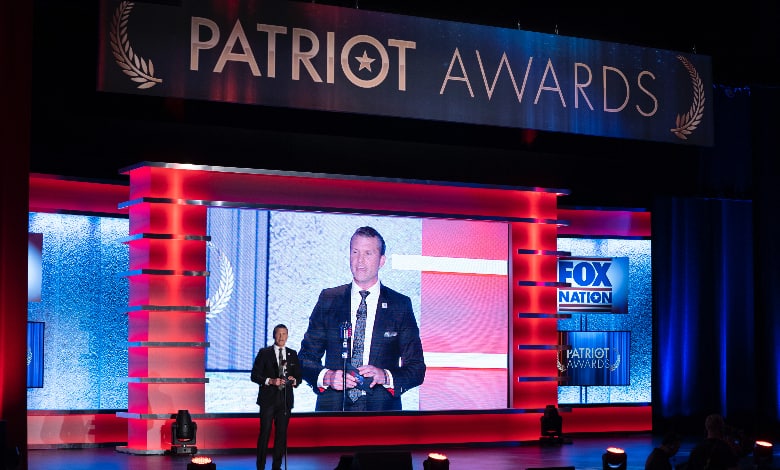 Jimmy Failla will obey the cardinal rule of awards shows when he opens the Patriot Awards Thursday.
No jokes about Will Smith's wife.
Yes, that's a Failla wisecrack, but the funny man gets serious when talking about the gala, now in its fifth year.
"The real celebrities in this country are the names you don't know," says Failla, a regular on Fox's "Gutfeld!" and host of radio's "Fox Across America." "The guy paid $30 million to play a cop in a movie isn't saving anyone's life…we can't have a society without these people."
The Patriot Awards, Failla contends, should be "required viewing."
HONORING EVERYDAY HEROES: @foxnation celebrates America during the 2023 Patriot Awards at the Grand Ole Opry House on November 16, 2023. Buy your tickets at the link in our bio. https://t.co/0Yf4uW5aEQ pic.twitter.com/DTUwcPUxHP

— Fox News (@FoxNews) November 14, 2023
The Nashville-based event, broadcast at 8 p.m. EST Nov. 16 on FOX Nation, celebrates those who give back to the country. First responders. Police officers. Volunteers. Those who selflessly give back so everyone else can savor America's promise.
Some of the event's awards include Most Valuable Patriot, Heroism and Back The Blue. Failla will open the event, to be hosted once more by "FOX and Friends" weekend co-host Pete Hegseth.
Joining Failla and Hegseth at the ceremony will be FOX News stars including Ainsley Earhardt, Brian Kilmeade, Steve Doocy, Lawrence Jones, Will Cain, Rachel Campos-Duffy, Janice Dean, Laura Ingraham, Sean Hannity and Jesse Waters.
Failla calls the event the "Oscars for camouflage," adding the people honored this week were the kids who pretended to be heroes on the local schoolyard. Except they never let go of those fantasies, enlisting or putting on a badge to protect the innocent.
"They're united in their love for this county," Failla says, and while he may not save lives for a living like the honorees, he's on the same page.
"If you live in this country you hit the lottery," he says. "For all the social justice terms you hear, like 'check your privilege,' the Patriot Awards reminds us everyone has 'American Privilege.'"
No other country is as tolerant, as inclusive as the United States, he adds.
Jimmy Failla: We are screwed
Failla vows he won't sound like your average Oscars host during his opening monologue. The focus should be on the patriots, not the guy lobbing jokes at the crowd.
"Smile, be funny but we're not here to hand trophies to the host … we should make it about them. It's the best thing you can do as a host," he says.
Failla dissects the latest headlines on "Fox Across America" without talking down to listeners. Perhaps his days driving a cab gave him that Everyman touch.
He may lean to the Right, but he's not eager to demonize Democrats. In fact, he drills down on the topics that keep us divided, be it student loan forgiveness or Climate Change.
"I take it to a human area … some of these issues affect all of us no matter who we vote for," he says. He calls himself the "red Solo cup" of stand-up, a prankster who doesn't pledge allegiance to either party. He's part of the "keg party," he cracks.
Besides, he believes comics should make people laugh, not influence their voting preferences.
"[Stephen] Colbert is trying to win an election. I'm shocked I'm allowed to vote … I don't wanna be in charge," he says.
RELATED: 'GUTFELD!' – STILL KING OF LATE-NIGHT TV
Failla falls on the "more speech, not less" side of the First Amendment, much like late media mogul Andrew Breitbart. That means he's no fan of Cancel Culture, currently the target of a five-part series at the liberal Huffington Post.
The comedian dubs it "weaponized censorship."
"[Woke types] weren't offended so much as feigning outrage as a form of currency … 'look at what a good person I am,'" he says, noting the irony of colleges suddenly finding their voice on free speech following Hamas' Oct. 7 terrorist attack on Israel.
Modern campuses won't let students dress up as "offensive" Halloween costumes, but administrators look the other way when the same students shout, "death to Israel."
The irony of colleges embracing free speech rights at last is clear for Failla.
"They silenced everyone's First Amendment rights a long time ago," he says.