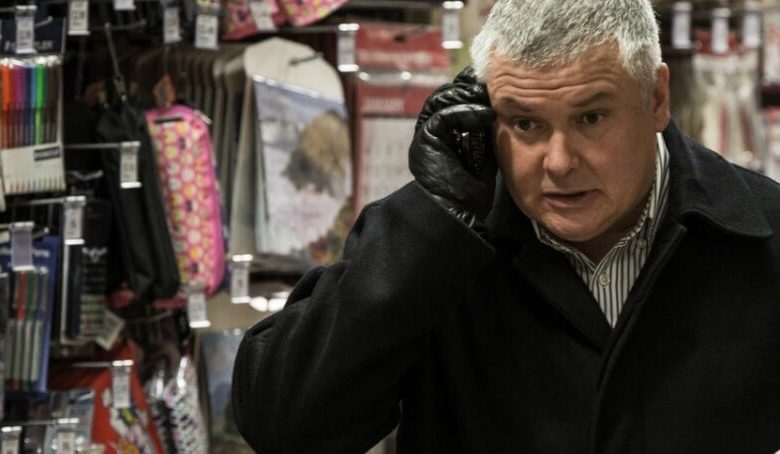 Sandy Duffy isn't as famous as Tom Hanks or Denzel Washington. He's a household name all the same.
The main character in "A Patch of Fog" wields that privilege after getting caught committing a petty crime. Boy, does he live to regret it.
This Irish two-hander doesn't pack enough thrills alone to recommend it. The plot uncorks a few too many moments meant to goose the thrills, not the story logic.
It's the throbbing class tension that insists you keep watching.
Conleth Hill ("Game of Thrones") stars as Sandy, an author who spends his days battling it out on a local chat show. His signature book, "A Patch of Fog," made him a star. And he's been surfing its cultural coattails ever since.
He's bored all the same. Money, celebrity and TV notoriety aren't enough. So every now and then he drops into a local store and nicks an item.
Now, that's a rush.
RELATED: How the Villain Stole 'Nighthawks' from Stallone
A shrewd security guard catches him on CCTV. Richard (Stephen Graham) reluctantly agrees not to report Sandy to the police. But there's a catch.
All Richard wants is to share a Coke with Sandy after work. He's lonely … and odd. Sandy agrees, not realizing this is the start of a very unbalanced friendship.
Conleth Hill Talks 'A Patch of Fog' and 'Game of Thrones' at TIFF 2015
It's hard not to feel for Sandy at first. Sure, he's a thief, but he could lose everything he's worked so hard to achieve if he gets exposed. All he wants is to put the incident behind him.
Except his new "friend" won't let him. Nor will Sandy's ego. He's using to bullying his way to victory. He can throw money at any problem and make it go away.
Would even the loneliest soul keep mementos from his first time hanging with a new mate?
Richard is a new kind of problem, and he reveals Sandy's unchecked arrogance. The author can't help putting Richard down, even when it doesn't help him a whit. Consider a scene when he insults Richard's intelligence during a college lecture. It's unnecessary but oh, so telling.
FAST FACT: Peter Dinklage insists Conleth Hill is the funniest actor behind the scenes on "Game of Thrones."
Hill and Graham are equally strong, delivering a unique cat and mouse clash. The balance of power won't stay still, a credit to director Michael Lennox's shrewd sense of balance.
"Fog" may hit familiar class notes, but the screenplay reveals fresh perspectives. It's a shame that it sneaks in a few very silly bits at the same time. Would even the loneliest soul keep mementos from his first time hanging with a new mate?
And, like many thrillers, you'll wonder why a man as smart as Duffy wouldn't put the brakes on the blackmail sooner. Maybe there is a bond growing between them after all. Does the author see something in Richard, or is it all about plotting his escape?
Who will prove superior, the blue-collar blackmailer or the refined man of words?
HiT or Miss: Hungry for an original, well executed thriller? The Irish import "A Patch of Fog" delivers on both counts.