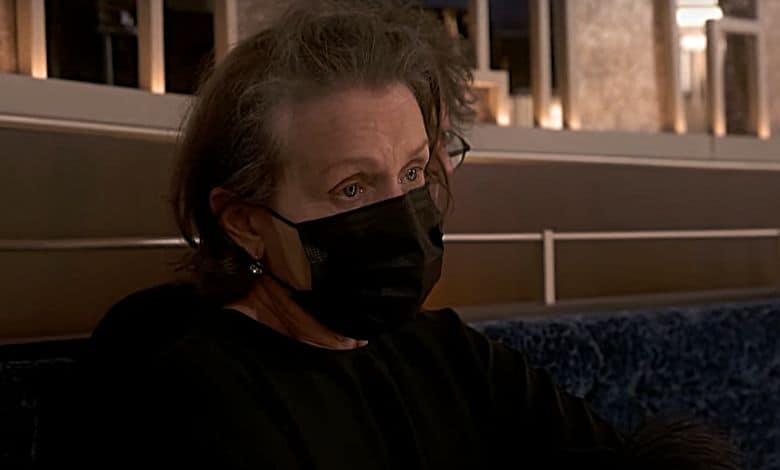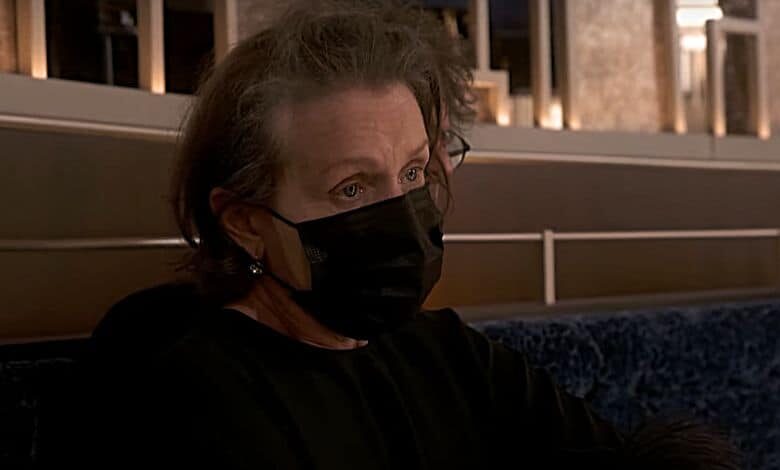 We finally got the Oscars makeover we've been promised for so long.
You can credit the never-ending pandemic for drastically reshaping the movie event of the year.
No massive audience
No musical numbers
No belabored Oscar sketches
No elaborate staging that makes the show's running time even longer
Look what we got instead Sunday night.
An even duller show, one lacking a host, humor and the twinkle that movies deliver at their very best.
Part of this isn't Hollywood's fault. The pandemic, and too many draconian rules that fly in the face of science, forced the show's producers to improvise.
What they came up with proved disastrous. It feels like the proverbial "punching down" to mock the awards gala, but they had it coming.
We were deposited into a large ballroom, the kind that might host a rubber chicken dinner. The format fell quickly into place. A crush of actors (Laura Dern, Reese Witherspoon, Halle Berry, Harrison Ford) announced the nominees and shared a little bit about each.
"Mary Smith fell in love with movies at the age of seven while watching blah-blah-blah." A clever concept on paper, but one that quickly became monotonous.
The anecdotes proved mostly generic, showing the Oscar researchers just didn't dig deeply enough to get the kind of memories that would illuminate the night.
Instead, the production seemed to highlight the pandemic restrictions. We watched last year's Best Director winner, Bong Joon-ho, celebrate the arcane craft of directing in an empty theater. It wasn't the only creative choice that highlighted that emptiness.
Call it anti-escapism.
What did the night oh, so desperately need? Comedy. Humor. Laugh lines. Joy. Yes, the team behind the night promised a "joyous" affair loaded with laughs. Fake News. Again.
The funniest part? Hearing co-producer Steven Soderbergh explain why the event went host-free prior to showtime.
We debated it. We weren't philosophically opposed to it but as the show began to take shape, it felt like it would be better served if each act was approached as a discreet storytelling chapter and you have a guide for each of those chapters….
He couldn't say, "no comedian would accept the gig … and very few could survive the vetting process." Instead, he pretended the night would make us all smile.
I know there are going to be laughs — there's some writing that is truly witty and sincere, but we want you to leave your snark at the door.
To paraphrase Led Zeppelin … does anybody remember Oscar night laughter?
Of course the night delivered a steady stream of woke talking points. No one expected anything different. Quasi host Regina King kicked off the night with an unnecessary political jab:
"I have to be honest. If things had gone differently this past week in Minneapolis, I might've traded in my heels for marching boots," Regina King said of the Derek Chauvin verdict. "Now, I know that a lot of you people at home want to reach for you remote when you feel like Hollywood is preaching to you. But as the mother of a black son, I know the fear that so many live with. And no amount of fame or fortune changes that. Ok?"
We hope her family doesn't live in Chicago, where the weekend murder rates disproportionately impact young black males. Too bad Hollywood and the media aggressively ignore those lives. They cannot be politicized.
Other progressive talking points mentioned over the evening
Diversity
Gun violence
Social Justice, over and again
This site accurately predicted the causes that would go unmentioned. It didn't take a crystal ball to nail it, though. Hong Kong protesters did get a one-line shout-out, the closest the night came to mentioning China's human rights atrocities.
"Ma Rainey's Black Bottom" hair and makeup co-winner Mia Neal shared this woke sentiment:
"I can picture Black trans women standing up here. And Asian sisters. And our Latina sisters. And indigenous women. And I know that one day it won't be unusual or groundbreaking."
Left unsaid? The American people didn't deny them their potential Oscar glory. Hollywood did.
Even the In Memoriam segment got a woke makeover, courtesy of Angela Bassett.
Need more messaging?
Two Distant Strangers writer-director Travon Free launched into an anti-police rant from the stage. "Today, the police will kill three people. And tomorrow, the police will kill three people. And the day after that, the police will kill three people. Because on average the police in America everyday kill about three people," Free said. "Which amounts to about a thousand people a years. And those people happen to be disproportionately black people."
Bill Maher recently blasted the Oscar-nominated films for lacking joy, hope and uplift. The Oscars followed that pattern precisely.
New Rule: The Debbies | Real Time with Bill Maher (HBO)
Tyler Perry movies never get much critical love, but Hollywood did honor the producer's penchant for giving back behind the scenes.
"I would hope that we would refuse hate," Tyler Perry said after winning a well-deserved honorary Oscar for his years of humanitarian work. Now, let's hope some of his fellow artists consider that call to decency when it comes to conservatives, a group effectively blacklisted within creative circles.
What about the winners? We got a mix of expected wins and surprises.
Best Supporting Actress: Youn Yuh-jung, "Minari"
Best Director: Chloe Zhao, "Nomadland"
Best Supporting Actor: Daniel Kaluuya, "Judas and the Black Messiah"
Best Picture: "Nomadland"
Best Actor: Anthony Hopkins, "The Father" (everyone expected Chadwick Boseman to win…)
Do they matter? To the artists, of course. Some winners richly deserved their statuettes. Others? Well, we don't truly know as the Oscars, and Hollywood in general, is moving away from honoring artists based purely on merit to pushing for equity, diversity and inclusion.
The Oscars' New Diversity Rules Have Divided Hollywood | TIME
The Oscars' diversity rules don't officially kick in until 2024, but can we all believe those rules didn't influence voting this year?
Did the show have some emotional highlights? Director Thomas Vinterberg, winning Best International Film honors for "Another Round," opened up about his daughter dying shortly before production began. The tender moment stunned the audience along with the dwindling TV audience.
Even introducing Rita Moreno with "The Electric Company" theme felt odd, fresh and unexpected. The night had precious few surprises like that.
Watching Glenn Close doing "Da Butt" dance doesn't count.
We've come to expect Oscar night to be woke, dull and sanctimonious. On that scale, this year's delayed, socially distanced Oscars didn't disappoint.