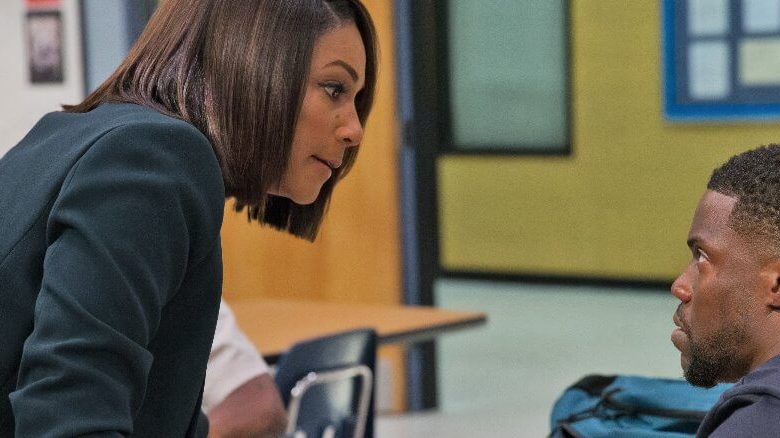 Kevin Hart's positive social media vibes are seeping into his feature films.
Hart's production company is behind "Night School," an occasionally funny comedy with a serious message to deliver.
Don't worry,  this isn't another Hollywood lecture. The film is too busy leveraging Hart's high-pitched squeal. And recruiting new It Comic Tiffany Haddish is Shrewd Move No. 2.
You may not get any belly laughs but seeing students scramble for their American dreams is better than an extra large popcorn.
Night School - Official Trailer (HD)
Hart's Teddy Walker never graduated high school, something we see through a clunky flashback. Teddy blamed "The Man" and racially biased test questions, but he comes off like a 2001 snowflake.
Flash forward to the present, and Teddy is a successful BBQ salesman. He's a natural, the kind of guy who could sell Sen. Elizabeth Warren a set of "Rush Revere" books. One slapstick disaster later, and he's out of a job.
A chum offers him a sweet gig, but he'll need to get his GED to apply. Enter Carrie (Haddish), a no-nonsense teacher who oversees the local night school.
Better yet, we're introduced to Teddy's fellow students who do more than offer him moral support. Rob Riggle, Mary Lynn Rajskub, Romany Malco, Al Madrigal and Fat Joe (as an imprisoned student studying via Skype) give the narrative both humor and heart.
They may not be big names, but the supporting players keep salvaging scenes, making generic lines pop and otherwise give us a reason to endure the long running time.
As for the rest of the story, suffice to say you won't need that Magic 8 Ball to suss it all out.
"Night School" leans hard on its deep cast, including "Saturday Night Live" alum Taran Killam as the school's unctuous principal. He gets one of several smart running gags, sorely needed in a film that pads its length with two unnecessary dance sequences.
FAST FACT: Studio executives weren't initially sold on casting Tiffany Haddish in "Girls Trip," hoping to land a bigger name for the part. The movie went on to earn $115 million at the U.S. box office, cementing her rising star status.
Some comic subplots go nowhere, like a Chik-Fil-A spoof that's neither funny nor mean spirited. Others, including Carrie's feisty attempt to help Teddy focus, is so dumb you'll cover your eyes in shame.
That's how "Night School" rolls. It's a collision of clever concepts and hopelessly dense detours. Through it all the students refuse to be victims. Night school is their second chance, and for some it's akin to a Hail Mary pass.
They just need a little emotional support, a bone to the "It takes a village" crowd.
'Night School' Star Kevin Hart Talks Parenting And Turning 40 | TODAY
There's a subtle message behind the story, one that fits snugly with Hart's off-screen persona. Work hard, stop blaming others and you, too, can succeed. Maybe you won't be as wealthy as Hart, one of the rare bankable actors left in Hollywood. You'll just have to endure the umpteenth Trump/Cheetos joke to absorb the uplifting tone.
Director Malcolm D. Lee ("Girls Trip") keeps the tone light, the pacing crisp. He knows how to make the most of a pedestrian project. Hart and Haddish aren't as combustible as you expect, but their on-screen bond offers other, less obvious rewards.
HiT or Miss: "Night School" rarely lives up to its potential, but sporadic laughs, a killer cast and a fine message help pave over the film's pitfalls.