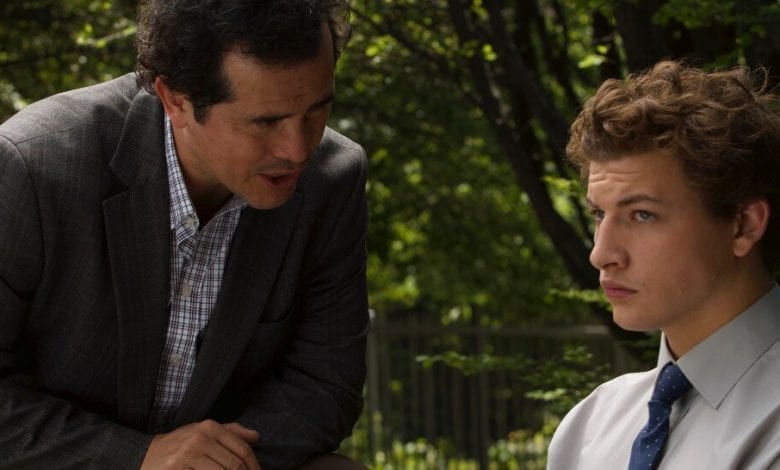 Hollywood is making progress, finally, on how it treats mentally challenged characters.
Wacky comedies like "The Dream Team," about a group of mentally unstable patients, were once the norm. Now, even slow-burn thrillers like "The Night Clerk" tread carefully in this arena.
The film casts Tye Sheridan as a young man with Asperger syndrome, but it's not eager to weaponize the condition for laughs. Instead, his character invites us into an unusual thriller, one cementing Sheridan's rich potential.
If only the story surrounding him gripped us as thoroughly as Sheridan's performance.
The Night Clerk Official Trailer (2020) - Tye Sheridan, Ana de Armas, John Leguizamo and Helen Hunt
Sheridan plays Bart, the night clerk at a chain hotel outlet. He's quiet but affable, and he's learned how to appear more relaxed behind the counter. He mimics how other people exchange pleasantries, teaching himself how to appear "just like them."
He's got an Ace up his sleeve, though, one he dutifully keeps hidden. He watches his guests in their hotel rooms via spy-like cameras, allowing him to observe them in unguarded moments.
It's a chilling practice from such a seemingly kind soul, not to mention the fears we all have regarding our high-tech age. Those cameras catch a murder early in the film, but writer/director Michael Cristofer shrewdly keeps the details to himself.
Who is the killer? Could Bart be in some way responsible? Might other guests be next?
FAST FACT: Michael Cristofer found inspiration for writing "The Night Clerk" from his nephew, who has Asperger syndrome, as well as the tiny video cameras he noticed on sale to the public.
The murder sets Cristofer's film in motion, but the screenplay often treats the death as an afterthought. Sure, we meet the cynical cop investigating the case (John Leguizamo, solid as ever), but the focus turns to Bart's connection with a new hotel guest.
Ana de Armas of "Knives Out" fame checks in for a spell, and Bart is understandably bewitched. She has a connection to Bart and his condition, but it's how their bond flowers that forms the heart of the film.
Exclusive clip! Watch Tye Sheridan and @Ana_d_Armas' "awkward" chat in "The Night Clerk." https://t.co/w9hzCcYlof

— ExtraTV (@extratv) February 13, 2020
Sheridan's turn as Bart may be revelatory for those unfamiliar with Asperger. His intelligence, and indifference to social cues, is fascinating … for a while. The film counts too heavily on his condition, allowing interesting subplots to fade into the background.
We'd love to see more of Helen Hunt, cast as Bart's understandably protective Ma. Even Bart's co-workers slip in and out of the story without much detail.
Armas' interest in Bart also deserves more attention, even if he's the polar opposite of her other beau. The young actress sells the part, though, partially bridging the gap between character and motivations.
The film's third act takes some gimmicky twists that feel less satisfying and unearned. Still, by then you're wholly invested in Bart's predicament and eager to see how the story resolves itself. Some thrillers make do with far less, something that can't be said here.
HiT or Miss: Those looking for an unusual thriller heavy on character development will relish "The Night Clerk." Even they may be flustered before the final reveal, though.