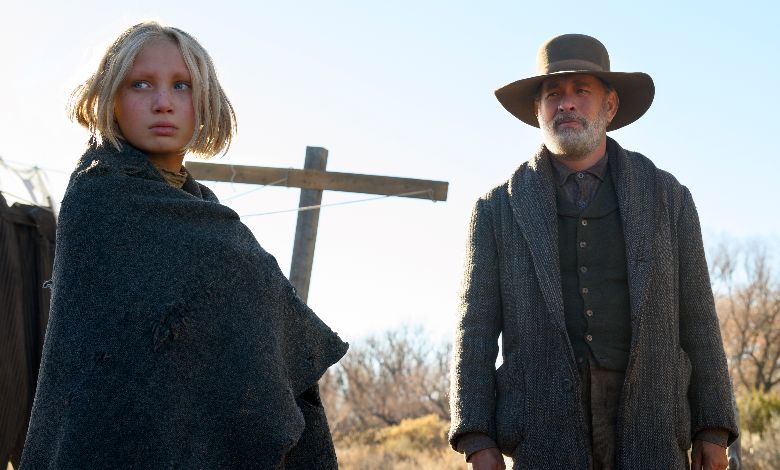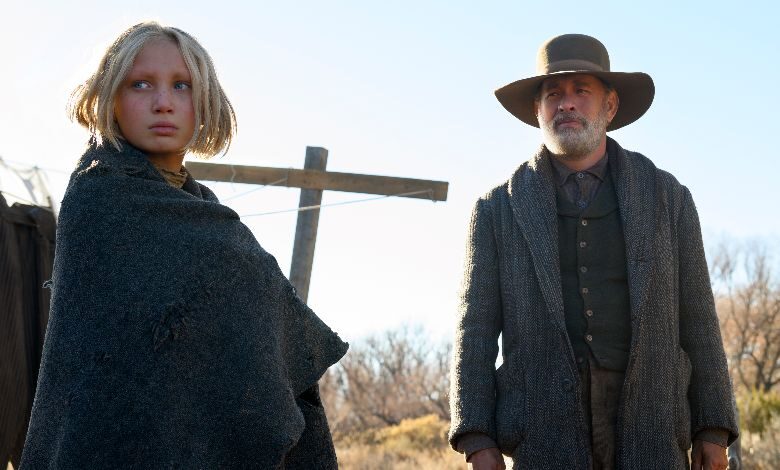 "News of the World" reminds us how vital, and easily fumbled, third acts can be.
Director Paul Greengrass reteams with his "Captain Phillips" star, Tom Hanks, for a smart, textured take on Paulette Jiles' novel of the same name.
It's a perfectly Hanksian role, demanding endless gravitas, strength and resilience. Hanks brings it all, and then some, but he can't overcome a predictable, and emotionally vacant finale.
News of the World - Official Trailer
Hanks stars as Captain Jefferson Kyle Kidd, a Civil War veteran who earns a living reading the "news of the world" to those too busy living their hardscrabble lives. It's a low-paying gig, but he's a natural storyteller and it provides a balm for his war memories.
The gig also requires extensive travel, and one day he comes upon a 10-year-old girl left alone on a trail.
Johanna (Helena Zengel) doesn't speak English, having spent copious time with the Kiowa people. She resists his initial attempts to connect with her, but Kidd quickly learns he's her only hope of reuniting with what's left of her family. The trek to Johanna's Aunt and Uncle puts the odd couple in danger, both from Mother Nature and humans with hearts far darker than they should be.
FAST FACT: Young Helena Zengel earned Best Performance by an Actress honors from the German Film Awards for her work in "System Crasher." She also just signed with CAA, assuring we'll be seeing much more of the 12-year-old actress.
Hanks' Kidd is both world weary and resourceful, two character traits the double Oscar winner can summon in his sleep. He does much more with the part, of course. His traveler, a walking web browser of sorts, comes to life when he's reading from the printed page.
He's also diplomatic about those who either disregard the press or have little patience for headlines that don't align with their world view.
Sound familiar?
The film doesn't paint journalism as a sacrosanct profession, thank goodness. Movies allow us to disconnect from our current lives, but that would have been darn near impossible to swallow.
"News of the World" does suggest the divide between Americans and the stories that never reach them. Who had time to sit down and leisurely read the latest headlines? Life was hard in the late 1800s. Disease was commonplace. A child couldn't coast until his or her teen years before working on the farm.
It was all hands on deck. Now.
That certainly applies to Kidd, who understands poor Johanna doesn't stand a chance without him. That's especially true during a mesmerizing sequence involving men eager to "buy" Johanna from Kidd. They're led by Michael Angelo Covino ("The Climb"), a deadly soul who won't take no for an answer.
RELATED: These Colorado Towns Made John Wayne Westerns Even Better
"News of the World" delivers almost everything you'd crave in a story of this kind, from rich period details to two sterling performances. Young Zengel underplays the part, a wise move given Johanna's often bestial nature. The duo's bond is wonderfully minimized, a connection shown through helping each other in surprising ways.
And then the finale draws near.
From the very beginning we await the fate of Kidd and Johanna, but screenwriters Greengrass and Luke Davies ("Lion") telegraph it so crudely it's hard to imagine a gaffer or Best Boy didn't flag the flaw mid-production. What's worse? We learn about a critical character's passing late in the film, and what's meant to be an emotional symphony ends up a few tin-eared notes.
The screenplay didn't set us up to feel the pain of the loss.
Those miscues, and each is considerable, deaden the impact of what should have been a poignant coda.
News of the World Featurette - A Look Inside (2020) | Movieclips Trailers
"News of the World" still registers on a number of modern levels, especially the disdain shown toward the elites. It's also clear what happens when law and order take a knee. A subplot involving an "autonomous zone" of sorts is appropriately chilling.
Its warning will be lost on those who need to hear it most.
Through it all is Hanks, whose mere presence is reassuring and remarkable. We're in the dying days of the Movie Star Era, but he refuses to bow out without reminding us what the phrase means.
It feels like every new project for the 64-year-old superstar is something to be treasured, even ones as flawed as "News of the World."
HiT or Miss: "News of the World" is a sobering, smart drama anchored by two solid performances. What a shame that the third act lets them both down.