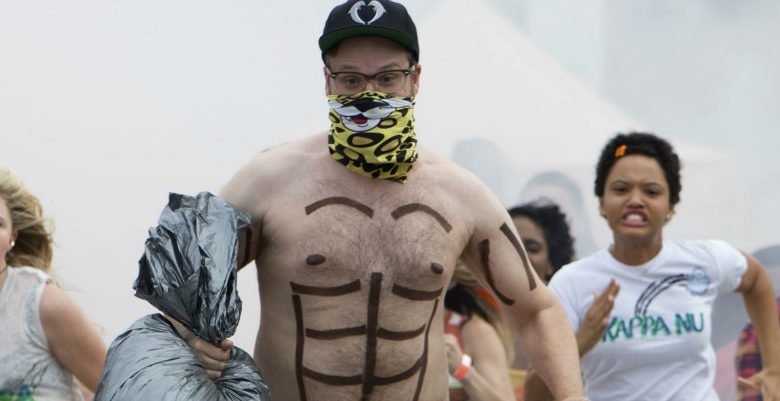 That hardly matters. Her pungent progressive streak infects every frame.
The sequel to the surprisingly rich "Neighbors" plays out like a Salon.com article brought to life. You won't find a liberal talking point untapped before the end credits roll.
Audiences could turn the comedy into a drinking game. "Chug when someone speaks against the patriarchy!"
That overt liberalism doesn't crush the experience. It's a body blow a sturdier comedy could withstand. The oppressive feeling of been there, laughed at that does the honors.
Neighbors 2 - Official Trailer (HD)
Seth Rogen and Rose Byrne are back as Mac and Kelly Radner, the first-time parents who survived living next door to a fraternity house.
Now, a fledgling sorority has set up camp where those frat brothers once called home. The timing couldn't be worse. The Radners just found a buyer for their property, and the frazzled sellers are about to add a baby to their brood.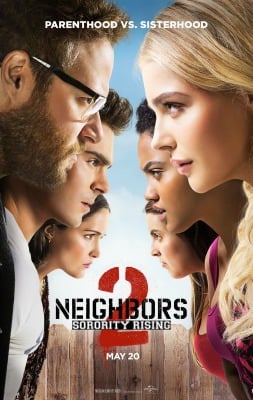 That means they must convince the college students to keep the racket down so the buyer doesn't back out.
Good luck.
FAST FACT: Seth Rogen began his comedy career at an early age. At 16, he won the Vancouver Amateur Comedy Contest.
The original "Neighbors" milked humor out of a couple kissing their partying days goodbye. They were torn between wagging their fingers at the beer-soaked brothers and lunging for the nearest red Solo cup.
That comic tension is gone. And, once the main conflict clicks into place, so is the fresh sense of mayhem.
RELATED: How Liberal Media Bias Extends to the Arts
Chloe Grace Moretz leads the sorority sisters, a group shedding the shackles of the antiquated Greek system. That's ripe fodder for a sequel, poking fun at old-school hedonism while doing the same for modern bromides.
Nothing doing.
The film cant stop saluting these progressive characters and their oh, so enlightened manners.
To wit:
Co-star Zac Efron, who spends half the movie sans shirt, cries. A lot.
The couple trying to buy the Radners' home is a mixed-race duo. Note: the black actor playing the potential buyer (Sam Richardson) also is part of mixed-race couple in this summer's "Mike and Dave Need Wedding Dates." Both characters coincidentally are named Eric.
Dave Franco's girl-crazy character from the first film is now gay and engaged.
When Franco's character gets engaged, his friends chant in unison, "USA! USA!"
Spoiler alert: the film features a gay wedding.
A black police officer moans about having to wear a body camera on the job. I'm not gonna shoot myself, he quips.
A bi-curious black male casually mentions to his buddies how he tried performing oral sex on men in college but didn't care for it.
One female character announces, "girls are smarter than guys." She's isn't effectively challenged.
A Realtor treats a potential black client in a dismissive (read: racist) manner.
Several characters dress up as Hillary Clinton at various stages of her political life, including "Future President Clinton."
Another character cries, "we live in a sexist world, and there's nothing we can do about it."
There's more, but let's get back to the review.
"Neighbors 2" could survive the social justice warrior check list. Ideology often doesn't matter if there's a good story being told. In this case, a heaping helping of laughs would overshadow the clumsy sloganeering.
Instead, we get a running gag about toddlers treating dildos like toys, more cursing than a season's worth of "Deadwood" and a third act where the main conflict dissolves in a way that renders the movie moot.
And somehow even more politically correct than the previous 80 minutes.
By then, the cast is wheezing to reach the finish line, forcing the filmmakers to stretch the already thin story.
The sequel does squeeze in a few genuine laughs, courtesy of its stars. Byrne is a fiercely funny performer when given the right material. And while Rogen's stoner shtick grew old three years ago, he's still an amiable screen presence;
Comedy is hard. Applying politically correct pressure to an R-rated comedy makes that all but impossible.
Disagree? "Sorority Rising" is all the proof you need.