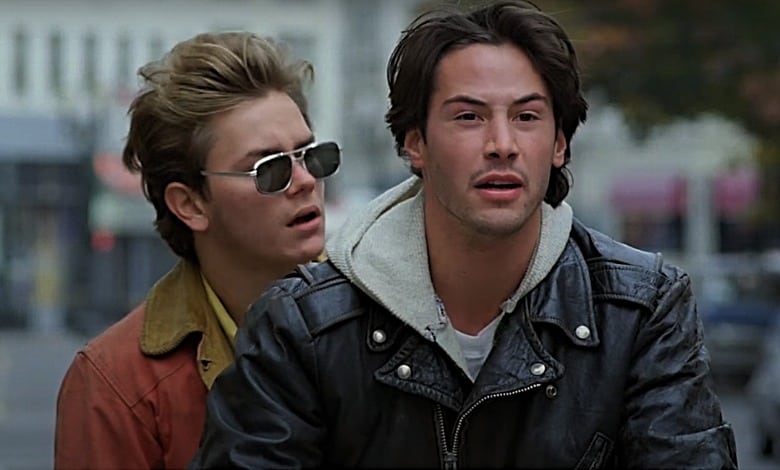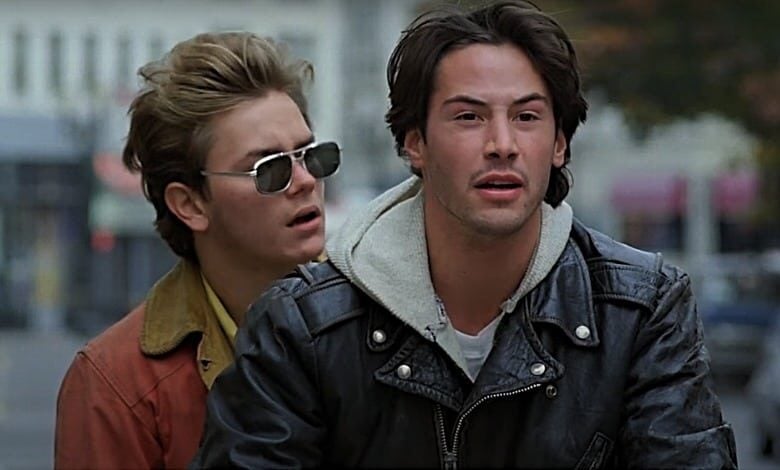 Gus Van Sant's "My Own Private Idaho" opens with the Webster definition of narcolepsy.
It's the first and far from the last offbeat touch in Van Sant's film. We meet Mike (River Phoenix), a drifter and a hustler, who stands on the side of a long road, contemplating its beauty and considering whether he's ever been down this path before. Mike's narcolepsy kicks in and he's quickly lying on the pavement, fast asleep.
This wouldn't be the first time the character is suddenly in great danger while unconscious, as we hope whomever discovers him will take care of him and give him comfort once he awakens. Phoenix comes across as a one-man "Waiting for Godot" in the opener, and his journey has a cyclical trajectory.
My Own Private Idaho - Trailer (Criterion Remaster)
Later he meets Scott (Keanu Reeves) who, like Mike, also trades sex for money and is seemingly always putting himself in danger. However, unlike Mike, who is on an ongoing search to reunite with his mother, Scott is the son of a powerful politician who is trying to locate and tame his son's wild ways.
Like a poem or an early Bob Dylan song, there's a clarity to the visuals, a richness of intent and grounded reality, even as whimsical and surreal visions swirl together. The sex scenes are suggested rather than graphically shown, as Van Sant teases an explicit reveal but shows restraint and dream-like imagery with metaphorical qualities.
For example, in the establishing scenes, where Mike awakens to find himself in a sex act with a client, Van Sant cuts away to shots of Phoenix envisioning leaping fish and a house falling from the sky onto a paved road.
Later, in lieu of sex scenes, Van Sant has his actors pose in sexual positions with one another and freeze, as the camera briefly captures this (at first, it looks like a paused frame, until we note the actors are simply pretending to be frozen in time).
Early on, there's a scene in which Phoenix and Reeves converse in a diner, which we see from outside the glass window before Van Sant allows us in. Then, we hear the casual, shocking recollections of fellow street hustlers while Madonna's "Cherish" plays on the jukebox. This juxtaposition, of the tender lyrics playing as we hear the real, painful stories of men on the road who are brutalized for being gay, is just one example of the film's compassion for its subjects.
RELATED: Why Gus Van Sant's 'Psycho' Remake Matters. Really
Make no mistake, this is a film about male prostitutes, their self-destructive lifestyles and the daily trouble they find themselves in, but Van Sant has an empathy for all of them. While the film has a sensational hook, it's not exploitation. A sign pops up late in the film that indicates how Van Sant wants his audience to see these characters through the guise of empathy: "Warning to the Tourists- Don't Laugh at the Natives."
A clear cinematic antecedent is John Schlesinger's "Midnight Cowboy," also about a relationship between two street hustlers; both films are exceptional for how they love their characters, even as their journey is heartbreaking and their fates unfair.
Today, it would likely be questioned for casting two straight leads in the roles of bisexual prostitutes…
Later, Mike and Scott, who are best friends and often travel together, reunite with Bob (played by William Richert, the author/filmmaker who had previously directed Phoenix in the underrated "A Night in the Life of Jimmy Reardon"); during this lengthy sequence (and a few others in the final act), the language turns to iambic pentameter and the story, while still set in contemporary times, outwardly becomes William Shakespeare's "Richard II."
Until this point (which introduces the film's second act), Van Sant's film feels like a vivid dream, albeit with harsh doses of reality and painfully raw visions of youthful struggle. As surreal as much of this is, the settings are tactile, and the young actors always seem authentic.
There is a question of perception (the audience's and that of the characters) to consider: it could be suggested that not everything necessarily transpires in the way we're seeing it happen, as Mike's half-awake life is flush with dreams that seem to blend with his reality (hence, the "Richard II" sequence).
In some ways, the journey of Phoenix's character is akin to a perverse retelling of "The Wizard of Oz," as his life is the tornado that pulls him from one world to the next, and everyone he encounters is either a potential journeyman, a threat or both.
There are idiosyncratic touches throughout, like Mike's brother (the excellent, under-appreciated character actor James Russo) who keeps the unclaimed portraits of the people he paints. Details such as these feel like they were collected by Van Sant over time.
Phoenix 's "Dogfight," his best film and my absolute favorite American movie love story, came out the same year as this film. Anyone searching for an example of Phoenix's power as an actor only needs to watch these two films, in which he inhabits two young men who could not possibly be more dissimilar.
Dogfight (1991) Official Trailer - River Phoenix, Lili Taylor Drama Movie HD
Losing Phoenix in 1993 was a devastating tragedy, as he was clearly one of our bravest, most dynamic, beautiful and exemplary young actors.
Reeves had a hit and miss period here, sometimes popping up in great films (like "Bram Stoker's Dracula") where he was all wrong for the part, or shining in smaller roles in big movies. The actor is as much a cinematic journeyman as Scott is a collector of life experiences.
There is a sophistication to Scott that Reeves latches onto, as his thinly concealed I-don't-have-to-be-here awareness makes him a tourist in the horrific life that Mike seemingly can never turn his back on. Udo Kier (who popped up in Reeves' "Johnny Mnemonic" four year later) is wonderful as a john who reappears on Mike and Scott's extensive road trip.
Gay Cinema (or Queer Film or LGBTQ Cinema or however one chooses to define it) was not built on mainstream studio films like "Philadelphia" or "Brokeback Mountain" but on works of cinematic defiance, like this one.
Brokeback Mountain Official Trailer #1 - Randy Quaid Movie (2005) HD
Finding its way to theaters in between the releases of Norman Rene's "Longtime Companion" (1990) and Greg Araki's "The Living End" (1992), Van Sant's film is often cited as a major work from an openly gay filmmaker, showing us a world that, outside of documentaries (like Martin Bell's great "Streetwise" from 1984), would rarely be depicted in a motion picture with recognizable movie stars.
The scene in which Mike and Scott share a campfire and Mike, through Phoenix's achingly tender, natural performance, admits he's in love with Scott, his best friend, is the film's most triumphant; Van Sant has admitted that this portion was written by none other than Phoenix.
"My Own Private Idaho" was never meant to be for the mainstream, though the casting of the two leads may suggest otherwise. Today, it would likely be questioned for casting two straight leads in the roles of bisexual prostitutes, or even be chastised for its seamless blend of whimsical stylishness contrasted with stark scenes of desperation, homelessness and cruelty.
Make no mistake — Van Sant may have a flamboyant vision, but he doesn't water any of this down. Van Sant's film is fearless, deeply felt and always takes chances.
This is one of the most original movies of the 1990s, a work that aches for those who sell themselves to survive and turns a critical eye to those who can help but choose not to. As a showcase for two extraordinary, iconic actors and a filmmaker whose view of life is both drenched in cinematic excess but also countered by a documentarian gaze, this is a milestone.